By Krystin Gollihue
Poverty affects lives and communities in so many different ways, and so there are many opportunities to address poverty in philanthropic work. People need food on the table for their family, a roof over their head, and the bills paid. They need transportation, job security, and upward mobility. Nonprofits have a hand in all of these issues, but there are also needs that are never really mentioned.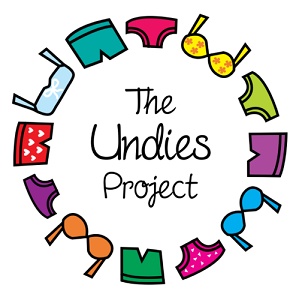 "Unmentionables" like underwear and bras are the uncomfortable effects of poverty, in more ways than one, but they are necessary to address. This is the very unique need that Lucy Langley and Laura Delaflor of The Undies Project decided to tackle soon after beginning their volunteer careers. They found that clothing dispensaries for the poor and homeless rarely carry the things that are needed most: underwear. This lightbulb moment led them to approach Neighbor to Neighbor, a nonprofit organization based in Greenwich, Connecticut, to offer help in gathering new underwear for the underserved. Lucy and Laura helped receive donations of clean and unused underwear and distributed these to clients.
After their first year with Neighbor to Neighbor, Lucy and Laura realized the need was much larger than what a simple program could address. They filed for 501(c)3 status, became their own nonprofit, and are currently in their second year of service to the Connecticut community. They have partnered with companies like Glamorise to receive donations of bras, have drop-off locations for people to donate new and unused underwear, and are even accepting donations from afar via the mail. With a strong social media presence and a volunteer base that believes in their mission, The Undies Project is expanding faster than ever, helping eleven other nonprofit organizations in Connecticut reach this unspoken need for those they serve.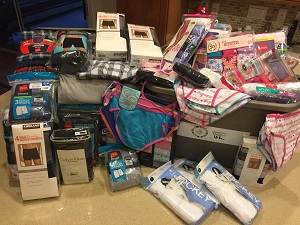 Part of this growth can be attributed to both how much need there is and how few services exist to address it. "We all know how important having clean underwear is, but we also take it for granted," Lucy says. Having clean underwear means, "feeling comfortable, feeling good about yourself, and being able to carry yourself with self respect." For children and teenagers who are attending school and growing constantly, this comfort is especially important for their well-being. Both Lucy and Laura have come to understand the immense importance of something as seemingly insignificant as underwear: it brings people dignity, security, and focus, and gives them the confidence to carry on with other important aspects of their lives.
In reflecting on their experiences so far, Laura says, "Even we had no idea how large the need was until we started talking to other organizations." Lucy adds that no one has really figured out how to meet this need, despite it being a very important one. The conundrum – to provide new and unused underwear to men, women, and children – has become The Undies Project's mission.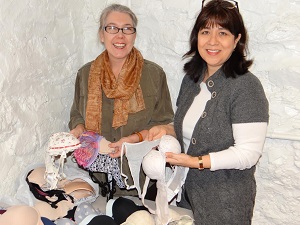 Despite their success in their first year of operations, Lucy and Laura acknowledge that working on issues of poverty is tough work. "Distribution isn't a problem for us as much as getting donations." In addition, they don't often get to see the end clients because of their distribution model. However, recently, Lucy and Laura visited a local homeless shelter that had partnered with The Undies Project, and were able to see how far-reaching their work had become.
"People who are receiving our donations are at poverty line," Laura says. "They're having to make a decision between putting a meal on the table and buying underwear. We can't help everybody all the time – if you're not careful, you get overwhelmed – but we can make a difference in our small area of expertise."
For Lucy and Laura, it takes courage to talk openly about the unknown and perhaps embarrassing parts of poverty. They have recognized that there are two sides to addressing poverty in an effective and impactful way: understanding where there is a need, and identifying the places where other service providers may not want to venture. The payoff, they say, is making a difference in ways that some people never expect.
---
Laura Delaflor grew up in Mexico before moving to the United States in 1999. She is a mother of two, her son is 24 and her daughter is 20. Laura has a degree in Public Relations which she has used to good effect as a volunteer. She volunteered for many years in the Public Schools in Greenwich, Connecticut, until her children graduated from High School. She was also a Girl Scout troop leader and Co-Chaired the Greenwich, CT YMCA Marlins Swim Team Parent Association. She currently volunteers at Greenwich Hospital, CT and is a member of the Auxiliary Board.
Lucy Langley grew up in the UK and left in 1997, moving all over the world with her husband and children before eventually settling in the United States in 2002. She is a mother of two. Her daughter is 21 and her son is 19. She graduated from Durham University, England with a Geology degree, and went on to pursue a career in advertising and promotions. In addition to volunteering in the Public Schools in Greenwich, Connecticut she also volunteered for the Greenwich Red Cross and helped to start the Greenwich Kids Track Club, administering it for 6 years. She volunteers at Neighbor to Neighbor, CT a non-profit organization providing food and clothing to low income residents.
Laura Delaflor and Lucy Langley set up The Undies Project Inc. in November 2015 and they are Co-Presidents. They both live in Cos Cob, Connecticut.