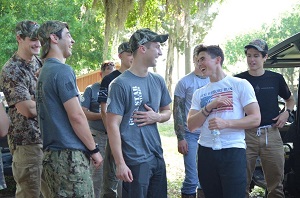 By Krystin Gollihue
The children of fallen service members, or Gold Star Youth, lose more than just a family member; they often lose the guidance and mentorship that only a parent or guardian can give. But grief doesn't have to be their defining characteristic; if nurtured by a community of mentors and peers, youth can move on from that grief to develop a greater sense for who they are meant to be. The challenge for many nonprofits who work with grief-stricken communities is how to aid their constituents in defining themselves by something other than what they have lost. For Gold Star Teen Adventures (GSTA), focusing on surrounding teens with a network of mentors rather than the trauma they've experienced has created opportunity that has helped them heal.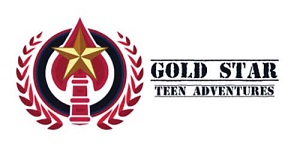 In 2007, Lieutenant Colonel Kent Solheim, founder of GSTA, was wounded during a counter-insurgency special operation in Iraq, an injury that eventually lost him his right leg. During recovery, Solheim met with many other wounded soldiers who were in different stages of healing from similar injuries. It was through these interactions that he experienced an emotional kind of healing and realized that there was a question that many service members were asking themselves as they recovered from their injuries: "How would my children's lives be different if mine had ended?"
After his recovery, Solheim served on the Board of Directors with the Chatham Bay Foundation to organize therapeutic diving programs for Wounded Warriors, their families, and Gold Star families. He saw a need for this kind service particularly for the children of these families – not only had they lost someone close to them, they were navigating a difficult time in their lives and needed guidance. As a result, the first Gold Star Teen Adventure, a scuba diving trip, was organized in 2011, and it soon became clear to Solheim that an important part of their work needed to be mentorship.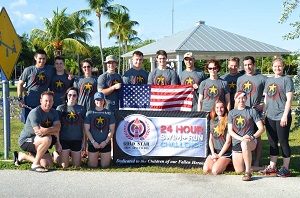 In 2012, GSTA brought three Naval Academy Midshipmen on board that would help during adventures, which had broadened to include equine training, sailing, and outdoor skills/survival training. Retired Army Colonel Kevin McDonnell, advisor to GSTA, says that their West Point and Naval Academy volunteers are really the heart of the organization: "It becomes about the mentorship between other well-grounded, well-disciplined young Americans and these kids. One of the great things about this organization is that these Midshipmen from the Naval Academy and Cadets from West Point are doing this in their own private capacity. Their morals, character, and self-discipline are very good influences on these kids, whatever professional or academic pursuit they want to engage."
GSTA's goal is not to enlist young people for military careers, but rather to take care of their community when a loss occurs. Colonel McDonnell became involved with GSTA because many of the Gold Star Teens in the program have parents who were lost on his watch. He says, "There's an expectation that we have of ourselves in the special ops community. We are small, so we tend to be stationed with each other for long periods of time. Somebody might be in the same unit for 10 years. As a commander, I'm much more familiar with my troops' families and they are much more familiar with mine. There's an extended sense of community and an obligation to help provide opportunity."
This community of mentors and Gold Star Youth is a tightly knit one, which provides insight into why these adventures have been so successful. Youth are grouped together based on commonalities and spend time interacting with each other to broaden those common experiences. Alongside their Midshipmen and Cadet mentors, they build confidence, self-esteem, and leadership qualities. They may begin a trip afraid to step in the water, but on the last day are swimming with sharks. Additionally, many youth build connections outside of adventures, connecting with one another and their mentors over GroupMe, an online chat application, asking for advice about school, social situations, and more. They come back year after year to see their friends and mentors, to build their networks, and for many younger participants, to follow in the footsteps of their old brothers or sisters who have been through the program. While GSTA is often referred to as a "camp," Lieutenant Colonel Solheim notes that "'camp' would imply you come in the summer, stay for a week, and go home. The kids we have come to us year after year. Not only do we expand on the skills they've learned, but they have mentors that keep in contact year after year."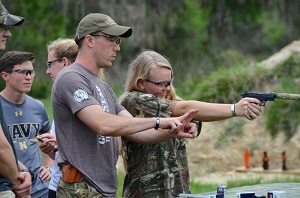 It's important that the nature of the Gold Star Teens' trips and their relationships to their mentors moves beyond the grief they've experienced. Colonel McDonnell says, "We know that there's something significant in their lives that we cannot replace. But these activities are about inspiring these children to figure out what they're interested in, have a good time, and develop great relationships with peers and mentors." GSTA is not a "grief camp" but a place for children to move beyond the things that have happened to them and yet to still have the guidance that would be missing otherwise. Solheim says that through the relationships they build at GSTA, Gold Star Youth can become "the forces their parent would have wanted them to be."
So much of what GSTA aims to do is help the families of service members move past the death of the family member, but this takes time. Lieutenant Colonel Solheim has a "foundational belief that mentorship is not something that's done in a few days. It's a long-term investment and takes nurturing time, and commitment" – the same commitment that the fallen service members and parents of Gold Star Teens would have wanted for their children. The continued engagement with the special ops community, with each other, with the Cadets and Midshipmen as mentors, and with the survival and self-esteem building that adventures offer them, GSTA has been able to build more than a development camp for grieving Gold Star families. "They're seeing what right looks like," Colonel McDonnell says, the kind of "right" that moves them beyond the loss that defines them.
---
Krystin Gollihue is a current doctoral student in the Communication, Rhetoric, & Digital Media program at NC State University.