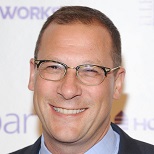 Special to the Philanthropy Journal
By Matthew Bernardo
In 1990, the AIDS crisis was nearly a decade old. Congress had just passed the Americans with Disability Act, which prohibited discrimination against people with HIV/AIDS, yet an estimated 30,000 homeless people with HIV lived in New York City, and only 350 units of supportive housing were available to them. There was a strong stigma around the disease, a critical lack of comprehensive health care, and, quite obviously, a need for supportive housing.
This was the year Housing Works was founded. Four members of the legendary AIDS activist group ACT UP New York—Keith Cylar, Charles King, Eric Sawyer, and Virginia Shubert—dedicated themselves to serving the tens of thousands of neglected and homeless men, women and children in New York living with HIV. Their premise was simple: housing is the key step for improving the emotional and physical health of those affected by AIDS. When a person has somewhere to go, a roof over their head, they can focus on their health not where they are going to sleep at night, if they're going to be safe or warm.
The goal of Housing Works, however, went beyond the provision of housing; rather, it was to demonstrate models of care that would offer healing to New York's most marginalized people living with HIV through relentless advocacy, the provision of lifesaving services, and entrepreneurial businesses that could sustain them. Housing Works believes that the way to end the dual crises of homelessness and AIDS is to develop a model that can engage the public and the community on these three points.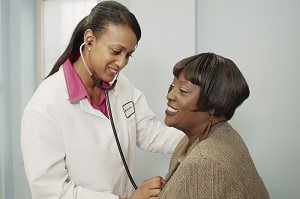 Over the past 26 years, Housing Works has become the nation's largest community-based AIDS service organization, as well as the nation's largest minority-controlled AIDS organization . They have served over 20,000 New Yorkers living with HIV by providing them with housing, primary and mental health care, job training, substance use counseling, legal assistance, and much more. For many, these services are lifesaving. The 20,000 New Yorkers served are a part of the hardest-to-reach of populations, minorities who have the greatest difficulty securing consistent health care, housing and social services. Approximately 52% of people served by Housing Works are black, 32% Hispanic, 7% identify with other racial and ethnic groups, and 9% are white. An estimated 30% of Housing Works' clients are female, and an approximate one-third identify as lesbian, gay, bisexual, or transgender (LGBT). More than half have been incarcerated, nearly half live with hepatitis, and 90% have extended histories of mental illness and/or chemical dependence. All are living at or beneath the poverty line and most are homeless or at risk of homelessness.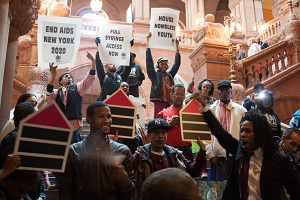 Housing Works is the nation's leading advocate for the empowerment of people living with HIV and AIDS, as well as underserved and marginalized communities. With a fierce focus on advocacy, we have been at the forefront of path-breaking organizing, policy, research and litigation efforts. Advocating for not only people living with HIV, but for the most marginalized among them: suffering from mental illness or substance use, undocumented immigrants, and the formerly incarcerated. Housing Works is willing to help people that many other agencies turn away.
Pioneering the model for socially conscious entrepreneurial ventures, Housing Works has also established 12 successful thrift shops throughout New York City, a famous Bookstore Cafe and events venue in SoHo, The Works Catering, and several large fundraising events, including a well-known interior design event: Design on a Dime. These businesses serve multiple functions: they strengthen our advocacy efforts by engaging everyday New Yorkers in our mission, and they promote our financial independence so that we are never at the mercy of outside funders.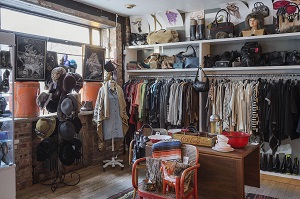 The success of Housing Works is dependent on these different components working together: advocacy, lifesaving services, and entrepreneurial businesses. This holistic approach applies to everything Housing Works does. The entrepreneurial businesses allow Housing Works to sustain its efforts and continue advocating for those who need it most. They inform and involve the community, whether through a simple donation, employing those in the acclaimed Job Training Program, or teaching the community about HIV/AIDS and homelessness along with how it affects the city, state, and country.
Successes can be found every day at Housing Works. Each time an individual is tested and linked to care, each time a client becomes healthier, each time a client becomes undetectable in their HIV status, the Housing Works community grow stronger. Whether a client becomes an employee, a customer becomes a volunteer, or a volunteer becomes an advocate, all of these people help Housing Works meet its mission of fighting the dual crises of AIDS and homelessness.
Much has changed for the better over the past 26 years, but Housing Works is not slowing down. Charles King continues the fight to end the AIDS epidemic alongside our allies in New York, and we remain committed to defending the rights and dignity of all marginalized people living with HIV. "Relentless" isn't just a word that describes what Housing Works does—it's their way of life, their model, and it continues until HIV/AIDS is no longer.
---
As Chief Operating Officer, Matthew Bernardo oversees all of Housing Works' day-to-day affairs. Previously, Matt oversaw Housing Works' social enterprises—including 12 beloved Thrift Shops, a Bookstore Cafe, and a commercial catering business known as The Works—with a goal to offer the best products and customer service to build revenue and grow a devoted fan base to support advocacy and services. In total, these social enterprises account for approximately 44% of Housing Works' $57 million annual operating budget. Matt also created two high-profile fundraising events that support Housing Works' mission: Design on a Dime and Fashion for Action. Combined, these events contribute $1.5 million annually.