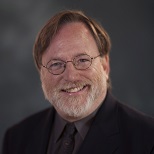 Special to the Philanthropy Journal
By Eric B. Gordon
Back in the mid-1960s, a small business college was interested in creating a more traditional campus several miles from the heart of the city. It reached out to area businesses, foundations and prominent members of the community to help support the project.
One of the more prominent businesses that supported the college was Bangor Savings Bank. By 1968, the college was able to purchase land, construct buildings and begin operations bringing a new level of professional education to Down East and Central Maine.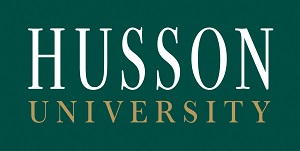 Today, that college is known as Husson University. Over time, it expanded its original business mandate and added more programs in health, education, pharmacy, science, the humanities, and communication. With over 52 undergraduate, 18 graduate and 29 certificate programs, Husson University has grown exponentially, while remaining true to its business roots. Husson is the home of Maine's largest College of Business.
During the same period, Bangor Savings Bank also grew. Today it has more than $4 billion in assets, offers retail banking to consumers as well as comprehensive commercial, corporate, payroll administration, merchant services, and trust and investment services to area businesses. The Bank now has 58 branches in Maine and New Hampshire as well as one in Massachusetts.
Both of these organizations have been working together over the past 50 years and assisting in each other's growth and the economic growth of their community. Since first supporting the creation of the campus more than 50 years ago, the bank has regularly contributed to the University's efforts.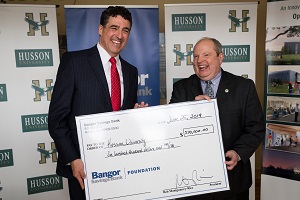 Most recently, the Bangor Savings Bank Foundation made a commitment to help improve the academic experience for Husson students by providing a gift of $500,000 toward a new College of Business building—the largest grant they have ever made.
This gift is the result of a symbiotic long-term relationship between the University and the Bank.
Each party is strengthened because of this relationship. Reflecting back on this successful relationship we have formulated three questions to consider when developing a long-term donor relationship with a business. They are:
How does your mission support the business's goals?
While many businesses provide philanthropic support throughout their community, the case for a significant major gift is strengthened if you can identify and articulate areas where the mission of the non-profit align with the goals of the business.
Husson University's mission is to "inspire and prepare students for professional careers in current and emerging fields within the context of an education informed by the sciences and humanities." About 10 percent of Bangor Savings employees have earned a Husson degree or have completed some classes at the University. In addition, with over 70% of its 27,000 graduates living in Maine, Husson helps fuel the workforce that keeps Maine businesses, including the bank's customers, strong and growing.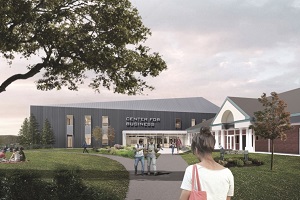 How can we help the business further succeed?
What is your non-profit doing to help businesses who support you? Identify new ways you can support them.
Two years ago, Husson's College of Business partnered with Bangor Savings to customize a Master of Business Administration (MBA) program for bank employees. Husson faculty taught classes at bank locations. This made the education process more accessible and convenient for the bank's employees.
In 2019, the Bank and Husson will be providing all employees with easier access to undergraduate degrees. Bangor Savings is increasing the number of college courses they reimburse employees for each year. Husson will work with bank employees to maximize credit transfer opportunities and to tailor programs for each employee.
Why should a donor give to us?
It's a competitive marketplace and businesses are approached by numerous non-profit organizations for assistance. Be sure to articulate your organization's unique value proposition and apply it to the businesses that support you. Remember that businesses appreciate metrics. Make sure you are measuring and reporting benefits you are providing and share that information.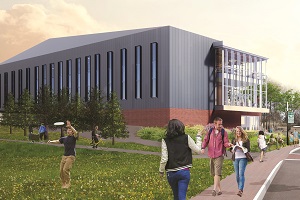 When it came time to ask for the Bank's support of the College of Business building, we were able to clearly articulate how the new building would further enhance our ability to educate Maine's workforce. Because of their involvement with our Business Partnership Program, Bangor Savings Bank had experienced first-hand the quality of our programs and understood the value Husson University brings to the community.
Long-term relationships with donors cannot be a one-way street. Each party must feel like they are benefiting if it is to be successful.
"Husson University has had a positive impact on the Bangor Savings Bank workforce, as well as the workforce of many of our customers. They have an impressive track record of providing a quality professional education," said bank President and CEO Bob Montgomery-Rice. "We are happy to support the College of Business building project, and look forward to seeing more bank employees become Husson graduates."
The bank appreciates the return on their investment through improved job performance and retention from their current workforce. For its part, the University new College of Business building will enhance the educational experience of business students – some of who will work for Bangor Savings Bank or its customers after graduation.
---
Eric B. Gordon joined Husson University in the summer of 2013 and is currently their Executive Director of Communications. He previously worked as the Assistant Vice President for Communications and Director of Public Relations and Special Projects at The American College in Bryn Mawr, Pennsylvania. Over the course of his career, he has worked with local and national media outlets including USA Today, The Wall Street Journal, U.S. News & World Report, Nightly News with Brian Williams, ABC World News This Morning, as well as Bloomberg Television and CNN. Prior to joining The American College, Eric worked for 11 years in public relations and corporate communications for CIGNA, a large Fortune 500 corporation.