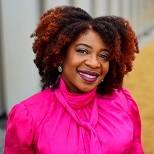 Special to the Philanthropy Journal
By Clarenda Stanley-Anderson
Since 2011, Shaw University has had more than four presidents, including two interims, at its helm. This inconsistency in leadership created a climate of instability that coupled with a six-year trend of declining enrollment, deferred maintenance of its facilities, and dismal philanthropic support, led to a dismal financial position. In 2015, on the eve of its Sesquicentennial Anniversary, the board of trustees made a surprising choice by appointing Dr. Tashni Dubroy as its 17th president. Dubroy, a Shaw graduate, is the third alumnus, third female and, at 34 years old at the time of her appointment, the second youngest person to serve as Shaw's president.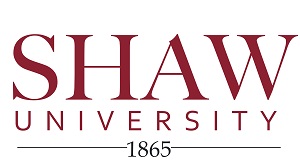 A fast-rising star and accomplished entrepreneur, Dubroy began her career as a research scientist at BASF. She quickly ascended the ranks, eventually managing a strategic sourcing budget of $35 million. Following her tenure at BASF, Dubroy was hired by her alma mater in 2011, where she served as an associate professor of chemistry and later the department chair of Shaw's department of natural sciences and mathematics. As a professor and department chair, Dubroy managed the department's $1.2 million budget, supervised 25 faculty members and mentored 22 undergraduate students as part of the Shaw in Jamaica international research project funded by the National Institutes of Health. In 2014, Dubroy was promoted and became a member of Shaw's administrative team as the special assistant to the president for process optimization. In this role, she was responsible for increasing efficiency and reducing cost through a detailed analysis of the University's operations to achieve quantifiable improvement and growth across all campus departments.
As a new president, Dubroy quickly set about building a leadership team to help to build a campus culture of entrepreneurial thinking and innovation. Understanding that she would need the support of the corporate community and alumni, she set out to find a vice president for institutional advancement. She needed a chief development officer who was knowledgeable about the nuances of fundraising for a Historically Black College and University (HBCU) and possessed a sturdy spirit to handle the challenges such a position would entail. She found all of the aforementioned in Clarenda Stanley-Anderson, an accomplished generalist who was selected by her peers as the 2016 Outstanding Fundraising Professional by the Association for Fundraising Professionals- Triangle Chapter. A Certified Fund Raising Executive (CFRE) with more than a decade of fundraising and communications experience, Stanley-Anderson had extensive HBCU experience, having worked in both public and private institutions. A firm practitioner and proponent of donor-centered and relationship-focused approaches, Stanley-Anderson brought an entrepreneurial, fresh perspective to the table. With Stanley-Anderson, Dubroy knew she had a chief development officer who was not afraid to think outside the box to help find the resources to bring her vision to fruition.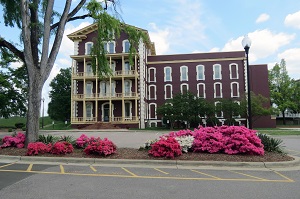 Ideally, a fundraising goal is determined by various factors: SMART goals or previous years' performance. However, when Dubroy took office in 2015, Shaw University was faced with a $4M funding gap which pretty much established the fundraising goal. That would be daunting to most new presidents or to a development officer, no matter how skilled, who are new to an organization. As major gifts work is about fulfilling donor passions and interests, it takes time to find out what those passions and interests are and then effectively match them to an organizational need. Stanley-Anderson knew it would be a year of heavy direct marketing fundraising and events as a quick turnaround was needed. Simultaneously, a major gifts program was revamped and launched, allowing for relationships to mature and lay the foundation for the subsequent fiscal year.
Fortunately, the University was embarking upon a year-long sesquicentennial celebration in 2015. That, coupled with the excitement of Dubroy's presidency and the formation of key strategic partnerships, fueled the philanthropic fire of supporters. While the goal was reached, Stanley-Anderson knew that to realize sustainability, a well-rounded team of frontline fundraisers was critical.
HBCUs often struggle because they have fewer resources than other colleges — typically due to lower endowments and less money coming in from alumni giving, according to Marybeth Gasman, a University of Pennsylvania education professor who heads the Penn Center for Minority Serving Institutions (MSIs). Effective advancement professionals command premium salaries and competition is stiff. For a small, private university, the pool of talent is even shallower. According to the Association for Fundraising Professionals, there is a shortage of qualified fundraisers as stated in a study conducted by CompassPoint and the Evelyn and Walter Hass, Jr. Fund. The study surveyed more than 2,700 executive directors and development directors across the U.S. and included 11 focus groups with nonprofit staff and board members. Major challenges included inadequate skill sets possessed by many fundraisers, high turnover at nonprofits and lack of institutional support for fundraising at many charities.
Though Stanley-Anderson employed such strategies as internal hires and recruiting from states as far away as New York, there is still a critical need for frontline fundraisers who understand the complexities of an HBCU campus and have an affinity for the institution. To address this challenge, Stanley-Anderson developed a new undergraduate training program that will create the next generation of high-impact friend and fundraisers for higher education in the 21st century. Through the creation of the Leaders in Engagement and Development (LEAD) internship program, Stanley-Anderson hopes to provide a unique opportunity to provide real-world development experience that contributes to the health and sustainability of the university.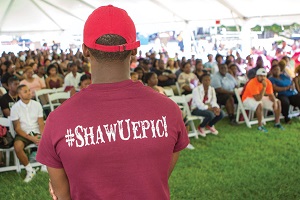 Partnering with the institution's Pre-Alumni Council, the replicable training program will provide eligible juniors and seniors with tuition assistance stipends, cost coverage for institutional advancement conferences and trade meetings, and internship and career placement assistance; with an ultimate goal of students launching their own campus-based fundraising campaigns while gaining exposure to an industry which grossed institutions more than $365 billion in 2015.
Select students will earn the right to work with members of Shaw's Office of Institutional Advancement, or with select corporate partners in micro-campaigning and giving initiatives in support of student scholarships and institutional support. Students will also be placed in other supportive areas such as advancement services, grants management, and development communications, and will learn the charitable giving profession firsthand. This initiative is the latest iteration of the university's vision of entrepreneurial development and self-starting productivity in support of its expansion objectives.
LEAD seeks to train four interns during its first year of implementation and will increase as resources allow. The goal is to provide a pipeline of development talent not only for Shaw but for other HBCUs as well. College campuses have an abundance of homegrown talent who not only know the institution's story, but are living it every day from the dorm room to the classroom. Who better to share a university's value to external stakeholders than those who directly benefit from the training and preparation that public and private giving supports?
By becoming leaner in its operations, more selective and engaged in its recruiting practices, more strategic in fundraising and development strategies, and more intentional in research and development, Shaw University's renaissance has been nothing less than transformational as evidenced with the recent grand opening of Shaw University's Innovation and Entrepreneurship Center (in partnership with Carolina Small Business Fund) and it Centers for Alternative Programs in Education (CAPE) partnership with the startup incubator corporation, American Underground. By strengthening its development talent, the "Mother of North Carolina HBCUs" seeks to LEAD the way for a new model for its sustainability.
---
Clarenda Stanley-Anderson, M.Ed., CFRE has helped nonprofits raise more than $50 million over her decades-long career. She currently serves as the Vice President for Institutional Advancement for Shaw University. A firm practitioner and proponent of donor-centered and relationship-focused approaches, Clarenda brings an entrepreneurial, fresh perspective to the profession.