News about grants, gifts
This year the Hispanic League presented 42 scholarships to deserving scholars. Including 2018's awards, the Hispanic League has officially awarded a total of 411 scholarships, valued at over $930,000, since the year 2000.
The State Library of North Carolina and the Broadband Infrastructure Office of the N.C. Department of Information Technology received a $250,000, two-year grant from the Institute of Museum and Library Services to assist K-12 students in the state who do not have home internet access.
Cognizant launched Cognizant U.S. Foundation with an initial $100 million in funding. The Foundation's inaugural grant of $1.5 million was presented by Cognizant executives to Goodwill Industries of the Southern Piedmont at an event in Charlotte on May 1st.
The John William Pope Foundation has made a $10 million commitment to the 'Campaign for Carolina'.
News about people, groups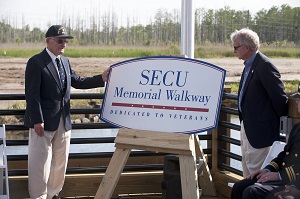 The dedication of the SECU Memorial Walkway at the USS Battleship NORTH CAROLINA in Wilmington was held on April 26th. State Employees' Credit Union (SECU) members helped fund the Walkway's construction with a $3 million SECU Foundation grant.
Louis M. Duke has been promoted to senior communications specialist at the North Carolina Community Foundation in Raleigh. He is a member of the communications and marketing department of the statewide community foundation.
Erin Charles joins SECU Family House as Education Program Manager this month. Erin will manage an program to help with the education of future medical professionals.
David L. Kennedy, who has helped lead record-setting fundraising efforts at Stanford University, will be Duke University's next vice president of alumni affairs and development.
United Way of the Greater Triangle named four new members to their Board of Directors: Anne Howard, Farad Ali, Michael Goodman and Scott Byers.
News about opportunities, initiatives
The Cabarrus County Community Foundation recently announced a $100,000 challenge grant. An anonymous donor
has challenged the community to donate $50,000 to CCCF's grantmaking funds. As incentive, the donor has offered to mat ch the donations, giving one dollar to the 2018 grantmaking funds and onedollar to the foundation's endowed principal, which ensures the foundation's long-term sustainability. The deadline for
contributions is Nov. 1.
Raleigh Arts will present Light the Woods with Sound, neon artist Nate Sheaffer's interactive public art installation at Dorothea Dix Park, from May 11th to 27th. Created using 384 neon components suspended in a grove of oak trees at Dix Park, the artwork will be connected to a series of theremins and synthesizers so you attendants can play the installation.
The Alzheimer's Association – Western Carolina Chapter is inviting Moore County residents to help fight Alzheimer's by participating in Walk to End Alzheimer's – Moore County. It will take place on Saturday, Oct. 6th at Aberdeen Park. Check in opens at 9:00 a.m. and the Walk starts at 10:30 a.m.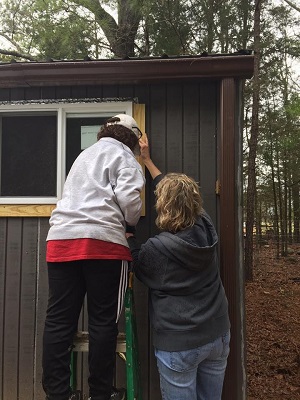 Piedmont Farm Animal Refuge is seeking volunteers to help with the construction of their new Small Animal Clinic. Sign up is now available for work days on May 12th, 20th and 26th.
Carolinas CARE Partnership will host Carolinas CARE 5K Run at Mc Alpine Creek Park, 8711 Monroe Road, Charlotte, NC on June 2nd from 8:00 a.m. to 10:00 a.m.
Families Together will host a First in Flight Face-Off & Happy Hour on Tuesday May 8th from 5;30 to 7;30 p.m. at Trophy Tap and Table.
On May 6th, the National Institutes of Health opened enrollment for the All of Us Research Program— a momentous effort to advance individualized prevention, treatment and care for people of all backgrounds — in collaboration with Community Blood Center of the Carolinas and other partners. People ages 18 and older, regardless of health status, will be able to enroll.
Smart Start of Forsyth County will hold their Raising Forth Breakfast on Thursday, May 10th at 7:30 a.m. at Wake Forest University.
YNPN Triangle NC's #NonprofitStrong Summit will take place on May 18th in Raleigh.
ESC of the Triangle is hosting a Fundraising 101 workshop on May 16th at 10 a.m. at the Frontier in RTP.
ArtsGreensboro is now accepting nominations for the 2018 Betty Cone Medal of Arts. Nominations, including up to four letters of support, are due to ArtsGreensboro no later than 5 p.m. on Monday, May 21st.
Triangle Artworks is hosting Tax Tools for Working Artists on May 8th at RTP Frontier.
The 9th annual NCTech4Good Conference will take place on June 5th-6th at The Solution Center in Durham.
The Association of Fundraising Professionals monthly meeting will take place on May 29th at the Paul J. Ciener Botanical Garden in Kernersville.
The 2018 RTP/Durham Caregivers Summit will take place at the Sheraton Imperial on June 14th.
---
If you are interested in having your organization's news announced in the next News Bits, please send announcements or press releases to news@philanthropyjournal.com.