News about grants, gifts
North Carolina Theatre donated more than $27,000 to World Central Kitchen, to support disaster relief work for victims of Hurricane Florence. NC Theatre's cast of In the Heights spearheaded efforts to collect spare change from Raleigh audiences who attended the week of performances October 16th-21st at Duke Energy Center for the Performing Arts.
Healthcare Foundation of Wilson approved $22 million in funding for a strategic initiative to create a new after-school program.
News about people, groups
Triangle Community Foundation is aligning their initiatives in youth literacy, Send A Kid To Camp™, and scholarships under a cohesive education strategy to address systemic change through early childhood, summer learning loss, and post-secondary credential and degree attainment.
The Clean Path Conference will be held November 17th from 2:00 to 6:30 PM at the Friday Center. With the increased attention and the urgency of the climate crisis, it's the perfect time to gather and learn how we can ramp up our Clean Path work.
The Hispanic Family Center (El Centro Para Familias Hispanas) is hosting Dancing For a Cause on Friday, November 9th from 6:00 to 10:00 PM at Our Lady of Lourdes Fallon Center in Raleigh.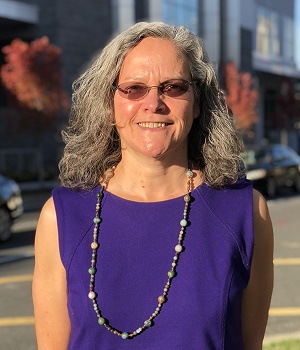 United Way of Central Carolinas named Kathryn Firmin-Sellers as the organization's new Chief Impact Officer effective December 3rd.
Robert Koch joins WFAE 90.7 as director of development. In that role Koch will lead key areas of fundraising including major gifts, midlevel donor program, foundation grants and planned giving.
The North Carolina Museum of Natural Sciences will host Darwin Day on Saturday, November 10th, from 9:00 AM to 5:00 PM. Learn about famed naturalist Charles Darwin, take a closer look at his theories and their impact on modern science, and meet some of the scientists who are continuing his work at this free event.
The North Carolina Agricultural Foundation will sponsor the Moonlight in the Garden exhibition from November 10th to 17th. This magical lighting will illuminate and showcase JC Raulston Arboretum at North Carolina State University.
News about opportunities, initiatives
Michael C. Blackwell and Baptist Children's Homes' will host a 25-minute presentation at the Annual Meeting of the Baptist State Convention of North Carolina. The presentation, which will be filled with music and testimonies, starts at 7:10 PM on Monday, November 5th at the Koury Convention Center in Greensboro.
Governor Cooper's office is providing training grant funding to help North Carolina nonprofits become Certified Service Enterprise organizations in 2019 at up to 76% training cost savings through the Triangle Nonprofit and Volunteer Center, which is taking applications now.
The Association of Fundraising Professionals NC Triad Chapter and the Guilford Nonprofit Consortium will be jointly hosting the webinar Navigating Negotiations: More Money and More Mission on November 8th.
The North Carolina Coalition Against Sexual Assault has opened the selection process for the the 2019 Young Advocates Institute Advisory Council. The Council will be comprised of twelve youth, ages 13-17, who are committed to working hard, promoting advocacy and leadership which will shape the direction, content and marketing efforts for the 2019 Young Advocates Institute.
Community Blood Center of the Carolinas has kicked off its 14th Annual Puppies for Patients program.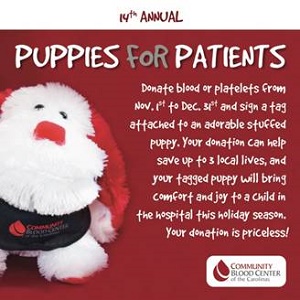 Columbus Children's Foundation is holding a benefit concert on November 7th at AJ Fletcher Opera Theatre. The proceeds will fund gene therapy research to find treatments for ultra-rare neurodegenerative diseases in children.
Eric Boyette, Secretary of the North Carolina Department of Information Technology and State Chief Information Officer, launched the state's new Growing Rural Economies with Access to Technology (GREAT) Grant Program.
The North Carolina Chapter of Charitable Gift Planners will be holding their Educational Member Meeting at Elon University's McKinnon Hall on November 29th, featuring guest speaker Al Cantor. Register here.
---
If you are interested in having your organization's news announced in the next News Bits, please send announcements or press releases to news@philanthropyjournal.com.