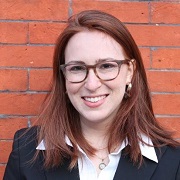 Special to the Philanthropy Journal
By Jen Bokoff, Director of Knowledge Services
Philanthropy is no longer just for adults. Young people—and not just those with wealthy backgrounds—are giving money to causes they care about through grants.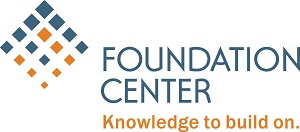 Youth grantmaking programs aren't new, but they are—as is much of philanthropy— largely siloed. The "innovative" approach of empowering young people to make key decisions on important, local issues is tried and true. But few programs knew about these other participatory grantmaking programs for youth. In aggregating the data, resources, programs, and knowledge tied to youth grantmaking, we realized that it's not just a strategy that some organizations are using; it's a growing movement visible around the globe that is shaping the future of philanthropy and its leadership.

In June, Foundation Center launched YouthGiving.org, a hub for raising the voices and actions of young grantmakers worldwide and the adults who support them. After more than a year of planning with an international, multi-generational advisory committee, collecting data, and good "old-fashioned" Internet digging, we were able to frame the story of youth grantmaking, through which more than $15.8 million in the last decade has been invested in organizations around the world.
At the heart of all growing movements is connection, and that's also at the heart of Foundation Center's work. We have always valued and shaped our work around transparency, with building and connecting sector knowledge as the primary goal. As we've been integrating youth-led grantmaking into our body of knowledge over the past few years, we're confident that the whole sector—young and old alike—can learn from these new voices in philanthropy. Brad Smith, our Foundation Center president, said in a speech last year that the leadership tools for the future of philanthropy are vision, energy, and improvisation. One of the best places to see them in action is in youth-led grantmaking.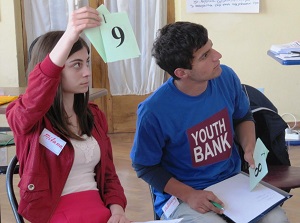 Vision is how we combine curiosity with forward-thinking, use available information to design a plan of action, and get others to buy into a new direction. Allowance for Good's Allow Good program engages Chicago-based youth in grantmaking through college-high school collaborative learning. University of Chicago paired with a local high school to grant $1,000 to Kids Off the Block to provide at-risk youth positive alternatives to gangs, drugs, other unfavorable outcomes. What is visionary about this grant is the students' decision-making process for funding. The curricula draws on an Asset-Based Community Development (ABCD) framework, which involves mapping existing community strengths as well as understanding the historical context underlying challenges and opportunities. The "Young Catalysts," as participants are called, do this also for themselves to connect their personal values and experiences with their philanthropy and with community needs. And, like so many youth giving programs, being able to articulate how you propose moving forward is critical for getting buy-in from and iterating with peers in order to arrive at consensus.
Energy is a feeling of passion and spirit, and connotes movement and ignition. For the Jewish Teen Funders Network, actively providing space to unleash connection, laughter, and movement is critical to success. They don't want learning to be boring, and so every aspect of the teambuilding and grantmaking process is designed to have be electric. For example, before conducting site visits, many groups do light-hearted but relevant role plays, to help anticipate scenarios that could happen. (That's more prepared than many adult funders are before a site visit!) And, when some other groups are reading proposals, they make it a party by introducing snacks, beanbag chairs, and light music to set a comfortable, fun mood so that everything on paper can be fully heard without discomfort and distraction.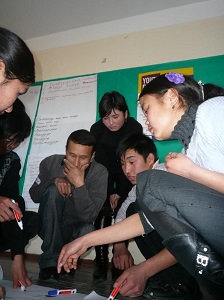 Improvisation is spontaneous–when we only use current surroundings, information, exploration, and feelings to inform the next move. Before and during 2014 European Foundation Centre conference, there was excessive flooding in Sarajevo. The locally-based Mosaik Foundation, which largely executes funding and initiatives through dozens of YouthBanks across the country, recognized that their existing programs in rural areas would be affected. They realized that everyone at the conference wanted to help, but didn't have a clear way to contribute. They rallied with partners across the country to adapt programs to meet new needs in the flooding situation, even though emergency relief was not embedded in the foundation's mission. They recognized a leverage point in conference attendees and launched the Solidarity Fund to support relief efforts. As with most improvisation, it was grounded in using tools the foundation had access to (its partners and conference attendees) to create something new and unplanned to meet an evolved context.
Maybe an organization works with youth. Maybe they're a grantmaker. Maybe they do neither, but they like thinking about leadership and how to improve our world. Engaging youth infuses their unique energy into the process, invites fresh perspectives on crucial issues, and empowers future leaders with the tools they need to remain active changemakers throughout their lives. As we at Foundation Center have been connecting our mission more inclusively to a new, younger audience, we would encourage other organizations to think about how they can use some of these nuggets to inspire and inform their work.
---
Jen Bokoff is the director of knowledge services at Foundation Center. She develops partnerships and projects that build knowledge and strategy in the social sector, with an eye specifically on grantmakers. She also runs GrantCraft, a free service that taps the practical wisdom of funders to improve the collective knowledge of the philanthropy field. A graduate of Tufts University, Jen studied community health and sociology and spent two years involved in the Learning by Giving philanthropy program. She serves on the Alumni Council as the chair of the development committee and also serves on an advisory committee for The Moth's education programs. Jen is a firm believer that social innovation and change happen only when passionate people across different industries collaborate; being a strong connector enables this growth in local communities and throughout the world.