Special to the Philanthropy Journal
By Liz Neeley and Erin Barker
As the opening chords blossom, a voice muses "A science story? Huh…". A few beats later, other voices begin to pick up the thread, facts and ideas overlapping as the words swell with emotion. There is perhaps no better way to introduce The Story Collider. Our small nonprofit's live shows, weekly podcast, and intensive workshops are all dedicated to finding and sharing true, personal stories about science.
Our story begins in 2010, when two theoretical physicists – Ben Lillie and Brian Wecht – were circulating in the New York comedy and storytelling scenes, independently nurturing dreams of launching a storytelling show dedicated to science. Seven years and more than seven hundred stories later, The Story Collider produces forty shows per year in cities from Los Angeles to London. These live performances are all recorded, and a new episode is released every Friday. Every month, the podcast logs some 300,000 downloads. But what, exactly, is a "story about science" and who is listening?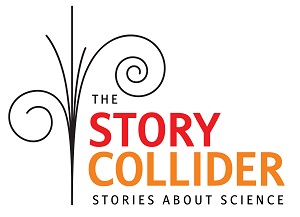 The Story Collider begins with the premise that science and technology shape everyone's lives, more now than ever before. From where we work and what we eat, to how we heal and who we meet, if science influences everyone, then everyone has a science story. The Story Collider hosts all kinds of people on our stage – research scientists, of course, but also comedians and cops, poets and pilots, athletes and artists and astronauts. We record all of them, and roughly ⅓ are lightly edited and packaged for the podcast. Recent episodes have ranged from catching crocodiles in Madagascar to uncovering the Flint water crisis to challenging assessments of "criminal insanity". Sometimes science is a central character, sometimes it just makes a cameo, and sometimes it simply provides the setting. We produce stories about professional experiments, private experiences, and everything in between. On our stages and in our podcast, we seek out diversity in every dimension – race, gender, sexuality, disability, religion, age, class, ethnicity, immigration status, and more. From the hilarious to the heart-wrenching, these storytellers collectively give voice to the human experience of science.
They raise fascinating questions for The Story Collider team. How do we produce stories and performances without overproducing them? How do we position the science in a story? How do we build our audience beyond self-identified science fans? And perhaps most importantly, how do we make art while making a living? These questions shape everything we do.
The Story Collider operates under a theater-company model of creative and business leadership. Artistic Director Erin Barker is a veteran performer and the first woman to have won the Moth GrandSLAM Championship twice. She first attended a Story Collider performance out of pity, to support her friends. But as she watched the show, she jokes "I went from thinking "This is a horrible idea!" to "How can I get in on this?"" If what Barker needed to see was that science doesn't ruin stories, what Executive Director Liz Neeley needed was assurance that stories do not diminish science, either. A marine biologist by training, Neeley spent a decade focused on accurately translating research findings into press coverage and policymaking. "I was stubborn," she says, "but the best available science kept telling me that stories are more understandable, more memorable, and more convincing. I didn't like it, but I couldn't ignore it."
The Story Collider's tagline, "true, personal stories about science," captures our duality. Our stories must be factual, and they must be emotional. We embrace the creative tension between strict science communication and pure entertainment and delight in our differences. We obsess over blockbuster films and niche research papers alike. Our workshop presentations feature pop culture examples from Hamilton to S-Town interspersed with cognitive neuroscience, psychology, risk perception, and more. We experiment with musical and visual metaphors to heighten the emotional impact of our talks, and look to pedagogical evaluation to help us understand what makes moments stick.
Many organizations do interdisciplinary work. The Story Collider is an interdisciplinary undertaking. When we take the art and the science equally seriously, we make choices differently. We hire producers with hard-won stage experience, as well as those with hard science backgrounds. Together, they help storytellers balance emotional momentum and intellectual heft. We insist that storytellers focus on their own feelings and motivations, and ask lots of questions to prompt deeper reflection. Three to six rounds of revision later, storytellers often tell us the finished piece surprises them – they find new meaning to their past experiences. No two processes are the same, but we believe everything from dramatic events to small moments can be turned into amazing performances as long as the science enhances the story, and the story advances the science.
The Story Collider hosts regular shows in New York, Boston, Washington DC, and Los Angeles. We are expanding to St. Louis and Atlanta in addition to the sponsored 'pop-up' shows we host around the country. Every show follows the same format, but each is unique to the city, hosts, and listeners. Our live audiences typically experience Story Collider in clubs, drink in hand, surrounded by a crowd, kicked off and sustained with friendly banter by our hosts. Shows have five storytellers and are promoted with evocative themes like "Adventures" or "Who Am I?" represented by black and white iconography. In contrast, our podcast subscribers most often listen on earbuds during their commutes. They experience Story Collider as 30-minute weekly installments, hosted by Ben Lillie's familiar voice. Podcast episodes feature two unrelated stories, paired up with a jargon-inspired theme like "Outliers" or "Resistance" and promoted with expressive photographs from the storytellers' performances. Finally, our workshop audiences generally listen to Story Collider stories in conference rooms on campus, fighting nerves and uncertainty as they work to develop their own ability to tell science stories. In this context, stories are often oral histories of science – and they speak to science as a culture and a career.
As for uncertainty, well, we worry about the future of science and arts funding alike. As producers of live shows, we try to plan aggressively but react fluidly to unpredictable and inevitable events along the way. The unpredictable is inevitable: at some point, tickets sales sag, RSS feeds fail, and things like fires damage beloved venues. Yet again, our interdisciplinary nature strengthens us. To keep the show going on, we have diversified our revenue streams to include grant awards, major donors, crowdfunding, ticket sales, sponsored shows, podcast advertising, workshops, and speaking fees. We work with universities, government agencies, nonprofits, science festivals, professional societies, publishing companies, and more. Sometimes cultures and expectations clash across these sectors, but we're comfortable with that.
We remember that both science and stories are products of and processes for attempting to understand the world around us. Both describe the past and create expectations about the future. Almost seven years after the very first Story Collider show in Queens, we are proud to think that our work might be writing new storylines for both science and society.
---
Liz Neeley is the Executive Director of The Story Collider. Her expertise includes the science of science communication, social media, and science journalism. Over the past decade she has helped hundreds of scientists find and tell their stories. Find her on twitter at @LizNeeley.
Erin Barker is the Artistic Director of The Story Collider, as well as a writer and storyteller. She has appeared on The Moth Radio Hour and The Moth's podcast, and was the first woman to win The Moth's GrandSLAM storytelling competition twice. Find her on twitter at @ErinHBarker.