Special to the Philanthropy Journal
By Sherry Booth Freeman, Ph.D.
One of the greatest challenges facing the U.S. technology economy today is a crucial shortage of skilled and trained information technology professionals. While there are currently more than half a million open jobs across every industry that require computing skills, employers are only able to fill an estimated 30% of the positions. Further, of the positions that are filled there is a near absence of minority groups. The computer science "pipeline problem," as well as gender and racial disparity in the field bring to light equity issues of access and participation in computer science that must be addressed.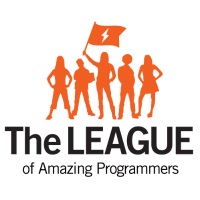 Vic Wintriss, a former Navy pilot, electrical engineer and owner of three successful electronic manufacturing businesses, is doing his part to address both of those challenges. Ten years ago, Vic and his wife, Diane, formed The LEAGUE of Amazing Programmers in San Diego, CA. The LEAGUE is a 501c(3) non-profit programming school with a mission of igniting young minds through programming. Providing students with a direct entry path into the workforce is a key mission of the school. Wintriss explains,
"Teaching kids programming helps to address two critical problems: It helps with this country's computer programmer shortfall, but more importantly, it helps to reduce inequalities in youth outcomes. I believe that the problem of income disparity in this country is in reality an educational problem. Teaching underserved kids programming helps to reduce the barriers that prevent them from achieving their potential in academic and economic realms."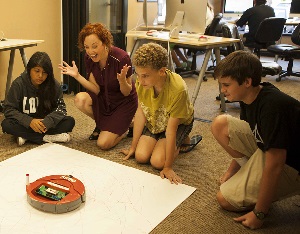 The LEAGUE teaches children Java programming starting in the fifth grade. Over the course of 4-5 years, students progress through a curriculum that ultimately enables them to take the Java Programmer Oracle Certification Exam.
The LEAGUE's unique staffing approach primarily relies volunteerism. Four paid teachers join forces with 30 volunteer mentors who are actively employed as Java programmers in their day job. Ultimately, being attentive with messaging of the volunteer opportunity is critical for recruitment.
"You have to cast the volunteer opportunity properly. Most programmers, when they hear the word "teacher," they envision standing in front of a classroom of 30 kids. But that is not what this is. Our mentors work with 4 students at a time and there is virtually no lecturing. So an important part of our messaging is using the word 'mentor' rather than 'teacher.'"
In explaining their successful 92% retention rate among volunteers, Wintriss notes that it is easy to get and keep the volunteer mentors on board once they understand the apprenticeship model.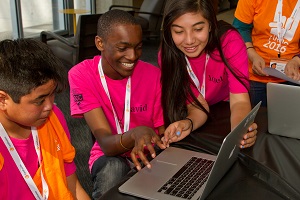 "What do programmers do in their spare time? They program. It is a very satisfying kind of thing. They love it. LEAGUE volunteers are professional software engineers who love coding and playing with technology. So this 'master apprentice' approach is very appealing to them. They get to work closely with these students and pass on their craft. It takes students several years to progress through the 10-level curriculum and as they move through the levels, their mentor stays with them. The mentors get to know the students very well. They get to know their families. So it is a win-win."
Also vital to the LEAGUE's success is the cumulative "recipe-driven" curriculum collaboratively developed by lead teachers and volunteer mentors. Accredited by the University of California San Diego Extension program, the LEAGUE's 10-level curriculum has been a grassroots effort growing out of the interests, passions, and knowledge of the programmers. Volunteer mentors develop and submit recipes to be reviewed by lead teachers. Once the recipes are approved, they become part of the leveled curriculum of lessons that mentors choose from in working with students.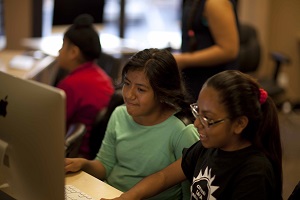 In addition to removing educational barriers by finding the right volunteers and curriculum, the LEAGUE also recognizes the barrier of access that minorities have with a computer science education and thereby many STEM-related careers. The LEAGUE actively seeks to enroll underserved students in the program by providing scholarships and ensuring that campuses are located in neighborhoods where these children live.
The LEAGUE strives for an equal balance between boys and girls in the program and aims for a 50% scholarship rate to reach the full range of students in financial need. Early encouragement and exposure to computer science significantly increases the likelihood that students will develop positive attitudes towards computer science and pursue computer science related opportunities. Wintriss believes that reaching one student in need can ultimately transform an entire family's life for the better and that The LEAGUE's novel approach has the potential to make a difference.
"Our vision is to transform lives in a thought-provoking fashion and cultivate America's future technology leaders. And our guiding principle is that 'amazing' awaits everyone."
---
Vic Wintriss is the Executive Director and Founder of The LEAGUE of Amazing Programmers. The LEAGUE currently has 200 students attending classes on their San Diego campuses and are presently working with a Raleigh-based company to open a new campus in Research Triangle Park, North Carolina in Spring 2017. For more information on The LEAGUE, visit their website.
Sherry Booth Freeman, Ph.D., is a Senior Research Scholar at the Friday Institute of Educational Innovation at N.C. State University. Her research interests center on innovative uses of technology for teaching and learning.