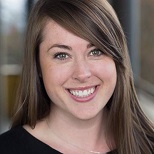 By Preston Wittwer
Currently in the states of Montana, Idaho, and Alaska there is only one person per state that is paid to address LGBTQ-focused work. Kim Leighton, based in Helena, is responsible for covering all 147,040 square miles of expansive Montana. Steve Martin, in Boise, works to connect with the 1.7 million Idaho residents spread across his state. And Josh Hemsath, based in Anchorage, works around unconnected roads or nonexistent internet connections to reach the often isolated communities he's working with in Alaska.
All three work for Pride Foundation, a nonprofit LGBTQ community foundation. The Seattle, Washington headquarters has a team of a dozen, and a few others work remotely in Portland, Oregon. These workers plus the three representatives in Montana, Idaho, and Alaska make up the entirety of Pride Foundation's full-time staff.

According to Communications and Outreach Manager Katelen Kellogg, Pride Foundation is interested in specifically helping those most marginalized, most vulnerable, and most invisibilized. The goal is to work in the Northwest region of the United States to life these voices, create opportunities, and break down barriers. At Pride Foundation they believe people should be able to be themselves fully in their home communities, feeling not only safe to do so but sensing complete belonging as well.
Pride Foundation was founded in 1985 to address the HIV/AIDS crisis in Seattle especially, but the greater Northwest region as well. There were many organizations launched in this area back then engaging in direct service work, but there was no centralized, specific funder for LGBTQ issues in the region.
"Pride Foundation came together so that we could fund strategies from and for our own communities," said Kellogg. "We had the solutions within our own communities, prevention services, taking care of one another, and we had to find a way to fund them."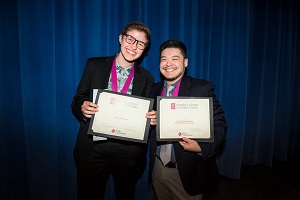 The funds that enabled these community-driven campaigns largely came from significant, transformative donations. There was the initial $1.2 million donation from founder Allan Tonning, who died only one year after helping launch the Foundation. Eight years later, in 1992, LGBTQ community and civil rights activist Brian M. Day established the first scholarship fund at Pride Foundation, a scholarship specifically for gay men of color living in the Puget Sound region, the coastal area around Seattle.
This first scholarship set the tone for all other Pride Foundation grants and scholarships: initiatives meant to interrupt the systemic oppression in the Northwest. One continuing approach that Pride Foundation takes to interrupt oppression is to lift up the stories of those who are being targeted and marginalized, in hopes broader exposure to their stories will benefit, educate, and uplift everyone in their communities.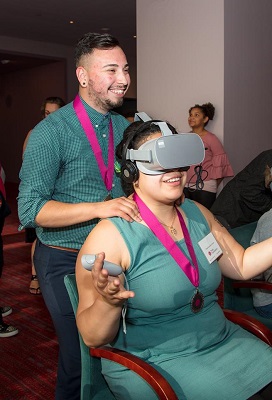 One of the Pride Foundation's current education campaigns of this nature is the Authentically Us film series (part of their larger TRANSform Washington public education project, a campaign to "lift up the stories of trans and gender diverse people" launched in 2016 "in the midst of anti-trans Initiative 1515 in Washington State," according to Pride Foundation's website). The short documentary films in the series were made in partnership with Facebook and Oculus. Each film highlights different transgender people in the Northwest using 360˚ filmmaking via virtual reality. The films have been a major success, screening at the Tribeca, Cannes, and SXSW film festivals.
Whether it is with films, grants, or education campaigns, the guiding principle for Pride Foundation is that solutions specific to problems facing vulnerable communities come from within those same communities.
"There is power that goes along with being a funder and having resources such as money," said Kellogg. "As a funder it could be really easy to say 'You know what? We want to fund this work' and then that work might not actually be what the community needs. So the question then becomes how do we build relationships in a way that partners also have power and we can address issues together?"
At Pride Foundation they are actively avoiding any impulse to immediately come in, take up space, set the agenda, and dictate solutions. An example of this active listening goal was establishing a rapid response fund after the 2016 presidential election. It became clear in early 2017 that there would be increased and immediate assistance needed for immigrants, refugees, and LGBTQ individuals. The premise for the fund was that people were going to need money to react quickly and they're going to need it without strings attached. This fund has proven instantly useful; they've already provided safety planning grants for vulnerable populations in many areas of the region.
Kellogg acknowledges that Pride Foundation is on a journey, one that the founders of the organization started back in 1985. But what they're focusing on, both individually and organizationally, is thoughtfully seeking out and thoughtfully implementing feedback. The advice Kellogg has for swamped organizations working to enact social change is to beware the backburner. Don't get too caught up in organizational needs and move on to the next project without debriefing internally with staff and externally with volunteers.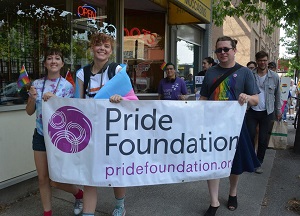 Every year there are new scholarship and grant cycles requiring consideration and review. Every year 300-500 new volunteers join Pride Foundation who need training and onboarding. And in the last few years there has been a succession of rapid-fire attacks and crises requiring immediate attention and mobilization.
All that work is crucial, Kellogg admits, but she is thankful Pride Foundation encourages regularly pausing the workflow to feel and recognize their strength, strategically refocus their resources, and have moments of self-care to assist one another. With goals and projects so inherently personal and political it is important for them to treat everyone as 100% human, humans who need to be heard and respected.
"We wouldn't be in this work if we didn't have hope for a better world," said Kellogg.
---
Originally from Spokane, Washington, Katelen moved to Seattle and joined the team at Pride Foundation in 2013. Previously, she worked as a liaison with LGBTQ youth and young adults experiencing homelessness in Portland, OR. After receiving her Bachelor of Social Work from the University of Portland, Katelen taught English in South Korea and then returned to Spokane where she worked to support women and children living in transitional housing. Katelen went on to receive her Master of Social Work from the University of Southern California.
Since 2013, Katelen has served in several roles at Pride Foundation, and has found her true home as the Communications and Outreach Manager, a role she's held since the spring of 2017. In this position, she has the opportunity to do the two things she loves most–share space with people who are passionate about issues of social justice, and lift up voices of scholars, supporters, and community partners through storytelling and relationship building. In addition to her professional work, Katelen serves as a board member for AIDS Project Snohomish County, and is actively involved with European Dissent, an anti-racist organizing collective through the People's Institute for Survival and Beyond, as well as the Diversity, Equity, Inclusion and Access Committee for the Association of Fundraising Professionals Advancement Northwest.
When she's not crafting communications or meeting with incredible Pride Foundation supporters, you can find her in the woods, swinging in a hammock by the river with a novel and a strong cup of French press coffee.
Preston Wittwer is a writing instructor and PhD student in the Communication, Rhetoric & Digital Media program at NC State University. His research focuses on how we use TV and film to shape our identities and worldviews.