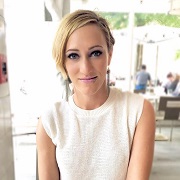 Special to the Philanthropy Journal
By Kate Heller
If you've ever been lost in a city, building, or space, you've probably encountered the work of an "experiential graphic designer," even if you aren't sure what they do:
You navigate to your destination, find a restroom, or park your car with ease using the signs and maps inside a hospital, airport, subway, or other space.
You understand a museum or gallery exhibition because of the graphics, animations, interactives, and plaques.
You instantly recognize and understand the type and function of the space you are in by looking at the displayed imagery, graphics, and branding.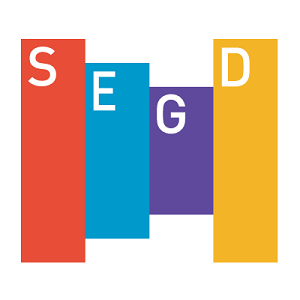 Society for Experiential Graphic Design (SEGD) is a professional association for these designers to help them create content-rich, emotionally compelling, experiential spaces for a wide range of environments, from hospitals and transit hubs to museums and educational campuses. Their work creates a sense of place, helps people find their way, communicates important information, and fuels a dialogue between users and the spaces they inhabit. They develop static and digital wayfinding systems, signage, environmental graphics, exhibition content, multimedia installations, public art, user interfaces, and branded/corporate environments. They research, plan, design, and build a diverse range of visual communications and information systems for the built environment.
SEGD, the brain-child of designer John Berry, was formed in 1974 as the Society of Environmental Graphics Designers, by a group of 18 designers in Houston, Texas. Their focus was on "architectural signing" at first, but within a year the group had formed by-laws and task forces that expanded their capacity to include awards, education, and federal guidelines for the trade. They hosted the first SEGD conference in 1980 with 150 attendees.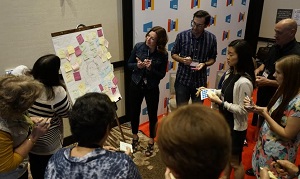 The organization has shifted over the past 42 years, with its scope moving from design and manufacture to a much more holistic interpretation of what connecting people to their locations means. Their mission, however, has remained constant: to educate, connect, and inspire the global, multidisciplinary community of professionals creating experiences that connect people to place.
SEGD has a few vital functions which support its mission and members, including serving as a source of education and inspiration for the design community, defining and refining the standards of practice in experiential graphic design, fostering well-informed research that enhances the community's knowledge base, sponsoring peer recognition programs, promoting collaboration across multiple design disciplines, and strengthening ties with educational programs that provide academic support in our field.
Keeping this level of activity as a small non-profit association can be a challenge, but SEGD's full-time staff of seven is committed to growing membership and participation in the field through a personal touch. Additionally, SEGD members help build the organization's capacity from within; despite sometimes being competitors in business, they are often friends, and help each other frequently. Staffers are committed to the same approach—they personally reach out to individual members, get to know them at events, and even handwrite notes. It might seem like a lot of work or a waste of time to some, but the relationships formed with long-term members are vital to SEGD's existence as an organization.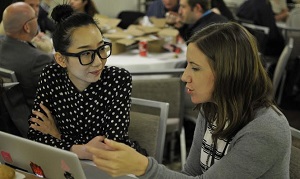 SEGD as a professional organization also offers content and access to events. The SEGD website is updated regularly with digital recordings of all educational, professional, and speaking events so that members can have 24-7 access to the knowledge-sharing and values-building that goes on within the organization. Student members have free access to events, and as a result, the annual conference has attracted record numbers of student attendance for two years in a row. Student engagement is part of SEGD's larger mission to grow the next generation of experiential graphic designers.
Their dedication to reaching both experienced and novice members makes SEGD one of the only organizations in the sector that addresses the needs of this particular section of the design field. There are no full college degree programs with a focus in experiential graphic design, and many designers discover the field at a later stage in their career. SEGD and its educator members have been making great strides in bring information to designers and design students earlier in their careers. This, coupled with the vast network of support that they offer through their programming and membership, allows for an institutional voice to arise out of the multidisciplinary community that is connecting human beings to place in innovative ways.
---
Kate Heller is the Marketing and Sales Manager at SEGD in Washington DC, and loves to travel, paint and scuba dive.