News about grants, gifts
The AJ Fletcher Foundation approved eleven grants to seven organizations totaling $1,129,000.
ArtsGreensboro surpassed their $1 million goal for the ArtsFund with a corporate gift from Bank of America.
The United Arts Council of Raleigh and Wake County invested $274,480 in grants across Wake County in support of arts programming in the current fiscal year.
The Food Bank of Central & Eastern North Carolina  received a $51,700 grant from the Walmart Foundation to help fight hunger in central and eastern North Carolina through Supplemental Nutrition Assistance Program education and outreach on July 25th.
Wells Fargo presented five $100,000 grants to local nonprofits to support revitalization efforts in Wake and Durham Counties on July 28th.
News about people, groups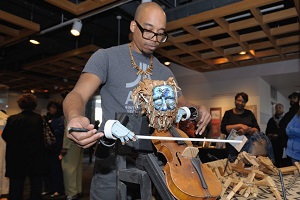 The City of Raleigh Arts Commission, Durham Arts Council, Orange County Arts Commission, and United Arts Council of Raleigh & Wake County opened the application process for the position of Piedmont Laureate for 2018. Applications for the position are due September 22nd.
First Baptist Church of Mount Olive has worked with a private company to construct two solar farms on its property to generate over 20,000-megawatt hours of energy every year.
Guilford Green Foundation presented a screening of To Wong Foo on July 26th at The Carolina Theatre.
Raleigh-Cary Jewish Family Services hosted a workshop for promoting businesses on Instagram on July 24th at Beth Meyer Synagogue.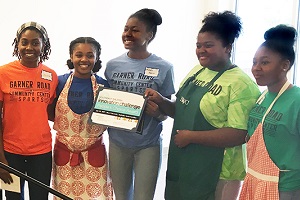 United Way of the Greater Triangle, Wake County, the City of Raleigh, and Southeast Raleigh Promise launched the first Southeast Raleigh Social Innovation Challenge with a $120,000 prize pool on July 22nd.
Duke Cardiologist Dr. James Peterson presented "Steps To A Healthy Heart" at Brookdale North Raleigh on July 25th.
Say Yes Guilford is partnering with Greensboro Police Department for Operation Pass, and partnering with the Carl Chavis YMCA for its Back to School Bash on August 19th.
The North Carolina Museum of Natural Sciences presented the 1985 film, "Ladyhawke" during Final Friday, on July 28th.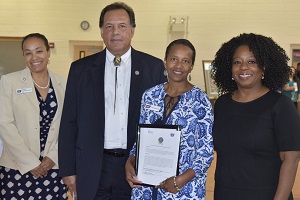 The North Carolina Commission of Indian Affairs Membership signed the American Cancer Society '80% by 18' pledge and declared their commitment to promote colorectal cancer screening within the American Indian community.
Common Cause NC hosted an evening of political education, trivia, and meeting new people on July 25th at Trophy Tap & Table.
News about opportunities, initiatives
The inaugural Carry the Water 5K, Fun Run, and One-Mile Walk will take place on September 23rd at Dix Park.
Curamericas is seeking interns for the upcoming Fall semester. Applications must be submitted by August 1st.
The Celebration to Stop Human Trafficking will be held on October 14th at the Plantation at Greenville Country Club.
On August 3rd, Fine Arts Theatre in downtown Asheville presents a special screening of "An Inconvenient Sequel: Truth to Power" with proceeds benefiting The Collider.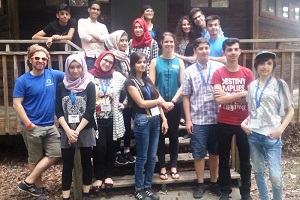 International House's Iraqi Teen delegation will be in Charlotte from August 13th-27th.
Habitat for Humanity of Wake County is seeking volunteers to join the Habitat Home Tour being held on November 5th.
Student Action with Farmworkers' End of Summer Celebration will take place on August 5th at Power Plant at American Tobacco Campus in Durham.
Intrahealth International is hosting SwitchPoint 2018 on April 26th and 27th.
Durham Rescue Mission is in need of restocking their pantry. Individuals are encouraged to bring canned foods and non-perishable items to their campuses.
Progressive Turnout Project is seeking Regional Organizers for a legislative advocacy campaign.
The Berean Community Center will host the second annual Read, Write, Run 5K on August 12th to encourage the community to engage in a health and active lifestyle and raise awareness of the importance of access to tools that promote literacy for all children.
American Red Cross of Eastern North Carolina is hosting an Open House on August 9th at 4737 University Drive in Durham for individuals to learn about volunteering with American Red Cross.
The 13th Annual NC Philanthropy Conference will be held in Durham on August 17th.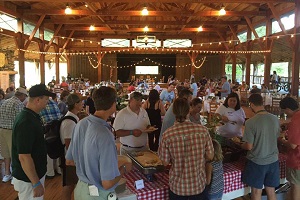 Camplify is hosting the 10th Annual Camp for All BBQ Ball on September 10th at Camp Ton-a-Wandah in Hendersonville.
The Center for Craft, Creativity & Design is hosting Craft After Dark on August 10th.
The Chapel Hill Caregivers Summit will take place on August 22nd at the William and Ida Friday Center for Continuing Education.
Independent Animal Rescue is inviting individuals to attend the 15th Annual Painted Chair Auction on August 5th at the Levin Jewish Community Center in Durham.
Duke University's Office of Durham & Regional Affairs is now accepting applications for 2017 Community Care Fund grants. Nonprofits in Durham, Wake and Orange counties are encouraged to apply, and applications will be accepted through August 2.
Hospice and Palliative Care of Greensboro will host an evening presentation about the impact of losing a loved one to drug overdose on August 22nd in the Lusk Center at 2501 Summit Avenue.
---
If you are interested in having your organization's news announced in the next News Bits, please send announcements or press releases to news@philanthropyjournal.com.