News about grants, gifts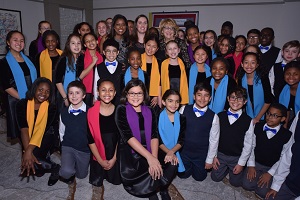 The Community Chest raised a record $130,000 at the Annual Spring Gala held at Montammy Golf Club in Alpine, New Jersey on April 18th. These funds will be directed to the organization's annual campaign to award competitive grants to over 20 nonprofit agencies providing services to approximately 50,000 people in need in the area.
Debbie's Dream Foundation: Curing Stomach Cancer celebrated its 9th Annual Dream Makers Gala on Saturday, April 21st in Hollywood, Florida. With 515 registrants, over $300,000 was raised to fund research and benefit stomach cancer patients around the world.
The Children's Village raised $600,000 at its annual Circle of Friends dinner and after party on April 26th. The event, held at Pier Sixty at Chelsea Piers in New York City, was attended by more than 425 loyal supporters.
The Brown Rudnick Charitable Foundation Corp. awarded a Community Grant to Carl G. Lauro Elementary School in Providence, Rhode Island. The grant will cover the costs to organize a school talent show for 3rd – 5th graders, including theater rental and the purchase of invitations, flyers, decorations and awards.
The SS United States Conservancy raised $100,000 to help save America's Flagship through the inaugural SS United States Legacy Cruise.
The Brown Institute for Media Innovation is awarding close to $1 million in funding for 12 projects as part of the 2018-19 Magic Grants. Each year, the Brown Institute awards these grants to foster new tools and modes of expression and to create stories that escape the bounds of page and screen.
A new center dedicated to research on longevity and healthy aging has been established at the USC Leonard Davis School of Gerontology with a $20 million gift from Mei-Lee Ney.
News about people, groups
Habitat for Humanity of Collin County and Lowe's hosted the annual National Women Build Week. Susan Fletcher, Collin County Commissioner, KCBI radio Assistant General Manager Sharon Geiger, Lowe's employee Heroes and Habitat staff celebrated at the kick-off of this event with 50 women volunteers, Lowe's Heroes, and Habitat homeowners who united nationwide to build up their communities and gain skills in home construction.
Mark Miller Subaru has been awarded the 2018 "Love Promise Retailer of the Year." Since 2010, Mark Miller Subaru has donated nearly $2 million through partnerships with Utah's charities, including Nuzzles & Co.
Economic Mobility Pathways celebrated Economic Independence Day on May 3rd with a gala event at the Boston Public Library hosted by Wendy Watson and First Lady of Massachusetts, Lauren Baker.
The Chester County Fund for Women and Girls marked its 20th anniversary of serving local women and girls at the 13th Annual Making a Difference Luncheon on May 4 at the Desmond Hotel in Malvern.
The Community Foundation for Southeast Michigan has appointed Sheryl G. Arb vice president, marketing and communications. She comes to the Foundation from Kellogg Company, where she served as senior director of global internal communications, including executive communications.
The Afterschool Alliance appointed Heather Nesle to its board of directors. Nesle brings a wealth of volunteer, philanthropic and business experience to the board. As president of the New York Life Foundation, she has steered the philanthropic arm of New York Life in its support of a host of initiatives in the areas of educational enhancement and childhood bereavement.
The Cancer Support Community named Kevin Stein, Ph.D., FAPOS to serve as Executive Director of its Research and Training Institute and spearhead the advancement of the organization's expanding patient-centered initiatives and research.
During the week of May 7th-11th, the staff of Parkland Health & Hospital System celebrated the American Hospital Association's 2018 National Hospital Week by focusing on the care and compassion that plays a vital role in serving the community.
The United States Holocaust Memorial Museum appointed Todd F. Buchwald, former US Ambassador and Special Coordinator for the Department of State's Office of Global Criminal Justice, as the inaugural Tom A. Bernstein Genocide Prevention Fellow at the Museum's Simon-Skjodt Center for the Prevention of Genocide. During his appointment, Ambassador Buchwald will conduct research and produce a report exploring how the US government has applied the 1948 Convention on the Prevention and Punishment of the Crime of Genocide (the Genocide Convention) in past cases and ways our government can make better use of this tool in deterring future crimes and aiding victims of genocide.
News about opportunities, initiatives
New Horizons announced Julie Kavner, the voice of The Simpsons' "Marge Simpson," as Tournament Sponsor for the agency's 15th Annual Golf Classic. The event, scheduled to be held on Monday, June 25th at MountainGate Country Club, will honor Ms. Kavner's late father, Dave Kavner, a long-time supporter of the golf classic.
On May 17th, Riverzedge Arts will host their Raise the Roof Block Party, a celebration of their home in Woonsocket's Fairmount Neighborhood. The event will also offer a behind-the-scenes look at the upcoming building renovations with the plans for the space revealed.
The University of California, Irvine Ayala School of Biological Sciences will host the next Allergan Series in Modern Biology Lecture on Thursday, May 17th. The topic will be "Rebuilding Our Joints: Translating Discoveries in Biology and Engineering" presented by Kyriacos Athanasiou, Ph.D., Distinguished Professor of Biomedical Engineering at the Henry Samueli School of Engineering at UCI.
The Center for Safe Internet Pharmacies and Partnership for Drug-Free Kids have launched MedicineSafe, a new coalition of national and state organizations working together to help save lives.
---
If you are interested in having your organization's news announced in the next News Bits, please send announcements or press releases to news@philanthropyjournal.com.