News about gifts, grants
Children's Hospital of Orange County received a $5 million gift from the William, Jeff and Jennifer Gross Family Foundation to expand its Small Baby Unit on its main hospital campus. Designed for infants born at less than 28 weeks gestation or weighing less than 1,000 grams, it is the only unit of its kind anywhere.
National 4-H Council received a $500,000 grant from Lockheed Martin to bring computer science education to underserved youth in five communities where Lockheed Martin has a significant presence: Colorado Springs, CO; Dallas/Fort Worth, TX; King of Prussia, PA; Moorestown, NJ and the San Francisco Bay Area, CA. The grant will support teen-led computer science clubs and engage young people in in-depth, year-round computer science programming. The clubs will also focus on career exploration and understanding real-world applications of CS skills through sustained interaction with Lockheed Martin engineers.
Chicago Fund for Safe and Peaceful Communities issued its fourth round of community-focused grantmaking. Grants ranging from $1,000 to $10,000 will go to community-based organizations running activities and intervention programs in neighborhoods hard hit by violence. The $850,000 fund is an overall strategy to reduce gun violence.
The Horizon Foundation issued five inaugural racial equity grants totaling $306,000 to nonprofits in Maryland: African American Community Roundtable, Association of Community Services of Howard County, Equity4HC, HopeWorks of Howard County, and Howard County Chinese School.
Arnold Ventures launched its National Partnership for Pretrial Justice: a collective of research, technical assistance, policy, and advocacy organizations united around the shared goal of improving pretrial justice across the country. Arnold Ventures also awarded $39 million in new pretrial justice grants and released its first Statement of Principles on Pretrial Justice.
Help For Children (HFC) raised $1 million at its 21st annual HFC New York Benefit to Fight Child Abuse. HFC provides grants for child abuse prevention and treatment interventions in thirteen locations across seven countries.
Georgetown University Law Center received $10.5 million from Dallas businessman, Scott K. Ginsburg. The gift will support expanding the Law Center campus near Capitol Hill in Washington, DC. In recognition of the gift, Georgetown will launch the Scott K. Ginsburg Professorship series.
News about people, groups
NextHome is partnering with Canine Companions for Independence, a nonprofit with the primary purpose to enhance the lives of people with disabilities by providing highly trained assistance dogs. The partnership will drive national donation efforts from its local offices to generate additional funds that will provide Canine Companions assistance dogs to children, adults and veterans with disabilities free of charge.
Martha's Table selected Kim R. Ford as their new President and CEO. Previously, Ford served as Acting Assistant Secretary in the Office of Career, Technical, and Adult Education at the U.S. Department of Education. Martha's Table works to increase access to quality education programs, healthy food, and family supports.
The Getty Research Institute appointed LeRonn P. Brooks as Associate Curator for Modern and Contemporary Collections, specializing in African American art. Brooks fills a position newly created as part of the Getty Research Institute's African American Art History Initiative. Previously, Brooks served as Assistant Professor in the Department of Africana Studies at Lehman College. (Photo Credit: Kay Hickman)
USTA Foundation, the charitable arm of the United States Tennis Association, will celebrate the 50th anniversary of the National Junior Tennis and Learning network by launching an NJTL 50th Anniversary campaign. Part of the campaign includes a series of stories titled NJTL 50 for 50, that highlight a combination of 50 NJTL participants, leaders, pioneers and alumni.
JASA was selected by The New York City Department of Housing Preservation and Development and the New York City Housing Authority to develop two affordable senior housing projects. Casa Celina will be a 16-story building comprised of 200 senior units in the Bronx and Linden Court will be a 13-story building comprised of 154 senior units.
Hadassah Foundation named Stephanie Blumenkranz as Director. Blumenkranz previously served as Associate Director at the Jewish Women's Foundation of New York. The Hadassah Foundation invests in social change to empower girls and women in Israel and the United States.
Northern Forest Center raised $1 million in investments for its Millinocket Housing Initiative Fund, its first social and economic impact investment fund, to create quality homes for people who want to make a future in Millinocket.
S.A.F.E., Safety Alerts for Education Foundation, is donating its emergency mobile alerts platform to Massachusetts schools, for free and in perpetuity. The system is identical to alert systems used by the Massachusetts Emergency Management Agency for emergency communications. S.A.F.E. was founded by principals of Ping4 Inc. in Nashua, NH.
Tribeca Film Institute selected fourteen scripted and documentary projects for the 16th annual Tribeca All Access program, which amplifies stories from historically underrepresented voices.
News about opportunities, initiatives
L'Oréal Paris's Women of Worth honors 10 women, aged 16 or older, for their impact on the world with a grant of up to $35,000 and national recognition. The public is encouraged to nominate women championing change through a wide range of causes. Submission deadline: April 30th.
The Building Healthier Communities Fund, a fund of the Northwest Connecticut Community Foundation, invites nonprofits to apply for program grants that support early childhood education and development by enhancing home visitation in the Greater Torrington and Winsted areas. Application deadline is May 1st.
Rita & Alex Hillman Foundation released two requests for proposals: Hillman Emergent Innovation Program and Hillman Serious Illness and End of Life Emergent Innovation Program. Both programs seek bold, early-stage, or untested interventions that address health challenges faced by vulnerable populations including the economically disadvantaged, racial and ethnic minorities, LGBTQ people, people experiencing homelessness, rural populations, and others. Application deadline is April 29th.
Professional Face-to-Face Fundraising Association (PFFA) invites all organizations with an interest in face-to-face fundraising to inquire about membership. PFFA is a self-regulatory association that provides a method of fundraising used by nonprofits to secure committed financial support to ensure funding for mission-related work in the United States and around the world.
News about upcoming events
4.16.19 AFP Fort Lauderdale/Broward Chapter's April Program: Unlock the Power of Partnership: Building a Culture of Collaboration and Shared Success happens at Tower Club Fort Lauderdale from 7:30 a.m. to 9:00 a.m. Members: $30, Non members: $40. Registration.
4.25.10 Respectability will share results from a survey of nonprofits and foundations: Disability in Philanthropy & Nonprofits: A Study on the Inclusion and Exclusion of the 1-in-5 People Who Live with a Disability and What You Can Do to Make Things Better, at 8:30 a.m. at the National Press Club in Washington, D.C. Respectability is a nonpartisan group working on inclusion efforts for people with disabilities. Registration includes continental breakfast.
5.6.19 Good Grief hosts Evening Fore the Kids at TPC Jasna Polana in Princeton, NJ from 6:00 p.m. to 7:30 p.m. Event includes cocktails, dinner, and program and proceeds support grieving children in New Jersey and Eastern Pennsylvania. Tickets are $75. RSVP.
5.13.19 Barlow Respiratory Hospital hosts a benefit to rebuild the hospital: An Evening Under the Stars takes place on the Barlow campus near downtown Los Angles, next to Dodger Stadium. Special guests include Governor Gray Davis Dodgers Radio Announcer, Charley Steiner. See sponsorship and registration information.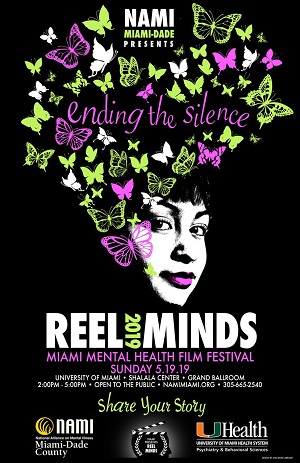 5.19.19 NAMI Miami-Dade County hosts the 4th Annual Reel Minds Miami Mental Health Film Festival at the University of Miami's Donna E. Shalala Center from 2:00 p.m. to 5:00 p.m. The festival will showcase six short films and narratives behind will share life experiences meant to inspire, heal, and empower people. Following each short film, an individual with a lived experience of a mental health challenge will speak on the films' topic for a few minutes providing further insight about the message behind each film.
5.22.19 AiP Conference on Philanthropy takes place May 22nd to May 24th at the Washington Marriott at Metro Center in Washington, DC. See information on tickets, keynote speakers, and conference sessions.
5.31.19 Emerge is a 2-day event, May 31st to June 1st, at the Las Vegas Hard Rock Hotel. Activists speakers include: Patrisse Cullors (Black Lives Matter) and gun-control advocate David Hogg (March for Our Lives). Presented as a "fantasy dinner party," the festival is comprised of four banner showcases that explore themes of Protest, Self, Brave, and Sex.
---
If you are interested in having your organization's news announced in the next US News update, please send announcements or press releases to news@philanthropyjournal.com.