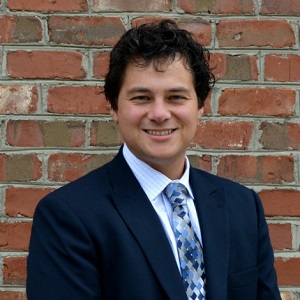 Special to the Philanthropy Journal
By Andrew Herrera
For the likely small percentage of people who could pick out San Marcos, Guatemala on a map, they probably know more about the romantic parts of the department. It's home to the country's highest volcano and beautiful highland scenery.
What many people may not know is the everyday reality for much of the population, which is still greatly entrenched in the Maya language and culture. With an elevation of nearly 8,000 feet, the people live in isolated, hard to reach areas, where women and children are left with no healthcare options and often give birth on the dirt floors of their homes.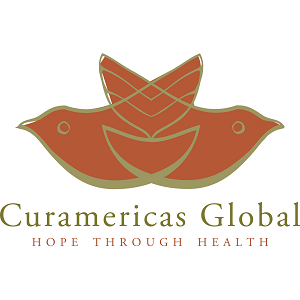 This is the reality that healthcare workers Allie Bruns, Sarah Sauder, Jackie Wallace traveled to in July 2019 with the global health nonprofit, Curamericas Global and members of Fuquay-Varina Methodist Church in North Carolina. The three women live near Baltimore, Maryland, and all have different medical backgrounds that focus on women's health and obstetrics.
Jackie was first introduced to Curamericas Global when she was a student at Johns Hopkins University pursuing her Master's in Public Health. Dr. Henry Perry, who helped found Curamericas Global in the early eighties, became Jackie's mentor and advisor. She first volunteered in Guatemala with the nonprofit in 2016.
This trip would be a new and different opportunity for Jackie, as she and the other volunteers were among the first of only a few groups to travel to Curamericas' newest Casa Materna (Casa) (a community-owned and operated clinic for women and children) in San Marcos. "The Casa has been open not even two years," said Jackie, who has also traveled to Curamericas' project site in Calhuitz, Guatemala. "They're definitely still building bridges in the community."
Curamericas Global's mission is to partner with forgotten communities to save the lives of mothers and children. In partnership with the Guatemalan Ministry of Health, Curamericas Global supports five community-operated Casa Maternas, or birthing homes, throughout the rural highlands of northwestern Guatemala that are open 24-hours a day, seven days a week. Curamericas' Casa Maternas are culturally-adapted birthing facilities that provide Mayan women with the medical care and support during their pregnancy, delivery and after the birth. Curamericas Global opened the doors to the facility in San Marcos in December 2017.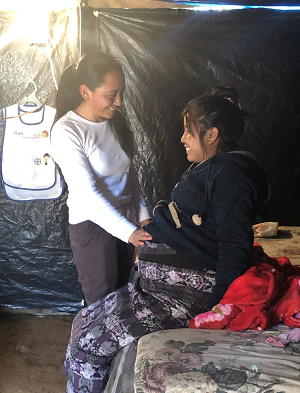 The volunteers' 10-day trip to San Marcos involved working alongside local health workers, conducting home visits and training seminars, and attending community events to provide valuable education and health services to the local population. While they were there, their expertise and willingness to care and teach were overwhelmingly needed and sought out by people across the community. The area has extraordinarily high child and maternal mortality rates, due primarily to preventable conditions, like pneumonia and diarrhea. Basic education and community-based health provided by Curamericas Global saves lives.
For Allie, traveling to Guatemala was a special reawakening, both professionally and personally. She not only has a love for the Spanish language, she also traveled to the country during undergrad, which evolved in to nearly half a dozen more trips. However, she had not been back to Guatemala in 10 years. Allie, a mother to two young children, currently works as a nurse in a birth center and serves as a homebirth midwife. "I just felt amazing while I was there," remembered Allie. "Nourishing and inspiring, I felt this excitement in me."
The volunteer group arrived to the Casa Materna following a long journey up the rocky, twists and turns of the mountain, which included hours of torrential downpour. The volunteers soon learned just how closely immersed they would be in the work happening at the facility. "Construction was not finished in the volunteer dorm, so several of us had to sleep next to the labor room," said Allie. "It actually turned out to be a positive, because we were right in the mix with the staff."
On Allie's first night at the Casa, she was able to be part of a birth. "That was really wonderful," she said. "It was more of a backseat approach, compared to what I'm used to, but we were able to go in, hold the mother's hand and witness the birth." Allie remembered thanking the mother for allowing her to be a part of something so intimate in another culture. A memory she knows she will never forget. Allie's experience came full circle, as she visited the same mother during one of her many home visits on the trip checking in on her post-natal care.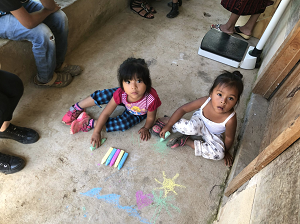 These visits provided Allie and the other volunteers an opportunity to see the Casa's health workers day to day job. It typically includes a long trek to the villages, where they go home to home, visiting families and educating mothers about water treatment, hand washing and proper nutrition, as well as providing life-saving health tools, like vaccinations and vitamins for infants and children. "When I do home visits here in the US, I get in my car with my bag of supplies," explained Allie. "Whereas in Guatemala, we're walking, sometimes hours, house to house, many just tin-roof shacks, made up of one room and dirt floors."
Working for the Casa Maternas is a very competitive job in the community, staff are well supported and compensated. There are currently four nurses and six support staff at the facility in San Marcos. Although the shifts rotate, the Casa Materna is manned 24 hours a day, so the health workers can attend births, collect data and perform trainings for the dozens of volunteers from across various communities.
The volunteers worked side-by-side the health workers, who were also responsible for helping cook their meals while they were there. "I came away from this experience in awe of this unrelenting work ethic – they are there to serve women and children at all costs," said Allie. "These health workers forge ahead and meet all of the needs of the families, day in and day out, with the low resources they have – it was just so inspiring."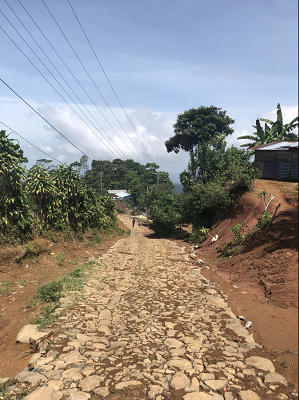 As a practicing OBGYN, the majority of Jackie's time was actually spent inside the Casa Materna, helping care for the pregnant women who traveled to the facility and training the nurses and staff. "Women were coming, knocking at the door, wanting a prenatal visit," recalled Jackie.
Jackie and the other women also held training sessions for the health workers, many of them simulation-based. "One of our trainings was to show the workers how to handle an obstetric tear," Jackie explained. "I had read that I could actually use and prepare beef tongue to serve as an innovative, teaching tool for this kind of emergency. So, we had the beef tongue, then sat and stitched for the afternoon." These types of innovative and evidence-based methods are a cornerstone of Curamericas Global support to its partners around the world.
Sarah, one of the other nurses, worked with her church to fundraise for the trip and was able to bring along a 'Mama Natalie.' The tool is a birthing simulator that makes it easy to create very compelling situations of complex or normal birthing scenarios. The women also showed the health workers how to utilize a Rebozo, which means "shawl" in Spanish. The traditional Mexican shawl is about four to five feet in length and is a multifunctional tool used before, during and after labor. They also went through methods of neonatal resuscitation.
These trainings are just one part of Curamericas Global's critical approach in helping create sustainable programs for the communities it partners with. Developed by Curamericas' founder, Dr. Henry Perry and Dr. John Wyon, the Community-Based, Impact-Oriented methodology is an approach that allows health care providers to better understand, more effectively treat and accurately measure outcomes and impacts for the most commonly found causes of unnecessary suffering, sickness and death within communities.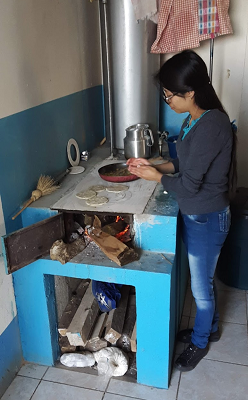 This approach is key for Curamericas Global, because it ensures that its programs and services are meetings the needs of every person in each community. No one is forgotten. "I have been on several other trips, with different organizations, but this is the only organization that I go back with," Jackie said. "Curamericas' purpose is to make sure we don't have to keep returning; instead, we're helping provide the tools, knowledge and confidence that these communities need to take ownership of their own health and future." This sustainability is evident in how the model is scaling up and Jackie is taking her expertise to new communities in need.
It is this approach that truly sets Curamericas Global apart from other organizations. It saves vulnerable women and children by establishing local partnerships and delivering effective, self-sustained programs that respond to clear needs and gaps in the community. Since 1983, Curamericas Global has reached over 1.4 million people in seven countries, including the United States. They have external evaluations that show reductions of mortality in children and in mothers, literally saving thousands of lives.
Community members also play an active role in the health and success of their neighbors by becoming Community Health Volunteers. Curamericas Global staff train these local volunteers, often local mothers, to work alongside health care providers so they can help educate other women in their community. These volunteers are the eyes and ears of the project. "Having the community be the primary investor in the project is a game-changer," said Allie. "They employ all local people, and they're all trained. It's unparalleled in approach – without that that investment in themselves, you're never going to become sustainable."
To help achieve this goal of sustainability, Curamericas Global and the San Marcos government have set out goals for the project. They include increasing health facility deliveries, decrease maternal mortality, achieve an overall improvement in maternal and child health indicators, improve psycho-status of the population and increase community trust and involvement in the formal health system. "It's our goal that every mother and child, in every community receive services," said Andrew Herrera, Executive Director of Curamericas Global. "No one is forgotten, and no one is left behind, because Curamericas Global goes to them."
---
As Executive Director of Curamericas Global since December 2013, Andrew has been responsible for leading strategic initiatives, development of the Board of Directors and the day-to-day operations of an international Nongovernmental Organization.
Andrew joined Curamericas Global in 2009. He has a B.A. in Hispanic Studies and Religious Studies from East Carolina University and an MPH from the University of North Carolina Gillings School of Global Public Health in Public Health Leadership and a concentration in Field Epidemiology.
In 2019, he received his MBA from the University of Chicago Booth School of Business. By pursuing this degree, Andrew has expanded Curamericas Global's network, applied in-class learning immediately to Curamericas programs and exchange principles of Curamericas with colleagues in the for-profit sector.