News about grants, gifts
St. David's Foundation awarded over $1 million in grants to a number of park-centric organizations to promote healthy activities.
The National Trust for Scotland Foundation USA's annual A Celebration of Scotland's Treasures gala, which was held at New York's Metropolitan Club on April 12th, raised nearly $400,000.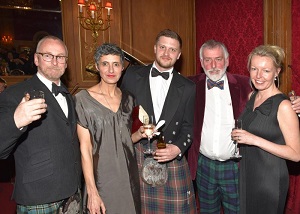 California State University, Los Angeles was awarded a nearly $1 million grant from the National Science Foundation to increase degree completion and career readiness among students in engineering and computer science majors.
A team of scientists at Sanford Burnham Prebys Medical Discovery Institute have been awarded a three-year, $1.3 million National Institutes of Health grant to advance the search for a cure Alzheimer's disease.
The Academy Foundation of the Academy of Motion Picture Arts and Sciences awarded the 2018 FilmCraft and FilmWatch grants. In addition to the 51 grants, the grants committee set aside $15,000 to help with the recovery efforts at three international archives devastated by hurricanes and earthquakes in 2017.
TEGNA Inc., together with its Make A Difference Day (MDDAY) partners Arby's Foundation and Points of Light, named National and All Star award winners from across the country. Thirteen National award winners each receive a $10,000 grant from Arby's Foundation. The All Star winner, which is selected from projects that have previously won a National MDDAY award, receives a $10,000 grant from the TEGNA Foundation. The grants allow honorees to support a charity related to their MDDAY project and to continue to make a difference in their community.
On April 12th, representatives of the Miles for Moe Fund of the Northwest Connecticut Community Foundation presented a check for $15,000 to Camp MOE to support camperships and camp needs.
Wells Fargo will provide $200 billion in financing through 2030 to businesses and projects that support the transition to a low-carbon economy. More than 50 percent of the financing will be focused on companies and projects that directly support the transition to a low-carbon economy. The remainder of the financing will support companies and projects focused on sustainable agriculture, recycling, conservation, and other environmentally beneficial activities.
The National Association for the Self-Employed awarded a total of $48k in Small Business Growth Grants to 12 small businesses throughout the country in 2017. Grant recipients will each receive a $4,000 grant to help grow and expand their business by helping to finance a particular small business need.
News about people, groups
Fort Lauderdale Mayor and LGBTQ Advocate Dean Trantalis will be the recipient of the first-ever Pride Center at Equality Park "Alan Schubert Award of Excellence" during the fourth annual Diversity Honors presented by Seminole Hard Rock Hotel & Casino in Hollywood, Florida on April 27th at the Hard Rock Event Center.
The Pfizer Foundation named LifeNet International (LN) among the 2018 cohort of Global Health Innovation Grant Program recipients. Since 2016, the Pfizer Foundation GHIG Program has supported LN's efforts to equip health workers in 10 existing primary-care health centers in Uganda.
Henry Schein, Inc. awarded The Night Ministry the gold medal in the Medical category of the third annual Henry Schein Cares Medal program.
Brookings Institution named Ted Gayer the new Executive Vice President of the Institution, a promotion from his current position as Vice President of Economic Studies; and Emily Horne as Vice President of Communications. Horne currently serves as Head of Global Policy Communications for Twitter and worked closely with General Allen on counter-ISIL efforts at the State Department.
Cities of Service named 10 finalists for the Engaged Cities Awards. Underwritten by Bloomberg Philanthropies, the Award shines light on the growing number of ways city leaders are co-creating the future with residents, enabling cities around the world to learn from best practices and bring effective strategies back to their own cities.
Win Epic Trips has launched its first adventure travel campaign supporting Big Brothers & Big Sisters of Southern Nevada. The platform will incentivize donors by giving them a chance to win once-in-a-lifetime adventures for making a $10 donation to the featured charity.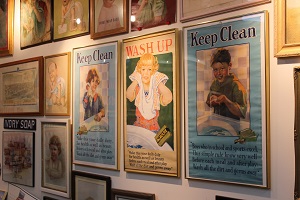 Clean the World Foundation celebrated the grand opening of The Soap Story, an interactive soap museum located at Clean the World's Orlando facility. The ribbon-cutting ceremony was held on Tuesday, April 17th.
The Champlin Foundation named Nina Stack, the current president of the New Jersey Council of Grant Makers, its next executive director. Stac succeeds current executive director Keith H. Lang, who will retire on June 30, 2018.
The National Runaway Safeline is honoring Kerrie Klein of Chicago, IL, as its 2018 Volunteer of the Year.
The Bean Automotive Group is partnering with the Live Like Bella Childhood Cancer Foundation to ensure continuous support of Live Like Bella's mission to fund innovative childhood cancer research, provide financial support to families whose child is undergoing treatment, and assist families who have lost a child to cancer with memorial expenses.
Prison Fellowship awarded the 2017 Charles Colson Legacy of Hope Award to B. Wayne Hughes, Jr. of Jackson, Wyoming.
News about opportunities, initiatives
ABR Films will launch a three-part feature video series in the run-up to the 2018 Kentucky Derby highlighting three distinct nonprofit programs dedicated to better serving veterans through equine therapy: The Man O' War Project at Columbia University Irving Medical Center; Squirrelwood Equine Sanctuary; and Heroes & Horses.
The Rainbow Village Golf Classic will take place April 30th at the Legends Course at Chateau Elan in Braselton, Georgia.
Games for Change will host its 15th Annual Games for Change Festival June 28th-June 30th, at Parsons School of Design at The New School in New York City.
The National Military Spouse Network (NMSN) is expanding its Military Spouse Career Summit program to include two events in 2018. The Summits presented by USAA will include the NMSN Rocky Mountain Summit from June 11th-12th in Colorado Springs, CO, and the Capital Summit from October 12th-13th in Springfield, VA.
On April 24th and 25th, Connecticut Community Foundation will host Give Local Greater Waterbury and Litchfield Hills, a 36-hour online giving event that will benefit 257 nonprofit organizations in the region.
Caliber Collision is asking its customers, business partners and the public to "fill 'er up" by donating grocery bags full of food during its 7th Annual Rhythm Restoration Food Drive, through May 11th. Donations from Caliber's food drive will help stock the shelves of nearly 60 food banks across the country during the summer months when many children who typically rely on school lunches go hungry when school is out.
Yu-Ai Kai's 24-hour day of giving to benefit senior services – called "Give2YAK" – will be May 8th.
Three national organizations – The Sphinx Organization, New World Symphony, and the League of American Orchestras – have partnered to create the National Alliance for Audition Support, a field-wide initiative with the long-term goal of increasing diversity in American orchestras.
---
If you are interested in having your organization's news announced in the next News Bits, please send announcements or press releases to news@philanthropyjournal.com.