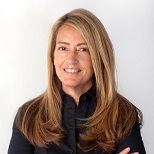 Special to the Philanthropy Journal
By Karen Sugar, MA
The empowerment concept gives life to the idea that a woman can be an agent of change in her own life, determining her own future. But defining empowerment is nearly impossible. The way we see others, and ourselves, is subjected to our own life experiences, perspectives, culture and values. It is also defined according to (societal) norms, market-based and political agendas. Because of the varying ideas associated with the word, the concept is hard to track, and norms are not well established.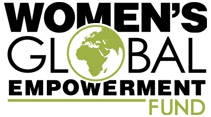 Women's Global Empowerment Fund (WGEF) is a globally connected, grassroots nonprofit working primarily in northern Uganda, providing economic, social and political opportunities to women recovering from a brutal 25+ year civil insurgency. The goal of WGEF is to create sustainable human development, increased human security and women's empowerment; our motivation is the belief that women are natural leaders, and when given opportunities, can rise above poverty with dignity.
We work on issues of sustainable human development and empowerment. Our expertise is with women and conflict, microfinance, and gender and development. Over the last 9 years we have been working with women recovering and rebuilding their lives and communities after a long and brutal civil war.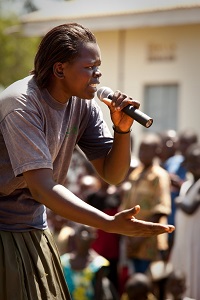 WGEF defines empowerment as "one's ability to access resources, make choices and determine life outcomes." While many definitions are focused on financial mobility, we contend it is much more complex, suggesting financial agency alone does not create empowerment, but may be a catalyst to other variables that enable empowerment; other variables are contextually important and valuable in the process, such as: mobility, decision making capabilities, increased health and well-being, decrease in violence.
While the cornerstone of our program is microfinance and economic activity, we focus on elevating women's voices through three areas of social programs: literacy, leadership development and health initiatives.
WGEF is unique among interventions, believing that any meaningful project must include a political dimension. We achieve this by focusing on leadership development.
We believe that women must have a seat at the policy table for things to change. Women have unique issues because they are women, and those challenges are not fully addressed when women are not included in policy development.
Elevating Women's Voices
One important way WGEF supports elevating women's voices is thru our annual drama festival, Kikopo Pa Mon, Creating a Voice for Women. To address the issues around gender inequality, violence, land rights, food security, health and other challenges facing women in northern Uganda, Women's Global Empowerment Fund created and hosts an annual drama festival, Kikopo Pa Mon. Women in our Credit Plus program create original plays highlighting their stories using music, drama, and dance.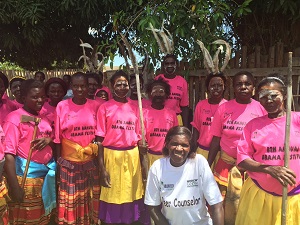 Performances focus on the issues of inequality, education human rights and violence. Participants choose the issue to be addressed; women use the unique opportunity as a vehicle to directly speak to men and community leaders who are in attendance. Because the issues addressed are sensitive and can be difficult to discuss directly, using music, dance and drama offers a different, and effective, way to communicate. By encouraging the idea of traditional music, dance, and drama in the local language, the culture of the area would be preserved, and the relevance of these issues to the community would be elevated.
The competition provides a stigma-free environment in which to talk about sensitive subject matter, promoting unity and team building. Also, women are offered the opportunity to be creative and innovative. The feedback for the yearly event is overwhelmingly positive and creates an excitement for Women's Global in the community. Most importantly, we see concrete shifts in the conversation around women's rights and empowerment, leading to changing dynamics at the household, community and regional level.
The intersection of art, philanthropy and social movements
The power of performing arts as a platform for empowerment and social change is exciting; the intersection of philanthropy, the arts and women's empowerment is extremely important and powerful. It is a complex relationship, and what surprised us and was totally unexpected was how important the arts would be to women's empowerment and our work in northern Uganda.
It is our hope to expand the discussion to a global conversation about women in the arts, it's importance to the empowerment process, and the impact of the arts on social movements, especially as the 'public square' shrinks, art and storytelling creates a new & exciting space for change and voice.
This fall, in Gulu, Uganda, WGEF will open the Gulu Women's Resource Center. The Center will not only provide a one stop center for critical and relevant information for women and families, support, and service referrals, it will provide the post conflict region with important community space, enabling people to meet, discuss and create solutions to issues and challenges.
The challenges to authority and the struggle for equality, freedom, peace continues throughout the world; as the 'public square' shrinks, the arts and storytelling are becoming that much more an effective tool to challenge inequality and injustice.
Supporting women to increase their income and become leaders in their community, our programs have an immediate and lasting impact on their quality of life resulting in the ability to afford nutritious food, education, shelter and healthcare improvements for the lives of the women, children and communities.
By providing an integrated package of financial and social development services, women can begin the slow process of changing the oppression and poverty they face everyday. Women have proven to be a good risk; they desire a better life for themselves and their children free from fear and violence.
---
Karen Sugar is the Founder and Director of Women's Global Empowerment Fund. Sugar has worked for non-profits addressing women and poverty issues throughout her career. To date WGEF has served tens of thousands of women and families, providing microcredit loans, critical educational programming and leadership development in post conflict northern Uganda.