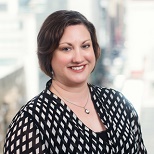 Special to the Philanthropy Journal
by Danielle Scaturro
What does it take to help nonprofits transform their passion for serving disadvantaged youth into greater results and outcomes for young people?
That's the question we've been asking — and answering — for the last six years with PropelNext, an initiative of the Edna McConnell Clark Foundation (EMCF).
In today's competitive funding landscape, there is increasing demand for organizations to demonstrate that they are achieving results. The problem is that very few funders support the hard and time-consuming work that is necessary for organizations to gain the mastery to use and apply data for ongoing learning and improvement.
PropelNext is a three-year program that provides knowledge and expertise — through individual coaching, group learning sessions and a peer-learning community — that helps organizations develop results-driven cultures rooted in rigorous data use. Over the course of three years, program participants gain clarity of purpose, they learn to analyze and use performance data for smarter decision making and they strengthen their ability to use evidence to deliver better outcomes for young people.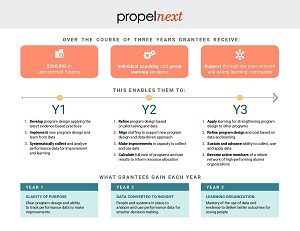 Walking the walk
Just as we ask the participating organizations to become better informed by data and evidence, we are constantly evaluating our own work. Working with evaluators from Harder + Co and Engage R+D, we were thrilled to learn that nearly all the nonprofits that participate in the program have increased revenues and expanded services to reach more youth. Evaluators concluded that PropelNext has made a "profound and sustained" impact on their organizations.
We also learned that focusing PropelNext on a targeted geographic area makes sense. Our first cohort of participating nonprofits was national in scale — 13 organizations from 10 different states. While there were benefits to such a broad approach, we believe that by concentrating our resources and efforts in a more defined area will lead to more collaboration, greater peer learning among our grantees and a strong network of leaders committed to the work over time.
Growing in scale
As a result, we recently announced that we have selected 12 nonprofits in Northern California to join our 2021 grantee cohort. We are partnering with the Heising-Simons Foundation, the William and Flora Hewlett Foundation, the David and Lucile Packard Foundation and the Sobrato Family Foundation to deliver the PropelNext program to an incredible new group of nonprofits that serve disadvantaged youth in the San Francisco Bay Area.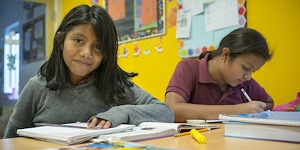 Because we believe that financial resources are essential to build long-term capacity, each member of this cohort will receive a combination of unrestricted funding and supports over three years, including $200,000 in direct grants and an approximately equal amount in services.
These nonprofits are already doing tremendous work in their communities. For example, Code Nation equips students in under-resourced schools with coding skills and professional experiences that help prepare them for careers in technology. Youth Alliance uses restorative justice practices to serve youth and families — many from the area's large population of migrant farm workers — with after school programs, counseling and leadership opportunities. CollegeSpring helps students boost their SAT scores by an average of at least 100 points and gain confidence in their ability attend college. In fact, program participants are 48 percent more likely to enroll in college. To learn more about the full cohort of grantees, please see our website.
Bigger impact for more youth


PropelNext's investments in these organizations will help them become even smarter and stronger — and improve the life prospects of disadvantaged youth in the Bay Area. By advancing their ability to set strategic priorities informed by data and improved decision making, and to measure and track performance and impact, they will be able to serve more youth more effectively and generate greater resources for their work.
This is an exciting time for our work. EMCF recently announced an update to its limited life strategy and reaffirmed its commitment to finding a path for PropelNext's to live on beyond the life of the Foundation. We believe that PropelNext has the potential to become a vehicle for other foundations and philanthropists who are dedicated to fostering and supporting the next generation of nonprofit leaders.
In many ways, we're just getting started.
Danielle Scaturro, Director of PropelNext, oversees the management and strategic direction of PropelNext, helping to develop the business plan and scenarios for the future of the program while ensuring the success of current grantees' and co-investors' engagement with the initiative.