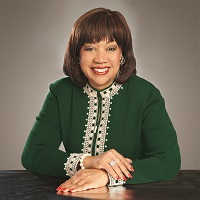 Special to the Philanthropy Journal
By Margot Copeland
While the unemployment rate hit a recent low of five percent, many communities are still feeling the impact of past tough economic times on the workforce. In fact, a 2014 report by the Federal Interagency Forum on Child and Family Statistics titled "America's Young Adults" found that nearly 20 percent of young adults between the ages of 20 and 24 were neither in school nor working in 2013. Unsurprisingly, but no less alarming, the report highlights that young people who are neither working nor enrolled in school are especially at risk of facing limited economic and social prospects down the line.
The KeyBank Foundation is inspired to reverse this trend and heartened by a brighter statistic from the Federal Data Resources youth.gov website, which reports that 40 percent of 2013 graduates who participated in internships were hired full-time by the organization where they worked. While our reasons extend beyond this single data point, the Foundation has dedicated its philanthropic efforts to enabling thriving students and workforces that bring transformational impact to the communities where we live and work.
In the American Northwest, the KeyBank Foundation launched an instrumental partnership with the YouthForce program administered by the Boys & Girls Clubs of King County, Washington and Portland, Oregon. The partnership included an unprecedented three-year grant worth $500,000 aimed at expanding the program, which is dedicated to workforce development for at-risk teens.
YouthForce helps low-income youth prepare for college and careers so that they can ultimately meet their life goals by combining paid summer, seasonal or year-long internships at well-established, locally-based companies like Microsoft, Wal-Mart, Seattle Sounders FC, the Seattle Seahawks, CenturyLink Stadium and, in Portland, the Portland Timbers. Altogether, it is projected that 600 youth, ages 15-19, will take advantage of the program and reach education and career goals as a result of our investment. But our interest in supporting YouthForce goes beyond statistics.
Making an Exponential, Demonstrable Impact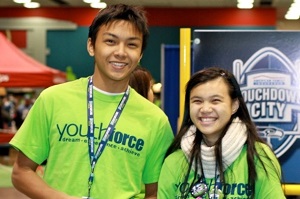 When one individual completes the YouthForce program, he or she increases basic skills, improves those skills via a specialized education track, becomes eligible for internship and career opportunities and, ultimately, begins contributing to the community as a gainfully, happily employed individual. Essentially, the program helps teens thrive in their careers, rather than just survive. But the impact of his or her success is also demonstrated in how the community moves one step closer to thriving. In an imagined scenario, the young resident of King County who specializes in computer coding and interns at Microsoft could then go on to help a friend or family member build a website that ultimately draws attention to a community cause or the launch of a small business. In another, the young resident of Portland who interns with the team manager at the Portland Timbers brings back to his or her community both business sense and the motivation to start a community soccer league, keeping kids safe, engaged and active.
We can imagine the exponential impact of youths participating in the program by considering the employment results. In Washington, 15 of the 18 YouthForce interns at Microsoft were offered summer positions once their official internships ended. For those 15 young people, each of their communities will benefit from the lessons, skills and personal inspiration as they continue pursuing their interests and their careers. In Portland, where the YouthForce program began this year by launching its Teamworks Program, nine of the 21 YouthForce interns with the Timbers & Thorns FC were offered positions once their internships ended; six of the remaining interns were offered ambassador positions – an incentive to continue growing with Portland YouthForce next year. The participating youth exemplify the impact YouthForce has had in its first year and will continue to have in years to come.
Bridging the Gap Between the Talented and the Employers Who Seek Them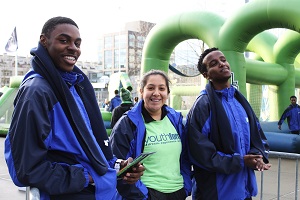 The YouthForce program is a unique opportunity for philanthropic organizations looking to make transformational differences in the communities they serve because it capitalizes on the recruitment interests of major corporations. This creates opportunities for program participants to engage in a well-rounded educational or career pathway to success, inspiring big-time corporations and organizations to become community coaches, mentors and talent scouts. For example, KeyBank employees offer financial literacy classes through the YouthForce program, which might introduce them to a group of math-minded youths who could become the next generation of corporate leaders.
Supporting Thriving Students, Building Thriving Workforces
At KeyBank, we are as committed to our communities as we are to our investors and our shareholders. In fact, every grant we give is an investment in helping students and workforces thrive, which ensures our communities prosper. The YouthForce program demonstrates the value of this approach. Specifically, it demonstrates why investing in the future requires an investment in today, proves that power comes from education and job training, and shows that every child is entitled to the tools he or she needs to succeed on individual, corporate and community terms.
As a 46-year-old established philanthropic foundation, we are inspired every day by the challenges our nation faces. It is these challenges that push us to forge new and lasting partnerships with organizations that offer innovative, sustainable solutions. Perhaps most importantly, we are also continuously impressed by the hard work and great successes of our fellow employees, volunteers, program directors, participants, mentors, mentees and program graduates. These are the people who make our work both necessary and possible, who bolster our efforts, who make us transformative and who help us thrive.
---
Margot Copeland is the CEO of the KeyBank Foundation. The Foundation's mission is to support organizations and programs that prepare individuals for thriving futures and is advanced through the two funding priorities of thriving students and a thriving workforce.