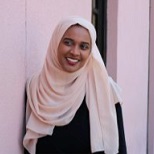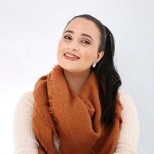 Special to the Philanthropy Journal
By Doha Medani and Lela Ali
We are two Afro-Arab immigrant, Muslim women and we wear our identities as badges of honor. However, we weren't always on this path to celebrate and embrace our truest selves, particularly because of certain small, but heavy experiences that kept reminding us that we were different and not American enough.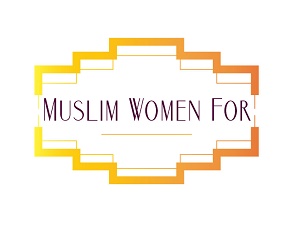 As Muslim Americans, we find ourselves in a constant state of mourning. We mourn for the country that our family was promised, a country where all men are supposed to be created equal, and where all should be able to freely worship. We mourn for the black and native bodies that this country was built on and for our people back home that fell victim to cruel exploitation and imperialism. We mourn for our history that was never taught to us and for our stories that were stolen. We came to this country to cash in on a blank check- a promise of abundance, freedom and equality for all people. Martin Luther King Jr. famously remarked that for Black Americans, this check has come back marked "insufficient funds." This is a realization for many communities of color. This country has utterly failed to live up to its promise of equality for all people.
For us, this realization came in high school when Trayvon Martin was brutally murdered and his killer was pardoned in view of the world. We forgot that feeling long enough to be shocked when three young North Carolina-bred Muslim students were murdered in their homes in 2015. We knew that immigrant and Muslim communities were being surveilled for years and yet we never felt that our names could be on those lists. It was astonishing how we have acknowledged white supremacy as a system, but still felt as though we could walk in our daily lives, carrying all of our identities, totally in-control and unaffected by this system. We still had some essential trust in the humanity of people in this country, despite seeing that we had every reason to mourn.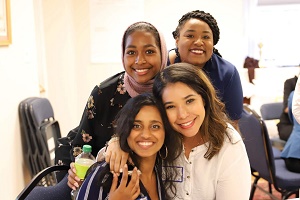 At that point, we found the true meaning of what it means to be American – to struggle and mold this country into what we know it can be. Muslim Women For is just one piece of that struggle to push the needle a bit forward. Muslim Women For is a group of women, femmes, and black and brown folks refusing to accept the check that we've been given. We recognized that Muslim women and women of color like ourselves have historically had limited access to resources, opportunity, and power, and experience spaces (both Muslim and non-Muslim) that are dominantly led by cis men, where we are often sexualized, devalued, and silenced. This is why we created a space of our own- a space that didn't exist in our community. Muslim feminism helped us ground our work and our spaces. Muslim feminism teaches us the radical notion that all people are full human beings and our God-given rights are our own by the virtue of being human and no one can take that away from us.
Rooted in Muslim teachings and an intersectional-pluralistic social justice approach, our work centers the histories and existence of Muslim women and women of color. We work to create transformative change by organizing locally and building power through direct services, political education, advocacy, and spiritual resistance. The work of Muslim Women For challenges the monolithic image of Muslim women that continues to contribute to gender-based Islamophobia and inter-community marginalization and addresses issues that concern vulnerable communities like gender-based violence, anti-blackness, anti-semitism, immigrant injustice, Islamophobia, xenophobia, and violence against LGBTQIA+ persons. We believe that liberation is knowing and understanding our history and intellectual traditions. Yes, we have histories and experiences of pain and trauma, but we also have histories of beauty and power. Knowing this leaves us with no other option but to keep resisting and keep fighting because our communities' existence depends on it.
Our impact so far has been extraordinary. We have led a social justice leadership retreat for women of color and femmes from North Carolina in Washington, D.C. During the training, we reflected and learned about building community and relationships through the power of storytelling, learned how to uplift spiritual resistance in our social justice and community work, and brainstormed strategic and sustainable ways to build local and grassroots power in our communities. We have organized events to bring the community together for bonfires and Get Out The Vote block parties. Additionally, we have been able to provide self-defense workshops, "Know Your Rights" trainings, and political education materials as part of our rapid response efforts. We also host Muslim or Muslim women only spaces for timely discussions on issues such as internalized Islamophobia, racism, and hijab. We recently received an award from the ACLU of North Carolina for our work in Championing Liberty across the state. Our events are rooted in community needs and are fueled by hiring small, local and people of color-owned businesses for food and other services.
We pride ourselves in building coalitions, friendships, and grassroots power, not just hosting events. Muslim Women For has become a place where nothing is off-limits and where equity, inclusion, and accountability are the new norm. We hope to bring more resources across the state of North Carolina and to create community wherever this work takes us.
---
Doha Medani is a compassionate health advocate and community organizer, deeply rooted in her identities as a Sudanese American Muslim woman. She is a recent Nutrition Science and Middle Eastern Studies graduate from NC State University. While at NC State, she interned at Alliance Medical Ministry, a non-profit health clinic in Southeast Raleigh. Additionally her work as student researcher spanned the majority of her college career and focused on the intersections of nutrition education and virtual-reality technology, as well as, food justice and federal school wellness policy implementation. She has served as a trainer for the Youth Organizing Institute's Freedom School for high school youth in Greensboro, NC.
Currently, she works for the Centers for Disease Control as a Public Health Associate, focused on community health plan evaluation and guidance in Portsmouth, Virginia. She is a co-founder of Muslim Women For, a women-led social justice organization that fosters and nurtures vibrant societies that create positive social change and uplift their communities through service, advocacy, and spiritual growth. Doha values personal empowerment, health equity for the most marginalized in society. Her hobbies include reading, supporting local arts events and leading discussions about hip-hop and RnB records amongst her friends.
Lela Ali is a proud immigrant from Egypt and a current graduate student at Duke University in Durham, North Carolina, specializing in International Development Policy and Middle East Studies. Her research focuses on social network analyses of local Muslim-led networks in the south and transformative social change through community intervention. Lela has served as the Graduate Team Lead of the Duke Bass Connections Research Team and Duke University, Networks of Cooperation and Conflict in the Middle East, where she leads a social network analysis project on the network of Muslim-led organizations and institutions in the Raleigh-Triangle Park area of North Carolina and recently interned for the Arab American Institute. Lela is a vivacious community leader who brings rich experiences in community organizing and social justice advocacy, with expertise in voting rights, immigrant rights and justice, reproductive justice, coalition building, and curriculum writing. Her passion for community building and transformative justice led her to start Muslim Women For, the first-ever Muslim, women-led community organization to launch in North Carolina that works to empower and uplift the stories and experiences of Muslim women and femmes and women and femmes of color. In all of her work, Lela aspires to use research and data in social justice advocacy and direct action in order to create policy spaces that recognize the most marginalized of our communities.