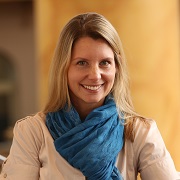 Special to the Philanthropy Journal
By Anna R. Hurt
When Hurricane Katrina swept through the Gulf Coast in 2005, it was rapidly apparent that the United States was dealing with one of the largest natural disasters in its history. In 2012, when Superstorm Sandy swept up the Eastern seaboard and hit 15 states, among them New Jersey, it was clear that while much had been learned about disaster recovery, that knowledge didn't necessarily exist under one roof.
As the Council of New Jersey Grantmakers (CNJG) worked to help communities respond and recover from the storm, its president, Nina Stack, told Center for Disaster Philanthropy (CDP) CEO Robert Ottenhoff, "we've never had a disaster like this." CNJG started reaching

out to other councils and foundations around the country to develop a "playbook" of steps to take following a disaster. And so, a program was born. CNJG and CDP combined forces and research, in association with the Forum of Regional Associations of Grantmakers, to create the Disaster Philanthropy Playbook.
How the Center for Disaster Philanthropy Came to Be
Philanthropic leaders, particularly in the Gulf Coast region, took note of the professional landscape following Hurricane Katrina. They recognized the lack of knowledge, expertise, and coordination during recovery, and decided to ensure it never happened again. Ottenhoff said that the organization's first real success was getting the sector as a whole to recognize the need for better disaster philanthropy. The success stories have continued.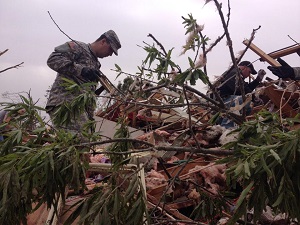 CDP has had its share of challenges during the past several years as well. Like any start-up, it needed to build a staff and board, find funders willing to take a chance on something new, and develop strategies to deliver on promises. There are hurdles within the sector that CDP continues to overcome.
"There is little systematic grantmaking and few grantmakers with disaster experience," Ottenhoff said. "As a result, 90 percent or so of all disaster-related grants are given within three months of a disaster, with little focus on planning, preparation, mitigation, long-term recovery, or building resilient communities. The biggest challenge is getting grantmakers to become patient, intentional, and strategic when it comes to their disaster contributions."
He added that changing this mindset meant that donors would need to realize no matter what their focus may be, it will be affected by a disaster. "Every grantmaker is a disaster grantmaker, whether they realize it or not," he said.
Disaster Philanthropy All in One Place
When disasters and tragedies strike, people are moved to help in any way possible. Disasters come with an overwhelming variety of needs, everything from immediate relief to mid- and long-term recovery and rebuilding. But the philanthropic community should be challenged to improve how it responds to, plans for, and ultimately, mitigates the impact of disasters. The Playbook, an interactive web-based resource, answers that challenge by providing the tools and tactics necessary to respond to disasters both before and after they occur. That includes preparing in advance for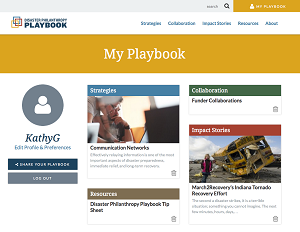 disasters through risk reduction and resilience building, in addition to helping with relief and recovery.
Additionally, the online, open format of the Playbook provides organizations global access to the information they need to effectively aid those struck by disaster and is interactively designed for continued knowledge-building. The Playbook compiles the hard-earned expertise of foundations, councils, and corporations around the country, along with pitfalls to avoid, and includes advice on planning, legal services, housing, aiding vulnerable populations, coordinating across local, state and federal agencies, planning for future disasters, and establishing cooperative funding sources.
The Playbook is also customizable and shareable and will be updated during the coming year with videos, a series of toolkits, and the development of maps and graphs to track the common gaps and needs following disasters. A true "work in progress," the Playbook will grow and improve as more organizations continue to contribute tested strategies, information, and best practices.
Lessons Learned
Philanthropic organizations can take away a number of lessons from the work of CDP and the development of the Playbook. Immediate relief is vitally important, but there is still much room for improvement in making true disaster recovery an effective, coordinated, long-term goal. The best relief efforts can provide the needs that a community develops over time as it recovers and rebuilds from a disaster.
Everyone is a disaster philanthropist, because every area of philanthropy is affected by disaster, from fundraising to housing to employment to even the arts. By acknowledging how philanthropic work will be impacted by a disaster, the Center for Disaster Philanthropy has begun to build resources that help donors and leaders plan and prepare intelligently for any disaster event.
---
Anna R. Hurt is the disaster management analyst at the Center for Disaster Philanthropy. She can be reached at anna.hurt@diasterphilanthropy.org.