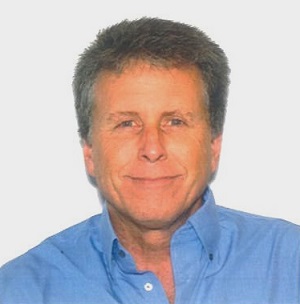 Special to the Philanthropy Journal
By Richard Hackett
In the South Pacific there are no roads, power lines, or phone systems to connect the thousands of smaller, less populated, islands to the same health care, educational and economic development services offered on the more populated, primary islands. As a result, these remote islands are left without even the most basic services, creating an incredible disparity between the remote and primary islands in terms of overall income, education, health, infant mortality, immunization rates, and longevity. They are calling for help, will you answer?

With thousands of islands spread across millions of square miles of the Pacific Ocean, the lack of a reliable and consistent service delivery platform is preventing the successful implementation of local and international health care initiatives. It also prevents the delivery of disaster relief aid, and educational and economic development programs to these remote islands. However, the cost of operating, maintaining and staffing a service delivery platform able to reach the hundreds of remote islands on a consistent basis, is beyond most nations' financial ability.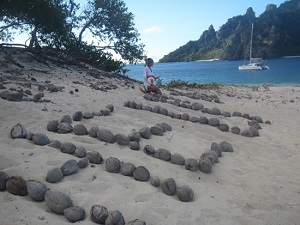 Fortunately, the leadership of Sea Mercy, and their captains and volunteers are determined to change the destiny of these forgotten people with a unique approach to solving the unsolvable. Sea Mercy, a US based non-profit organization, was created in 2012 to meet the health, education, economic and disaster response needs of those living on the thousands of at-risk remote islands of the South Pacific.
We knew that if we were to build an effective, affordable and sustainable service delivery platform, we would need the cooperation and commitment of three essential communities: The international sailing community (vessels), the international health care community (volunteers), and the island nation governments (partners).

-Richard Hackett, President & Founder of Sea Mercy
Working with one community can be difficult enough but trying to integrate three of them together would seem impossible. Undaunted, they pressed forward and Sea Mercy's "sail with a greater purpose" approach allowed them to draw together the sailing and health care community from a heart level, not a financial one. Sea Mercy simply believed that people wanted to help, they just needed a safe and secure way to do so. The approach was a game changer for their program and for the South Pacific.
The Program
Sea Mercy's mission is to "stand in the gap" with a service delivery vessel, trained international health care and specialty volunteers, support equipment and services until their island nation partners can develop their own "outer island" health care, educational and economic infrastructure. They operate from a fleet sailing large catamarans, each taking on the role of a Floating Health Care Clinic and Disaster Relief vessel. These vessels also serve as training and educational platforms.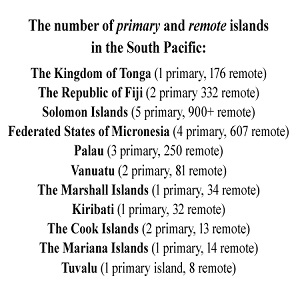 To avoid the dangerous cyclone season, they operate their Floating Health Care Clinic vessels from April to October, breaking their seven month program into ten 2-week rotations. Each rotation consists of four to eight volunteers and will visit from five to ten remote islands during the two weeks. At each stop, depending upon the number of inhabitants, they will evaluate and treat between 40-300+ remote islanders. Many of the patients they visit are seeing a dentist or doctor for the first time. During the cyclone season (from November to March) they transition into Disaster Relief & Recovery vessels to deliver international aid to the remote islands following natural disasters.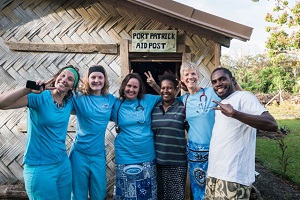 Each rotation team of volunteers is designed specifically to deliver either one or two services during the 2-week rotation. Whether it is a dental rotation of dentists, dental assistants & hygienists, or a medical team of doctors, nurses, and students, the purpose of the rotation is specific and planned. The needs are huge during the initial rotation stops, but with each subsequent visit, the teams shift more into maintenance and educational services.
Sea Mercy has turned what was once viewed as an unsolvable problem into a viable and sustainable solution. They are looking for adventurous volunteers, leaders and partners who can join them in the South Pacific. bringing with them not only a critical eye, but healing hearts that can help make a difference in the lives of these beautiful but forgotten people.
The incredible beauty of South Pacific is always calling. However, its peoples hope that you will learn to look past the beauty of the islands and to listen and see with the eyes of your heart. When you do, you will hear a desperate call for help that they hope you will answer.
For more information about Sea Mercy and how you can either volunteer or support, please visit their website or email them.
---
Richard Hackett, President & Founder of Sea Mercy has spent the last 30+ years preparing to launch this important and much needed program. Sea Mercy was officially launched in 2012 as a US registered 501(c)3 non-profit Charity. It has since established Sea Mercy Charities in Fiji and Australia and is currently serving the island nations of Tonga, Fiji and Vanuatu, with eight more island nations waiting. Mr. Hackett graduated from Oregon State University in 1984, with a B.S. in International Business & Marketing and a minor in History. He is experienced in building major for-profit and non-profit organizations from scratch. He is also a published writer/author (Everything, The Eyes of the Heart and The Black Dragons).