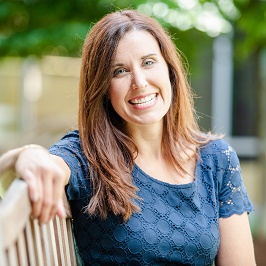 Special to the Philanthropy Journal
By Laura Zumdahl, Ph.D.
Olivia was homeless, pregnant, and sleeping in a shelter until the night she gave birth to her daughter, Giselle. Despite the challenges she was facing, she pressed on and soon, she was referred to New Moms, a Chicago-area nonprofit, for housing. There she found stable housing and support as she began parenting. She was ready to find a job.
"I didn't want to get comfortable, I had to move to the next step," she said.

She came back to New Moms and earned income through the paid, hands-on job training at our social enterprise candle company, Bright Endeavors, where she crafted premium soy candles while learning and practicing transferrable job skills.
Today, Olivia works with New Moms as an employee, helping other young mothers connect to the support system in our community. Her life has moved from poverty to possibility.
35 years ago, those possibilities were hard to find for mothers like Olivia. Our founder began simply, responding to the real needs in her Chicago neighborhood of young moms and their children who were homeless. She started off by modestly distributing diapers and formula out of the trunk of her car. Fast forward three and a half decades, and we are the only organization in the United States with a comprehensive model solely focused on surrounding young moms and their children with the resources they need to transform their lives. We provide housing, job training, and family support programs to encourage and support everyone to have a home, a job, and a strong family. Our social enterprise arm, Bright Endeavors, has been a surprisingly strong revenue stream for us, despite our "inefficiency by design" business model. Let me explain.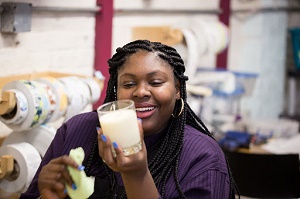 Counter to what most business consultants will tell you to do, we have built inefficiency into our program model. This is where we enter into the messy, beautiful work of social enterprise for nonprofits. Because our goal of running Bright Endeavors is to use it as a venue for high quality job training, we have a 900 percent turnover rate for our employees because our primary goal is training young women for employment, not revenue. We also spend paid time each day working on skill development, not just candle production. We invest heavily in the whole person, ensuring that young moms have the supports they need to overcome any barriers in their lives.
Since our inception in 2007, we have served more than 300 young mothers through our social enterprise program, and the for-profit world has taken notice, with wholesale and private label relationships with major retail chains like CB2 and Whole Foods. Despite the ongoing challenges of running a social enterprise as a nonprofit organization, we have seen year-over-year growth at Bright Endeavors, with a 44 percent increase in sales last year. As the president & CEO, I take our mission to heart, but I've also learned some business lessons along the way. Here are three I've learned to help other nonprofits pursue social enterprise with success:
Remember your why
We need savvy business practices to run strong organizations (for-profit or nonprofit), but we also have to remember that everything we do involves human lives. You will face tensions between the competing values of what is best for the bottom line and what is best for those you serve at your social enterprise. This is where it gets tough – you have to continuously make decisions that weigh the two challenges and navigate through the messiness to arrive at the best answer for your enterprise. We pursue profit because we want Bright Endeavors to be sustainable and continue providing job training for another decade (or more). But we also are driven by our "why" and at the end of the day we serve people, not profit margins. We will run our organization wisely and well, but we will also run it with compassion and great care.
Start small somewhere
Those of us working in the social sector are drawn to fighting for justice and the underdog, and we often are tackling audacious goals to make social change. I mentioned our organization's humble beginnings earlier, when our founder saw a need for food and diapers and just started providing it. She never imagined what the future of New Moms might look like that first morning. She just started helping in small, simple ways.Our desire to bring the best to our neighbors in need often prevents us from taking a single helpful step because we get caught up in trying to make things perfect before we launch. A huge lesson I've learned has been to just do something, even if it is small, to get started. This holds true for projects, big ideas, or developing relationships. Do something, however small, toward your goal and the rest will flow from there. Momentum builds, but the wheel has to start turning to gain speed.
Laugh, loudly and often
The work of social change is incredibly important. It's hard and can be serious stuff. But you can't take yourself too seriously. You need to be able to laugh at yourself and situations. Humor is the tie that can bind us all together and your team, colleagues, and clients need you to be able to find the joy and humor in life. I take the business of changing the world very seriously, but not myself.
By design, nonprofit organizations have a different purpose than our for-profit friends. We're working together to make our corner of the world a little bit brighter. Social enterprises allow our nonprofit to bring job training and real-life skills to participants in our programs, stretching our investments of time, money and human resources just a little bit farther. Last year, 56 young moms were placed in permanent jobs after going through the Bright Endeavors program. By investing in young moms like Olivia, you are touching the lives of two generations at once: the emerging life of a young mom and the unwritten story of her child. Don't let anyone tell you otherwise: the messy, beautiful work of social enterprise for nonprofit is worth every penny.
---
Laura Zumdahl is the President and CEO of New Moms. New Moms is a Chicago-based nonprofit that works to interrupt the cycle of poverty for both mothers and their children by providing stable housing, job training, and family support. Their program model is unique, and they're one of the only nonprofit organizations in the United States caring for women and children in this way. This year marks the organization's 35th anniversary.
Zumdahl has nearly 20 years' leadership experience in the non-profit sector, and she has a Ph.D. in leadership as well. Under her leadership, New Moms has doubled in size, expanding its geographic footprint and capacity to transform the lives of mothers and children in Chicago.