By Krystin Gollihue
In 2011, DoSomething.org was texting about 3 million users a week, inviting young people from all over the country to get involved with a campaign or political action that they were passionate about. Young people were responding to issues of social change, and they were responding emphatically. Though texting as a communications channel was a particularly effective way of getting young people to listen and engage, it had an unexpected effect: increasingly, young people were responding with messages related to mental health. They were too stressed to collect jeans for homeless youth, too anxious to visit an animal shelter. These responses became increasingly serious, when the team received a message from a girl whose life and well-being was actively in danger.

Baylee Greenberg was a member of DoSomething.org's business development team at the time, helping solve the issue of increasing risk in messages: "Why was she reaching out to us? She likely didn't have another support system in her life, texting was a comfortable medium for her, and she clearly wanted help. She was reaching out." The team offered resources to the user, realizing finally that there was no messaging platform for those in a moment of crisis. While the volunteers at DoSomething.org were trained in text response, they were not trained in crisis response. While the volunteers of the nation's leading crisis hotlines were trained in crisis response, there was still the issue of getting people to reach out in time and via a medium they already use and trust: text.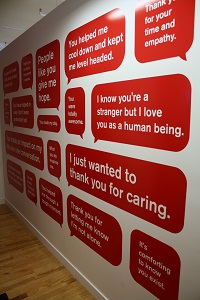 Greenberg is now the Chief Operating Officer of Crisis Text Line, "born from the rib" of DoSomething.org's volunteers' experiences with crisis response. Crisis Text Line is a free 24/7 text line for people in a moment of crisis, with the goal being to meet people where they are, move from a hot moment of crisis to cool calm, all via text message. Anyone in the US can text 741741 and the message is brought into Crisis Text Line's proprietary platform. The message is then sent to a Crisis Counselor. Each Crisis Counselor is highly trained and actively supervised. "They are our army of empathetic listeners," says Greenberg. "who are supporting these texters in crisis."
Why text messaging, and not a phone call? Greenberg says that for one, a text message is factual and direct, so it helps volunteers get to the heart of the crisis moment quickly. Text messages are also private, so a user can be communicating about their environment without anyone knowing, an especially important factor if someone is in an abusive situation. Text messages are also where people are in our current moment, so it allows Crisis Text Line to fulfill one of the core components of their mission: to reach people where they are.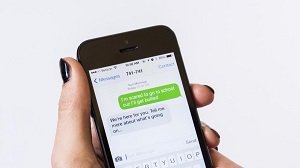 Crisis Text Line has a clear sense of why their organization has been so successful, to date having received over 52 million messages from people in crisis. "We have a special community of volunteers," says Greenberg. "Most of our products and tools have been proposed by our Crisis Counselors." Crisis Counselors are constantly giving feedback about what it's like to be a volunteer, to create rapport with crisis texters, and to identify and solve problems in the moment. It's also about how the volunteers themselves are feeling while responding to difficult situations. Recently, the organization launched a platform called "Our Network" where counselors can interact and get to know each other. Greenberg says that the organization learned early on that in order to support texters in crisis, Crisis Text Line had to support their counselors. Every paid staff member is also a trained Crisis Counselor, so volunteers always have someone there who can understand the experience of being a Crisis Counselor and can help support them.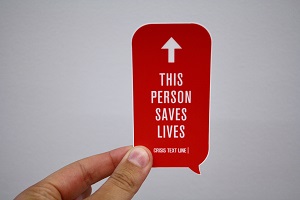 Another tool that Crisis Text Line is using to help support volunteers and improve their practice is through the data they collect. Every incoming message serves as a set of data points that help the organization and its volunteers serve texters better. This information is anonymized, aggregated, and shared on their website so that anybody can access trends in mental health and crisis intervention across the country. For Crisis Counselors that work with Crisis Text Line, the data reveals information like whether asking for a person's name creates rapport or at what point in the conversation is the right time to shift to problem-solving. For other organizations like schools and government agencies, the data can tell at what time of day Crisis Text Line receives the most texts about anxiety, or what states have the most people texting about LGBTQ related issues. The data trends aren't proprietary, either. "If we silo our data, everyone loses. We can make the world a better place by sharing the information that helps our counselors."
Crisis Text Line's model for success is essentially about standing in their volunteers' shoes. What do they need to succeed? What programs or applications would help their work? Greenberg notes that Crisis Counselors are continually apart of the conversation around the organization's Key Performance Indicators. It is this investment in human capital that allows Crisis Text Line to meet crisis wherever it is.
---
As Chief Operating Officer of Crisis Text Line, Baylee Greenberg oversees human capital, partnerships, policy, finance, and crisis counselor supervision at the nation's first free 24/7 text line for people in crisis. She's helped to scale Crisis Text Line from 6 Staff and 25 volunteers to over 60 Staff and over 3,400 volunteers. Previously, Baylee managed corporate partnerships at DoSomething.org the largest organization for young people and social change. Greenberg has managed initiatives with 3M, American Express, CVS Health, H&M, JCPenney, The WWE and other top youth brands. She sits on the Board of Directors of Better World Ed – an empathy focused learning platform.
Baylee earned a BA in Psychology and a BA in Linguistics from the University of Michigan. She reads word etymologies for fun and thinks all dates should be consumed as desserts.