By Krystin Gollihue
Among serving and former members of the military, the idea of standing together is a given. In order to achieve a mission, all members of a unit must work in sync in order to accomplish goals. Once veterans return home, often with physical disabilities, brain trauma, or internal injuries, this sense of service doesn't dissipate. For Black Dagger Military Hunt Club (Black Dagger MHC), both disabled and able-bodied veterans need continued support to return to the lives they led before their service.
Based in Tampa, Florida, Black Dagger Milit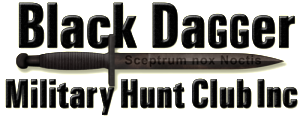 ary Hunt Club offers veterans the opportunity to engage in outdoor adventures by using adaptive sporting techniques, allowing them to retain quality of life prior to their service, which sometimes involves injury and disability. Dave Winters, President of Black Dagger MHC, says that when he sees "brothers and sisters come back, they're missing something, but they don't want to be missing out simply because their life has been altered in some way."
Each month, volunteers with technical expertise in adaptive weaponry and measures take small groups of veterans out on sporting expeditions, including deep-sea and flats fishing, clay and trap shooting, and hunting wild game. They partner with the James A. Haley Veterans Affairs Adaptive Sports Program at nearby MacDill Airforce Base, the United States Special Operations Care Coalition, other veterans support organizations, and active duty servicemen and women to create resources for veterans to participate in outdoor activities, whatever their need. They serve military veterans of all wars and all abilities.
Winters believes the reason Black Dagger MHC has been so successful has been their ability to research and provide adaptive measures for even the most prohibitive of injuries or trauma. "We have not had to turn a veteran away because of their disability, ever. No matter what their disability, we've learned and adapted to be able to take care of them. We learn to adjust." Tampa's VA has the largest spinal cord injury unit in the country, and so Black Dagger MHC's expertise in adaptive measures for quadriplegics, paraplegics, and blind veterans is particularly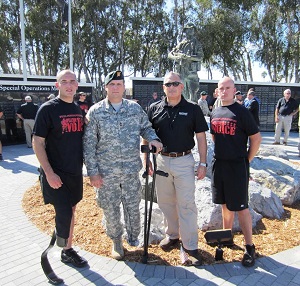 profound. Through research, partnerships, and commitment to standing together with their fellow veterans, Black Dagger serves as the eyes, ears, and guides for veterans who simply want to do what they love.
Black Dagger works with all levels of disability, including the less visible ones. Winters notes that veterans come back after service with "gunshot wounds or scrap metal wounds. They're in a lot of pain and injured too," and yet still want to return to the things they loved to do before their injury. Additionally, Black Dagger MHC also deals with traumatic brain injuries and veterans suffering from PTSD. While it may seem counter intuitive that hunting and shooting are productive for veterans whose traumas are directly related to explosives, the VA has provided evidence that hunting and shooting actually helps normalize that experience for veterans. In many ways, going back to the quality of life they had before their injuries and facing trauma helps reintegrate veterans back into a normal life.
Black Dagger MHC is made up entirely of volunteers, many of whom are veterans themselves, who pour everything into helping their fellow servicemen and women acclimate to new ways of carrying out their outdoor hobbies. Volunteers not only have equipment and technical expertise, but they are open to sharing with veterans and acknowledging their individual needs out in the field. For example, Winters notes that people with spinal cord injuries are not able to regulate their body temperature, something that is very important when out in the field hunting, shooting, or out on the water fishing. Volunteers who work with the paralyzed have an intuition about what that particular veteran needs, which might include helping them keep cool or warm. Because volunteers are the eyes, ears, and guides for personal needs as well as adaptive sporting measures, they have an intuitive sense for what it means to take care of those they serve.
Winters says that this sense of service to one another is deeply tied to military culture. Veterans and volunteers learn to depend on one another and acknowledge that each is stronger when standing together. This mentality crosses over to Black Dagger MHC's relationship with the broader veteran and recreation nonprofit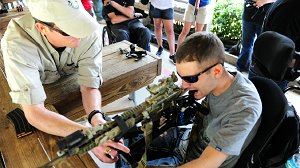 community, which they aim to support in any way possible. Recently, they have partnered with Gold Star Teen Adventures to organize a hunting trip for teenagers whose parents have been killed in the war. Black Dagger's social media presence is also brimming with support and cross-promotion of other veteran nonprofits and initiatives. According to Winters, supporting other veteran nonprofits is the same as supporting veterans. "Our focus is never on us; it's always about the folks we're serving. It's about the mission, in military terms," which means that if someone can benefit from the technology that Black Dagger MHC has access to, then they are willing to share, cross-promote, and help their constituents.
"Our goal," says Winters, "is for someone to see what we're doing and say, 'We can do that here.'" Nonprofits with the same interests, constituents, and relative missions are going to be stronger if they support one another in these endeavors. For Black Dagger MHC, it's not about competition or finances or monopolizing the veteran community in Tampa; the work is about helping others using existing infrastructures and banding together through a sense of service.
---
Dave Winters served in the Air Force from 1979-1999 in the supply/logistics/resource management fields, ending his active duty career at MacDill Air Force Base in Tampa, Florida. With a cadre of dedicated volunteers, many active duty or retired military with special skills, he started and supported the Black Dagger Military Hunt Club Inc., a public charity that is partnered with the Veteran Affairs in Tampa and provides Adaptive Shooting, Hunting, and Fishing Programs for in/outpatients.
Krystin Gollihue is a current doctoral student in the Communication, Rhetoric, & Digital Media program at NC State University.