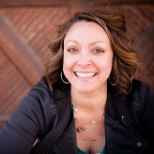 Special to the Philanthropy Journal
By Vicki Pozzebon
On any given day in Newark, New Jersey, if you're lucky enough to be there, you might find yourself in the middle of a cash mob of local shoppers looking to help raise the profile of a local business and get some discounts for themselves. There's a growing "buy local" movement happening and a lot of people want to get in on it.

Forward Ever Sustainable Business Alliance's "Shop Newark" program officially launched in September 2018 but we first learned of this effort two years ago when the organization's Executive Director, Karen Brown-Stovell pitched the idea to the City of Newark, New Jersey. That pitch included a tax rebate attached to the loyalty shopping program that would not only incentivize shopping at locally owned independent Newark businesses but give shoppers a rebate on their property taxes, utilities or a cash rebate to be used however they choose. Businesses signing onto the program give a percentage discount to the shopper as a reward on the card, and pay a small fee to the program which helps cover marketing and administrative costs for the program. The idea behind the program was to provide more equitable solutions to the "buy local" movement while circulating more money in the local economy by focusing on the locally owned independent businesses in Newark. Why more equitable? In many communities, those with lowest the incomes are often left out of the "buy local" movements. The solution for Newark came in the form a rebate program that could be helpful in paying taxes, utilities, or using it later for important items like groceries or clothing.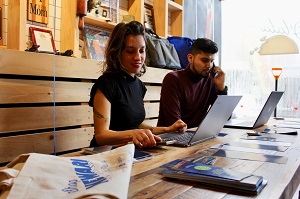 So, how's it going? Since its launch in September 2018, Shop Newark has had successes and challenges. As a collaborative project between Forward Ever Sustainable Business Alliance, City of Newark, and Newark Community Economic Development, the program has aimed to get Newark residents and the nearly 80,000 commuters into Newark to become more aware of local businesses for goods and services. Rutgers University has signed on to provide the card to all new employees, too. It's a massive effort to get money circulating in the local economy. With a dedicated outreach coordinator to focus the efforts to get both shoppers and businesses signed on, Shop Newark is well on its way now: over 400 shoppers have signed on and more businesses are joining every day.
So far, one of the biggest challenges is the tension in the program between those with discretionary income and those choosing between paying a power bill and groceries. It's important to sign up businesses that are of value to all these types of shoppers. In order to do that, messaging the "buy local" movement becomes a central focus. Brown-Stovell and her team are now thinking through the challenges of maintaining the integrity of a buy local movement and campaign with signing on the valuable independently owned large companies and locally owned franchises that Newark is already shopping with.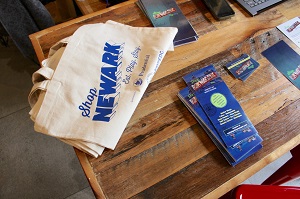 Using technology behind the card is proving to be useful in targeting the right businesses and consumers to sign on to the program. "Beacon technology" is the use of small, wireless transmitters that use low-energy Bluetooth technology to send signals to smart devices nearby. This type of proximity marketing can connect and transmit information to smart devices making location-based searching and interaction easier and more accurate. With beacon technology they can begin to target people via their smart phone's apps to invite them to participate in events, cash mobs, or sign up for cards based on their location. This type of targeted marketing is growing fast, and according to Global Market Insights the beacon technology market is set to surpass $25 billion by 2024. This kind of marketing can grow the buy local movement in ways we've never seen or imagined in previous years.
But there have been big wins for the program, too. After hosting a successful New Jersey Social Enterprise Summit with Rutgers University and other partners, Forward Ever is looking at leveraging other opportunities to get the word out about Shop Newark. With a burgeoning medical cannabis industry, they see the opportunity to sign on these services and provide valuable rebates to card holders. Looking at other sectors to include in the program will help attract more card holders.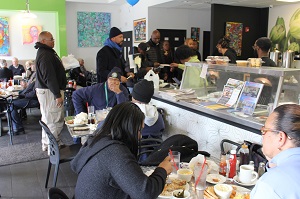 Cash mob lunch events have proven to be a success, too. Eaters can show up at a designated lunch spot to get a card, and immediately sign up for the program while enjoying their lunch. Shop Newark is now embedded in local events like "First Fridays" downtown, and neighborhood bar crawls and dining clubs including the Brick City Supper Club which has had hundreds of members and dozens of participating restaurants.
Loyalty shopping and rewards programs come and go in many cities but Shop Newark is slowly proving that it can provide equitable solutions with real rebates where people can begin to see a bit of relief on their property taxes or utilities.
Visit the Shop Newark website for more information: https://eatplaystaynewark.com/
---
Vicki Pozzebon is a purveyor of all things local. She is the owner and principal consultant of Prospera Partners, a consulting firm that designs local economy networks, systems, and developmental plans for businesses, nonprofit organizations, and government agencies that put our communities first. She is a skilled facilitator, public speaker, and blogger about all things local. www.vickipozzebon.com