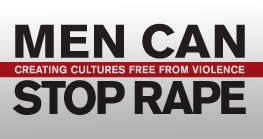 By Charlena Wynn
Messages about violence against women can be seen through all forms of media today. While the idea of preventing sexual assault through shifting responsibility away from the victim may seem trendy, since 1997 Men Can Stop Rape (MCSR), has been redefining sexual assault prevention through replacing the dominant narrative of power and masculinity. MCSR embraces men as vital allies to make healthy choices and foster safety.
Personal responsibility is at the forefront of MCSR's mission, enabling and helping young men develop their nonviolent masculinity and become an ally for women, men, and other marginalized gendered persons at risk for sexual assault. This has been achieved through redefining the three pillars of the dominant message of masculinity through counter-stories, increasing understanding and practice of nonviolent masculinity, and helping men form meaningful relationships with other men as a form of support. By grounding their praxis in interlinking oppressions, they have been able to recognize how to work with varying forms of masculinity and communities to provide optimal outcomes.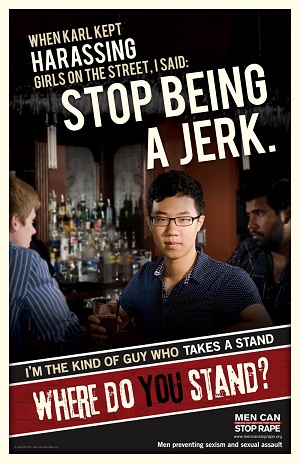 MCSR's Social-Ecological model recognizes that individuals do not exist in isolation therefore, they can be important to preventing sexual assault. Their college/university-focused "Where Do You Stand Campaign," largely known for its use of visual imagery to change the narrative of how men interact with those at risk for sexual assault, teaches how to safely intervene and support others. As the national leader in preventing men's violence against women, MCSR provides training and resources to groups and individuals in ways that support the rhetoric of personal responsibility to stop sexual violence. Young men have become empowered to stand up for others and make small but effective change in their communities. Deputy Director, Rachel Friedman says that people gravitate towards this campaign because it "allows for individuals to be involved in a systemic way."
By mobilizing men to create cultures free from violence, MCSR's youth development programming has empowered young men to foster healthy relationships with their peers, advocate for young women, and expect more from themselves. Men of Strength (MOST) club, first established in 2002, allows young men in middle school to college to translate learning into community leadership and personal development. A student in New York who had a history of behavioral problems such as fighting with other students, was able to break up a fight because "the MOST club expected it of him, so he expected it of himself," says Friedman. Since its conception, MOST's 22-week curriculum, which can accommodated public school calendars, is taught in over 10 states including North Carolina, Ohio, South Carolina, and Missouri. In a 2004-2005 Evaluation, MOST Club members were evaluated before and after 16 weeks and were "more likely to intervene in situations when a young woman was being touched inappropriately by her male peers than before his participation in the club." Five years later, participants were more likely to disagree with statements supporting the dominant narrative of masculinity and intervene when a male or female peer was been verbally or physical harassed by a male peer. Additionally, MOST participants are less likely to bully and believe they can play a role in reducing violence in their schools and communities.
MCSR's approach to masculinity teaches young men that they can change the narrative of masculinity. They are able to see themselves in roles of reducing violence and leadership amongst their peers by countering the dominant story, in projects such as Images of Strength. Images of Strength has allowed students to take pictures of what they believe is strength to share and begin a conversation about redefining power. The dialogue that occurs between young men is essential to reshaping how they see themselves and their role in reducing violence against women. Resisting the values and expectations of masculinity's dominant stories of power, violence, and dominance over others, boys and men are able to work as an ally to women and other marginalized groups.
Further emphasizing social and emotional learning and using the social and ecological model to help connect young people to their community, young men in MOST mobilized to develop Women Inspiring Strength and Empowerment (WISE) in 2012, as a space for young women to form healthy understandings of femininity and a supportive space. They saw a need for young women to have access to positive female mentors, a safe environment, and help construct healthy concepts of self. WISE works with young women to play an active role in awareness and prevention.
MCSR recognized the lack of primary prevention and education in regards to sexual assault. Men Can Stop Rape's curriculum has not only changed the way young men view themselves but has also been influential in the lives of the staff. Nonprofits can learn to use the resources and services to become better people themselves. Rachel says about MCSR, "It helped me realize the negative impact of patriarchy on men and boys, the difficulty of accessing emotions and it helped me improve relationships with the men in my life." MCSR's model for success, which utilizes personal responsibility to influence good decision making, is tangible so others can learn how end the culture of violence.
Men Can Stop Rape aims to shift the culture of sexual assault from risk reduction to prevention by changing how men see themselves within the dialogue of sexual violence. Providing men with healthy, positive, and supportive images has helped to create a culture free from violence. When men can see the role that they can play in reducing violence, preventing sexual assault, and reshaping gender norms, they can empower themselves and others.
---
Men Can Stop Rape is a nonprofit dedicated to mobilize men to use their strength for creating cultures free from violence, especially men's violence against women. Charlena Wynn is currently pursuing her Master's of Arts in Liberal Studies at NC State University with a concentration in examining the construction of Blackness in contemporary United States museums.