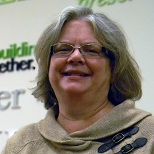 Special to the Philanthropy Journal
By Susan Hawfield
Ms. Dorothy is a pillar resident of her community in Wendell, NC, a small historically farming town east of Raleigh. Ms. Dorothy made one of her dreams come true when, nearly 30 years ago, she moved with her two young daughters from Raleigh to Wendell and purchased her first home with the help of a Wake County program. There she settled into a community that welcomed her with open arms. She worked in the school system and volunteered with the Helping Hands shelter, providing her neighbors experiencing homelessness with basic necessities. Now in her late sixties and living with a degenerative skeletal disease that progresses rapidly and weakens her muscle, Ms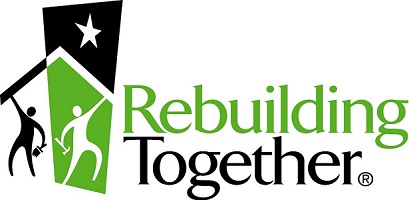 . Dorothy lives in constant fear of falling.
Nearly 1.5 million adults 65 and over call North Carolina home, or about 14.7 percent of the state's population, a slightly higher percentage than the older adults population nationwide [i]. Many of those older adults have become an integral part of their communities as they bought homes, raised children, made friends and volunteered in their communities.
Older adults who are no longer able to care for their home or who live in homes that can no longer accommodate their declining health are faced with the difficult decision to stay in the home and community they love or leave their entire life behind. As a low-income resident, Ms. Dorothy didn't have that choice, she had to stay in her home and make the best of it as it became progressively more hazardous to her health.
Throughout the country, over 2.6 million low-income homeowners live in inadequate housing [ii], often living in buildings with failing foundations, holes in windows and walls, bad insulation and leaky roofs. As homes deteriorate, harmful conditions such as mold and electric hazards develop. Many of these homeowners are people with disabilities, veterans or older adults who are no longer able to care for their homes. Rebuilding Together, along with their affiliates and volunteers throughout the country, provides critical home repairs to low-income homeowners to ensure they live in safe and healthy homes. The repairs they provide range from removing tripping hazards such as loose carpeting and uneven flooring to building a new roof and replacing windows, allowing each homeowner to remain in their community and not have to make the choice between putting food on the table and living in a safe and healthy home. With the help of other nonprofit organizations and community partners Rebuilding Together ensures these homeowners receive other basic needs and establish a sound approach to stay in their homes.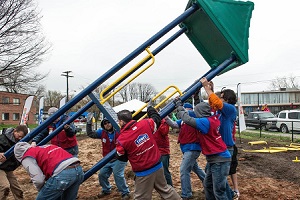 As the U.S. population ages and the costs of healthcare rise, older adults are increasingly less able to afford to live in nursing homes and opt to stay in their communities instead, making Rebuilding Together's work more critical than ever. Fall injuries are among the most expensive medical conditions and the average hospital costs for an injury caused by a fall is $35,000 [iii]. For Ms. Dorothy concerns over falling and the financial risks that posed took over the basic daily necessity of taking a shower. Through the help of Rebuilding Together affiliates, like Rebuilding Together of the Triangle, the affiliate serving Wake, Durham, Orange and Chatham counties, and Rebath, a team of volunteers are able to make these critical repairs, like replacing Ms. Dorothy's bathtub with a barrier free shower that included a seat, grab bars and a hand-held shower head. By performing this simple repair and ensuring the rest of her home was free of other trip hazards and healthy for her to live in, Rebuilding Together of the Triangle allowed Ms. Dorothy to regain some of her independence and remain in the community she loves and has served for the past 30 years.
The majority of the homeowners Rebuilding Together helps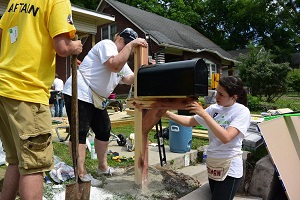 have been in their homes and communities for many years. Helping low-income homeowners remain in their communities is tied to greater neighborhood stability and leads to higher wealth accumulation [iv] and educational outcomes [v]. Rebuilding Together's model works for a simple reason: their affiliates transform the lives of low-income homeowners in cities and communities throughout the country, helping their neighbors by ensuring they can stay in their homes and can live in safe and healthy conditions. Collaboration is central to their work and has allowed their model to thrive for the past 40 years. Affiliates collaborate with one another and with the national office to share successful strategies and, as they expand their work to revitalize communities, they collaborate with local governments, corporate partners, volunteers and other nonprofits to ensure the homeowners they serve and the communities they impact continue to thrive.
[i] 2015. U.S. Census Bureau: State and County QuickFacts – North Carolina. http://quickfacts.census.gov/qfd/states/37000.html
[ii] Emrath, P., Taylor, H. 2012. "Housing Value, Costs and Measures of Physical Adequacy." Cityscape 14(1): 99-125.
[iii] Cameron, K., Schneider, E., Childress, D., Gilchrist, C. 2015. "Falls Free: 2015 National Falls Prevention Action Plan" National Council on Aging.
[iv] Boehm, T. P., Schlottman, A. 2004. "Wealth Accumulation and Homeownership: Evidence for Low- Income Households" Washington, DC: Office of Policy Development and Research, US Department of Housing and Urban Development.
[v] Aaronson, D. 2000. "A Note on the Benefits of Homeownership." Journal of Urban Economics 47(3): 356-369.
---
Susan Hawfield serves as Vice President of Affiliate Services for Rebuilding Together, where she leads the national office's relationship with its affiliate network, providing mission support, training and resources to affiliates across the country. Prior to her role, she served as Executive Director of Rebuilding Together Montgomery County in Maryland.