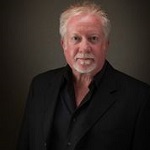 Special to the Philanthropy Journal
By Marty Wood
Founded sixty-one years ago in 1954 by seven families with children born with intellectual disabilities, Opportunity Village (OV) is a local Las Vegas treasure that has grown to become Las Vegas' Favorite Charity. Through our myriad programs, services and lines of business, Opportunity Village enriches the lives of nearly 3,000 children, teens and adults with significant intellectual disabilities – and the families who love them – every day.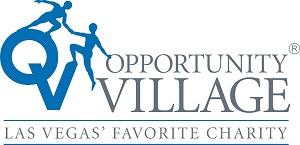 Opportunity Village is a not-for-profit organization providing vocational training, job placement, community employment, day services, advocacy, arts and social recreation to the wonderful people we serve (we lovingly refer to them as OVIPs). OV helps southern Nevada's most vulnerable citizens integrate into the community while earning a paycheck, a feeling of achievement, and a renewed sense of independence. Our current campaign themeline is Pride. Purpose. And a Paycheck., which perfectly embodies the essence of the organization's primary mission.
A model of self-sufficiency, Opportunity Village generates the majority of its operational funding through its employment contracts and fundraising efforts such as the Magical Forest and the Las Vegas Great Santa Run. This structure saves Nevada taxpayers $34.6 million annually. Additionally, Opportunity Village is responsible for $6 million in wages paid last year to people who were considered ineducable and unemployable by many.
As one of the world's most recognized, awarded and respected organizations of its type, Opportunity Village regularly hosts visitors from around the globe who marvel at our approach to disability through innovation and creativity.
One of our most successful programs began two years ago: Pathway to Work (PTW). PTW is a cooperative pre-vocational program jointly developed by Opportunity Village, the Desert Regional Center and the Department of Employment, Training and Rehabilitation. The program is designed to help individuals with disabilities move from center-based employment services to full-time or part-time community-based jobs at or above minimum wage. The program combines classroom-based learning with real-world experience to help these individuals fully understand what is required of employees working in community-based jobs.
On-the-job vocational training is provided for a minimum of three to five different job tasks. A thorough functional assessment of each participant is performed afterwards to ensure optimal placement. During the program, each PTW participant earns minimum wage, up to four hours each day, at the community job site.
Currently, the PTW community business partners include Centennial Hills Hospital; Summerlin Hospital; Fresh and Ready Foods; and Station Casinos, operator of 9 casino/resort properties throughout the Greater Las Vegas area.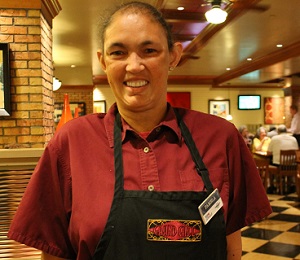 Several OVIPs have successfully completed the PTW program and have been offered positions with the business partners. Pamela S. is a shining example of the high level of success the PTW program is experiencing. Before the end of her 6-month program at Boulder Station Casino Resort, Pamela was encouraged to apply for an on-call position. Upon completion of the PTW program, she was thrilled to receive an immediate offer to join the Boulder Station family as a bus-person in their Grand Café.
"She really wowed everyone she worked with here at Boulder Station during her training time," said Katie Lashlee, Opportunity Village Community Outreach Coordinator. "She has a warm, charismatic personality that naturally draws people to her."
According to Thom VanArdoy, Grand Café Room Manager, "Pamela did extremely well, exceeding our expectations. So when the position became available, it was offered to her. Our guests really enjoy interacting with Pamela."
New Station Casinos staff members are historically required to fulfill a full three months of service prior to becoming eligible for part-time work. "I'd been doing such a good job, before my 90 days was up they moved me from on-call status to part-time," Pamela said.
Since then, Pamela has made it clear her goal is to become a full-time team member. "I'd like to be a full-time bus-person here at Grand Café, and just keep working and working my way up!"
During a taped Mission Moment segment created for Opportunity Village's Board of Directors, she delivered this message, "Thank you very much for helping me with the training through Pathway to Work, for helping me be successful and for helping me get the job at Boulder Station." Please view Pamela's Mission Moment segment at bit.ly/ovpamela.
Opportunity Village recently initiated a $150 million Christopher's Crossing Capital Campaign designed to raise funds for expansion of our three current campuses, design and build two Village Residences facilities as well as a permanent campus in North Las Vegas to replace our temporary location. The aggressive goal is due to a 500+ waiting list of people with intellectual disabilities in need of the services OV provides.
Opportunity Village grew from a parent-driven idea into the world-renown organization we are today through the tremendous support of the Las Vegas community. By developing unique programs like Pathway to Work and expanding our facilities, we pledge to continue building upon our legacy for the next 60 years … and beyond.
---
Marty Wood is a highly respected and experienced advertising and marketing professional with extensive expertise in all aspects of marketing including agency and account leadership, with innovative skills in brand management, strategic planning, account planning, social media and competitive and market analysis. Wood is the Director of Marketing at Opportunity Village.