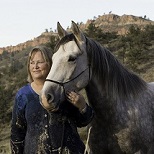 Special to the Philanthropy Journal
By Carol J. Walker
Photographs are one of the most powerful tools there are to communicate a message and to illuminate a situation. They provide a window into another world that can draw people in, and can elicit an emotional response. When people care, they become motivated to help, and to support a cause, and an organization.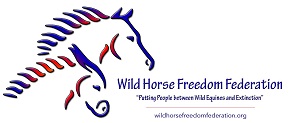 I have to admit that I stumbled into having a cause. Four years after starting my horse photography business, I was invited on a photo tour of wild horses in Wyoming. After spending two days viewing wild horse families not just surviving but thriving in very wild, arid, difficult lands, and thriving, I was completely captivated, I was hooked. I returned again and again, getting to know different horses and families, and when I found out that most of them were going to be rounded up and removed from Adobe Town in Wyoming, I was shocked and determined to document this. The roundup was so horrific, seeing horses terrified, injured, losing their families and being removed from their home, that I could not even look at the photographs until 4 months later. However, I became determined to help these horses, and show that they belong on our public lands and deserve to live out their lives wild and free. I wrote my first book, Wild Hoofbeats: America's Vanishing Wild Horses. I became an advocate for wild horses, traveling and speaking across the county and education people through my books and social media about the issues facing wild horses and what people could do to help. In 2014 I was invited to join the board of directors of Wild Horse Freedom Federation, and became the Director of Field Documentation. The goals of Wild Horse Freedom Federation matched my own, striving to save the wild horses in America and educating the public on why they should remain wild and free on our public lands. And my photography has been one of my strongest assets in my role on their board.
As upsetting as my images of the wild horse roundup were, they shed light for people on how devastating the actions of the federal agency charged with managing wild horses, the Bureau of Land Management, could be on these sensitive and beautiful creatures. My photos that showed horses running in fear from the helicopters with terror in their eyes make much more of an impact one people than a mere written description.
When I talk about the family being the most important part of wild horses' lives, a tender photo of a mare bending protectively over her foal, or a stallion protecting his family speak very loudly.
How do you take a photograph that has impact, that might move people to take action to support and organization? My answer would be to find subjects at the heart of your mission, learn about them and photograph them in a casual, captivating and engaging way. I have never been a proponent of stiff studio portraits. I say, get outside and take photographs of your subject when they are relaxed, and not posing for the camera.
If you are photographing people outside using natural light, find a place in the shade so they are not straining their eyes looking into the sun. Find a background that is simple and not distracting. Photograph them doing things that they enjoy. If you are photographing people at an event, see if you can get your subjects by themselves with a simple background behind them to enhance your images.
If your organization works with animals, one of the most important things is to get down on their eye level, not looking down on them. If you are photographing dogs, sit on the ground or lie on your belly. If you are photographing horses, you might get on your knees if they are small, stand upright if they are tall. Photos in action can easily draw a viewer in. If you are photographing people or animals in action, make sure your camera settings will give you an image that is not blurred – you need a higher ISO and shutter speed when photographing action shots than you do photographing still subjects.
Remember too that if you care about your subjects and know them well, your photographs will have an added impact.
I spend hundreds of hours each year out in some of the most remote country in Wyoming, Colorado, Montana and Utah observing, documenting and photographing wild horses. I attend roundups to be an observer and documentarian of what actions the Bureau of Land Management take against our wild horses. I live and breathe wild horses, and the more time I spend with them, the more I learn about them, and the better my photographs become.
---
Carol J. Walker is the Director of Field Documentation and on the Board of Directors for Wild Horse Freedom Federation, which is dedicated to stopping the roundup and removal of wild horses from our public lands, and keeping our wild horses wild and free. Carol's passion for photography started at an early age, with animals as her favorite subjects. She studied literature and photography as an undergraduate at Smith College, and continued her education in photography after graduating, studying portraiture and nature photography. She has traveled all over the world photographing wildlife for the past 30 years. In 2000, Carol started her business Living Images by Carol Walker, specializing in photographing horses. Carol's images masterfully showcase the beauty of horses with her stunning images of horses at liberty. She has taught horse photography workshops for the past 9 years in Dubai, France, Germany and all over the United States. She sells her fine art prints from her website as well as in several galleries in Colorado and has won numerous awards with her artwork. Carol's work in photography and with wild horses was featured in Horse Illustrated's February 2017 issue.
Fifteen years ago, Carol began photographing wild horses. As she followed several herds in Wyoming, Colorado and Montana, she became aware of how precarious their situation on public lands has become. Since then, she has dedicated herself to educating people with her photographs and stories about wild horses. She is one of the leading advocates working to keep America's wild horses wild and free on our public lands. Her three books, Wild Hoofbeats: America's Vanishing Wild Horses,Horse Photography: The Dynamic Guide for Horse Lovers and the newest, Galloping to Freedom: Saving the Adobe Town Appaloosas are all multiple book award winners. Proceeds from the sales of Carol's artwork and books fund her work to keep America's wild horses wild and free. For the last seven years, Carol has produced a calendar of her images each year to benefit first the Cloud Foundation and now Wild Horse Freedom Federation.