The NC Grants Roundup can be a helpful tool when researching grant opportunities for your organization. For more tips read Becoming a "Grant Detective": Best Practices for Grantseekers by Sarah Mann Willcox of the NC Network for Grantmakers.
News about grants, gifts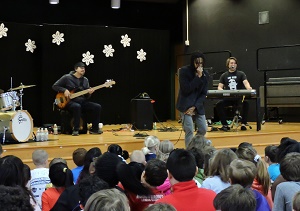 Duke Energy made a $18,500 donation to the United Arts Council of Raleigh and Wake County in support of arts education programming for Wake schools. Artists in Schools, one of the programs supported by Duke Energy, brings in teaching artists for performances and residencies that integrate the arts with core subjects.
The North Carolina Humanities Council awarded $120,000 in grants to six cultural organizations for public humanities projects across North Carolina. Organizations include Appalachian State University, NC State University, and UNC Charlotte.
The Duke Energy Foundation donated $524,500 to 12 cultural and arts nonprofits in NC to support arts appreciation and educational programs that foster community vitality.
The town of Windsor received a $500,000 grant from the Golden Leaf Foundation of Rocky Mount for a new public library.
The University of North Carolina at Chapel Hill celebrated its 224th anniversary and raised more than $65 million to support the Carolina Covenant and the Morehead-Cain scholarship through its one-year Give for Good: Scholarship Challenge.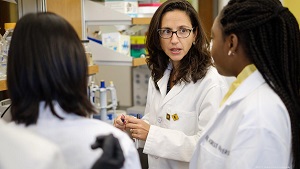 The National Science Foundation presented a grant of $680,000 to Patricia Dos Santos, an associate professor of chemistry at Wake Forest University, for her mentoring program and biochemistry research.
The Golden LEAF Foundation awarded 19 grants totaling more than $12 million, and $9 million of these awards went toward supporting disaster recovery at its October Board meeting.
Winston-Salem's North Carolina Stroke Association awarded $45,560 to Vidant Roanoke-Chowan Hospital in Ahoskie and $25,700 to Vidant Chowan Hospital in Edenton to ensure that residents of North Carolina have access to stroke care.
The Rockingham County Community Foundation awarded $4,730 in local grant awards from its community grantmaking fund to organizations including Mount Jubilee Ministries, Rockingham County Tennis Association, and Rockingham Pregnancy Care Center.
State officials announced the award of $2.1 million in grants through the federal Recreational Trails Program for 25 trails projects across the state. The matching grants were recommended by the North Carolina Trails Committee and approved by Secretary Susi H. Hamilton of the North Carolina Department of Natural and Cultural Resources.
The board of advisors of the Morrisville Community Fund awarded $1,500 in local grant awards from its community grantmaking fund. This year's nonprofit recipients include $1,000 to InterAct for the Lethality Assessment program and $500 to Kiran, Inc. for the transitional employment program.
The North Carolina Humanities Council awarded $120,000 in grants to NC cultural organizations, including $20,000 to North Carolina State University's "The Virtual Martin Luther King Project."
Marbles Kids Museum was awarded a grant of $345,245 from The Institute of Museum and Library Services to transform one of its exhibits into a vibrant new space that fosters culturally relevant STEAM (science, technology, engineering, arts and math) learning with a special focus on dual-language learners.
The North Carolina Network of Grantmakers held their Foundation Fair on October 18th at Warren Wilson College to provide nonprofits in all areas of the state an opportunity to interact with and learn about foundations in North Carolina.
The Wilkes Community Foundation awarded $5,910 in local grants from its community grantmaking fund and the Kyle Hayes Memorial Endowment Fund.
From the Bald Head Island Conservancy to the Pisgah Astronomical Research Institute, 54 science centers across the North Carolina will soon be receiving grant awards as part of the second year of the $2.39 million North Carolina Science Museums Grant Program.
Susan G. Komen announced 2017 research funding of $30.7 million for 98 research grants, with a focus on new treatments and understanding of the most lethal forms and stages of breast cancer. The grants include $1,315,573 in new funding for research at the Duke University Medical Center and the University of North Carolina at Chapel Hill.
The Cary Community Foundation gifted $10,000 in local grant awards from its community grantmaking fund to Donate Life NC, Kiran, Inc., the Lighthouse Foundation of Wake County, The Carying Place, InterAct Family Safety and Empowerment Center, and Triangle Family Services.
The Charlotte Mecklenburg Community Foundation – an affiliate and the primary grantmaking arm of Foundation For The Carolinas – recently awarded $630,000 to 27 organizations serving children, youth, and young adults of Mecklenburg County.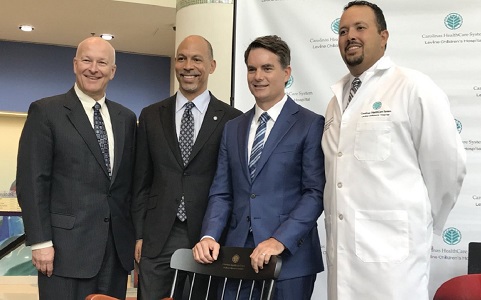 Carolinas HealthCare System received a charitable commitment on September 25th from the Jeff Gordon Children's Foundation, establishing a $2 million Jeff Gordon Children's Foundation Endowed Chair in Cancer and Blood Disorders in support of academic and research efforts at Levine Children's Hospital.
The North Carolina Network of Grantmakers hosted its annual Foundation Fair on October 18th in Swannanoa, NC to provide nonprofits in all areas of the state an opportunity to interact with and learn about foundations in North Carolina.
Durham Arts Council, the North Carolina Arts Council, City of Durham, and the SmART Resource Team have announced the selection of Olalekan Jeyifous as the artist to create the monumental Art Wrap for the Corcoran Street Garage, which is the first major public artwork of the Durham SmART Vision Plan.
Wells Fargo will provide three nonprofit organizations with $3,000 in grants to recognize the efforts of team member volunteers in the Triangle region. Recipient organizations include Pasture Pals Equine Rescue, International Ballet Company, and the Triangle Literacy Council.
The Triangle Community Foundation granted $971,000 in scholarships and awards to 183 students during the 2017 academic year to ensure that students in the community have access to higher education.
News about grant opportunities
The Triangle Community Foundation's Capacity Building Partnerships Program for Community Development is accepting proposals for the 2017-2018 cycle through October 31st from organizations that offer housing, employment, and/or health services to address poverty in the Triangle.
The 2018 Smart Start Conference is seeking proposals for Public Engagement, Fundraising, and Nonprofit management conference track through October 27th.
Through its summer Community Grants cycle, the Cumberland Community Foundation is making $307,500 in grants to nonprofit organizations.
The Winston-Salem Foundation created two new grant making focus areas: Advancing Equity in Education and Building an Inclusive Economy to begin in 2019.
The Z. Smith Reynolds Foundation (ZSR) is accepting applications for its 2018 Sabbatical Program through November 2nd. ZSR's Sabbatical Program provides veteran nonprofit leaders with a three to six-month break from work with an awarded compensation of $30,000 with $10,000 going to each organization for planning and transition expenses.
---
Note from the editor: The preceding is part of a new initiative for Philanthropy Journal. Each month we will publish a curated list of grant specific news for North Carolina. For weekly grant updates, please check NC Nonprofit News.
If you are interested in having your organization featured in the next NC Grants Roundup, please send announcements or press releases to news@philanthropyjournal.com.