News about grants, gifts
GlaxoSmithKline, in partnership with Triangle Community Foundation, announced a $1 million, 2-year GSK IMPACT Grant awarded to Fostering Wellness, an initiative of seven nonprofits working together to support young people aging out of foster care in Wake, Durham and Orange counties. The Fostering Wellness Initiative is made up of Community Partnerships, The Hope Center at Pullen, Inter-Faith Food Shuttle, LIFE Skills Foundation, Dress for Success Triangle, SaySo, and United Way of the Greater Triangle.
Camden County was awarded $200,000 by the Golden LEAF Foundation, one of two grants the county needs to fund construction of a second wastewater treatment plant.
Constellation Brands Beer Division will continue its "Each Corona Gets Us Closer to a Cure" initiative from March 1st to April 4th. Constellation Brands will make a donation to The V Foundation with each purchased case of Corona or Corona Light through its distributor network, retailers, and other businesses. Constellation Wines will also make a $40,000 donation to The V Foundation.
Alamance Community College received $200,000 from the Golden LEAF Foundation for its new mechatronics program. Mechatronics is the integration of mechanical, electrical and computer engineering to work on robotics and "intelligent" machines ranging from ATMs to manufacturing robots.
News about people, groups
The first annual FailFest took place on March 8th at Fullsteam Brewery in Durham. Coordinated by BC/DC Ideas, Third Space Studio and the Triangle Community Foundation, an audience of more than 150 area nonprofit professionals heard stories of failures from the community's leading nonprofit professionals, including host speakers Lori O'Keefe, president, Triangle Community Foundation; Meredith Emmett, co-founder and president, Third Space Studio; and Erin Byrd, executive director, Blueprint NC.

Prevention Partners has released its 2016 NC Regional Prevention Report Card. The report cards show how health factors vary across North Carolina's eight Prosperity Zones.
On March 8th, Durham Rescue Mission treated homeless men to a meal prepared by Executive Chef Jason Cunnigham. Food for this meal was donated by Butterball, courtesy of NC Governor Pat McCrory as part of his Super Bowl wager with CO Governor John Hickenlooper.
The United Arts Council of Raleigh and Wake County co-sponsored the 2016 Pieces of Gold, a night of music song and dance performed by over 1000 talented Wake County students on March 9th at Memorial Auditorium.
In celebration of International Women's Day, the International House held a talk that celebrated the contributions of women worldwide. The keynote speaker was District 26 Court Judge, Ty Hands.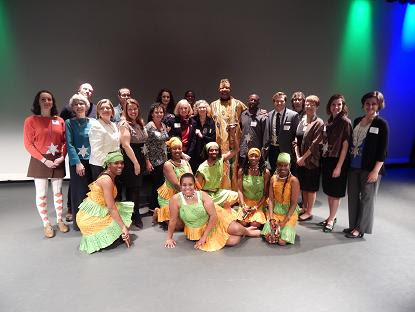 Three Orange County artists, Chris Ogden, Monica Sanchez, and William Paul Thomas, will receive the 2016 Emerging Artist Award on March 31st. The annual awards ceremony will be held at the Durham Arts Council.
Americans for Prosperity North Carolina welcomes James Krapfel and Blake Perry to their North Raleigh office.
The University of North Carolina at Chapel Hill's Frank Porter Graham Child Development Institute is celebrating its 50th anniversary by leading a two-day conference to envision and enable better outcomes for young children and their families.
ArtsGreenbsoro, The Guilford Education Alliance, and Guilford County Schools will hold a reception in honor of superintendent Mo Green on March 17th for his dedication to arts education. The 'Thank You Mo' reception will present Mo with the Margaret Bourdeaux Arbuckle Award.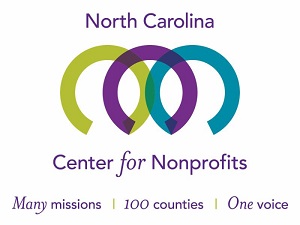 The NC Center for Nonprofits has unveiled a new logo that reflects the vibrancy and strength of the nonprofit sector and the Center's mission to inform, connect, and advocate on behalf of nonprofits in North Carolina.
News about opportunities, initiatives
NC Center for Nonprofits and the Triangle Community Foundation will host a Nonprofit Town Hall for the Triangle area on April 13th. The Free event will allow participants to hear about the latest trends and upcoming public policy development and discuss issues that matter to their organizations.
The Center for Strategic Philanthropy and Civil Society will hold its Foundation Impact Research Group seminar featuring President of the Ford Foundation, Darren Walker, on March 23rd at Duke University.
G. Allen Power, MD will be the keynote speaker at "Dementia Beyond Disease", a conference under the program of Dementia Inclusive Durham by Triangle J Council of Governments on March 23rd.
Community Foundation of Henderson County's Pisgah Chapter of Trout Unlimited William L. Arbuckle Memorial Scholarship for the 2016-2017 Academic Year is now available. Applications are open to students – undergraduate and graduate – who are pursuing degrees in fisheries and wildlife management or related fields at colleges and universities in the Southern Appalachian region.
The Individual Donor Benchmark Survey is now open. Organizations with budgets below $2 million are invited to participate in Third Space Studio's annual survey that aims to collect specialized data to enhance fundraising strategies for small and mighty nonprofits.
The Young Nonprofit Professionals Network Triangle NC #NonprofitSTRONG Summit is on April 22nd, 2016 at the McKimmon Conference & Training Center in Raleigh. The annual conference brings together nonprofit professionals from across the region for a full day of networking and professional development.
Dress for Success Triangle will host "Celebrate Success," an evening of cocktails, fine dining and auctions at the Angus Barn Pavillion on April 20th.
Wilkes Community College scholarships are available through a grant made by the Golden LEAF Foundation to the North Carolina Community College System. Curriculum students may apply for up to $750 per semester, including summer term, and occupational education students are eligible for up to $250 per term.
The Currituck-Dare Community Foundation is accepting applications for scholarships to help students further their education.
The Potters of the Piedmont Pottery Festival will take place in Greensboro at the Leonard Recreation Center on Saturday, April 9th. Potters of the Piedmont will partner with Greensboro Urban Ministry's Feast of Caring and Mosaic – A Lifespan Studio.
Genesis United Methodist Church will host its annual fundraiser for Dorcas Ministries, the Purple Cloth K, on May 14th.
Carillon Assisted Living of Fuquay-Varina and Homewatch CareGivers will raise money for Alzheimer's in North Carolina with a tournament challenge on March 31st.
Sexual Health Initiatives for Teens – North Carolina has opened registration for its 2016 statewide conference, "Small Steps, Giant Leaps: Propelling Adolescent Sexual Health Forward," which will be held on May 11-13 in Research Triangle Park.
Triangle Community Foundation is accepting nominations for the Kathryn Wallace Award for Artists in Community Service for 2016-2017. The award is given annually to recognize an individual practicing artist residing in Wake, Durham, Orange or Chatham County who has made a significant contribution to the Triangle community.
The Charlotte, Triangle, and Triad chapters of the Association of Fundraising Professionals have partnered for the 12th Annual NC Philanthropy Conference on August 18th. Alex Sheen, founder of "because I said I would," will be the keynote speaker.
Registration for the Association of Fundraising Professional Triangle North Carolina Chapter's workshop, "Game Tickets, Lake Houses and Gold Pins: Ethic and Your Board," will close March 15th. MaryBeth Carpenter and Jeanne Allen will present at this interactive workshop.
The Raleigh Arts Commission's Technical Assistance Grant program is now accepting applications until April 1st, for its spring funding cycle. Designed to strengthen Raleigh arts organizations' abilities to carry out the business of making art, the program provides funding in three grant categories.They are also accepting nominations until March 31st for the 2016 Medal of Arts awards, the City's highest arts honor. Nominations should describe extraordinary lifetime artistic achievement or support of the arts by an individual or group.
For its May exhibition, TACTILE, Visual Art Exchange (VAE) has put out a call for art that can be experienced through more than just sight. To further VAE's focus on including people with disabilities in the arts community, the exhibition will invite visitors to view and use their sense of touch to experience the artwork.
TRG Arts will give a presentation on its community arts network program on March 23rd. Developed to improve marketing strategies and cross-pollination between arts organizations in a city or region, community arts networks have been instituted successfully around the country.
Carolina Public Press will hold its second-annual Digging Deep event, the celebration of the importance of local, statewide and national investigative and in-depth reporting and high-quality journalism, from March 16-17 in Asheville.
The Durham Arts Council's annual call for artists application is now open for solo or special exhibits. The deadline is March 18th.
The Johnson C. Smith University Board of Trustees and President Ronald L. Carter invite the public to attend its 8th Annual Arch of Triumph Gala on April 9th in observance of its 149th Founder's Week.
The Durham rescue Mission is currently in need of 1,500 Easter baskets for its annual Easter event on March 25th. Donations are being accepted by March 23rd by donating baskets or a donation of $15.
The Inter-Faith Council will hold a Town Hall on March 22nd to discuss its new plan to combine its Community Kitchen and Food Pantry under FoodFirst and urges the community to come to its support.
Registration is required by March 16th for United Way of Henderson County's annual LIVE UNITED Campaign Celebration. This event celebrates the accomplishments from the 2015 fundraising campaign.
---
If you are interested in having your organization's news announced in the next News Bits, please send announcements or press releases to news@philanthropyjournal.com.