News about grants, gifts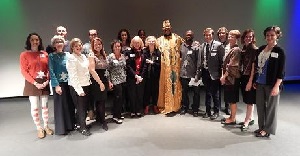 The Durham Arts Council announced the 2016 recipients of the Ella Fountain Pratt Emerging Artists Grants. The Emerging Artists Grants are career development project grants intended to assist artists in all art forms to take the next step in developing their artistic careers. The recipients will be honored at the Annual Awards Ceremony on March 31st 2016, at the Durham Arts Council.
The John Rex Endowment has awarded $1.9 million to support five organizations that are partnering to nurture children's mental, social and emotional well-being in places where children live, learn and play. The four-year grant project will engage a network of Wake County organizations and leaders to transform community settings into vibrant places for children from birth to age 8.
MetLife Foundation and Marbles Kids Museum announced a new partnership. A grant from MetLife Foundation will help Marbles transform part of the museum space into a musical experience called StepNotes, where melodies and colorful lights will encourage curiosity about music and physical activity.
News about people, groups
Bre'Anna Washington, 19, has graduated from The Mint Museum's Grier Heights Community Arts Program and is joining the AmeriCorps VISTA Program, where she will be tutoring, counseling, and mentoring students.
On December 4th, the North Carolina Harm Reduction Coalition, a statewide nonprofit dedicated to reducing drug overdose deaths, received a report of its 1500th community based drug overdose reversal using the opioid antagonist, naloxone. As of December 7th, the total number of reversals stands at 1518.
ArtsGreensboro
kicked off the 2016 ArtsFund campaign, which will help fund institutions like
Triad Stage
and the
Eastern Music Festival
as well as projects like the Magic Art Bus–in all, more than 60 local arts organizations, projects, teachers, and artists.
The Reid Family of Raleigh has turned their annual Christmas lights display into a fundraiser for the Lupus Foundation of America North Carolina Chapter. Lights for Lupus features 50,000 LED lights, 272 computerized channels and 28 songs of many genres. Visitors can also tune into 95.9FM which has music coordinated with the light show.
The Chapel Hill-Carrboro Holiday Parade was held Saturday, December 12th. Presented by the Jaycees and the Town of Chapel Hill, the parade this year highlighted the rich diversity of the Chapel-Hill Carrboro community.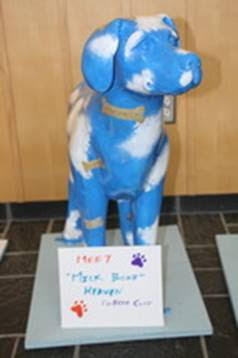 UNC Brushes with Life and UNC PAWS has opened their online auction for the UNC Dog Parade to help benefit patients from recovery and rehabilitation programs at the UNC Center for Excellence in Community Mental Health.
The fifth annual SwitchPoint conference will be held April 21st and 22nd, 2016, at the Haw River Ballroom in Saxapahaw, North Carolina. Produced by IntraHealth International, this event brings together innovators and big thinkers from all over the world in the fields of global health, ethics, technology, communications, development, the arts, and business.
Kidznotes, a local nonprofit dedicated to empowering underserved children and inspiring social change through free orchestral music instruction, announced their 2015 Winter Concerts presented in partnership with BandTogetherNC.org.
The exhibit Southern Impressions: Paintings From the James-Farmer Collection opened on December 11th at the N.C. Museum of History in Raleigh. The exhibit featured 40 loaned paintings from the collection of Dr. Everette James and Dr. Nancy Farmer of Chapel Hill.
The 13th Annual City of Raleigh Parks and Recreation National Arts Program
exhibition at the Block Gallery featured close to 100 works of art by City of Raleigh and Wake County employees and their families.
On December 9th, Greenhill hosted an open house for all interested applicants to the Pop-Up Residency Program to come for a interest meeting in ArtQuest. Artists were able to see the space and get a feel for the program.
News about opportunities, initiatives
The Greater Durham Chamber of Commerce will host the 2015 Legislative Forum and Holiday Reception on December 14th. The Forum and Reception provides Chamber members and the community the opportunity to hear from Durham and the Triangle's local, state and federal officials and thank them for supporting a positive business climate. This year's legislative forum speaker is Governor Pat McCrory.
On January 14th, the NC State University Community of Nonprofit Scholars will host Jonathan Reckford, CEO of Habitat for Humanity, for a discussion on the leadership challenges of directing an international nonprofit.
The Raleigh Nonprofit Communicators will host their holiday social on Wednesday, December 16th. The event will be an opportunity for nonprofit professionals to network and find solidarity.
Make-A-Wish Central and Western North Carolina will hold its annual fundraising gala, The Wish Ball, on February 12th, 2016. The Wish Ball brings together busineses and individuals int he Charlotte community for an evening of dinner, dancing, silent and live auction, and raffle opportunites that benefit children in the Charlotte area.
The Association of Fundraising Professionals N.C. Triangle Chapter will host Philanthropy Forecast 2016 on January 25th. Keynote speakers for this event will be Bill Crouch, CEO of Crouch & Associates and Todd Cohen of Philanthropy North Carolina.
---
If you are interested in having your organization's news announced in the next News Bits, please send announcements or press releases to news@philanthropyjournal.com.