By Sandy Cyr
When Paul Perkins was a rookie running back in the 2016 NFL season, he was vying for Rashad Jennings' spot in the lineup. Jennings told Perkins, "I want you to play like you are a starter." Going into his 9th year in the NFL, Jennings wanted Perkins to get better than him because Jennings knew that, at some point, he would no longer be playing with the New York Giants.
A good leader allows others to take ownership over the things around them. Just as he does on the field, Rashad Jennings integrates this belief into the work of the Rashad Jennings Foundation (RJF). Rashad always knew that he wanted to give back, and he wanted to use his platform to give back to the community. He founded RJF in 2013, with programs based on his personal story with the NFL and his journey. RJF's programs focus on literacy, mentorship, health and fitness for elementary through high school students.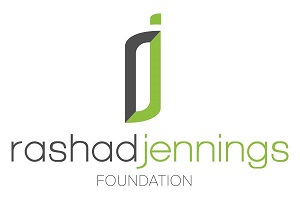 The Reading Challenge for elementary school students began in 2014. When he first started to engage in speaking opportunities, Rashad would go to schools every week. He quickly realized that he really wanted to invest in all of these children, and to follow up with the kids that he spoke with, instead of just speaking and leaving. Having struggled with a reading comprehension deficit in elementary school, Jennings able to overcome this challenge with help from teachers and mentors. The Reading Challenge program "exists to ignite students with a passion for reading and literacy through offering incentives for their efforts."
In an NFL locker room, the garbage cans look a lot different than the garbage cans out in public spaces. After practices, players discard cleats and shirts. Jennings uses these discarded memorabilia from pro athletes as incentives for kids to participate in the Reading Challenge. Bins are set up in the locker rooms of participating teams for players to put in their game or practice worn cleats and gear. During the challenge, students will set reading goals. They will read a book or multiple books on their reading level, and every time they pass the reading comprehension segment, they are entered into a drawing to win these autographed prizes from NFL players.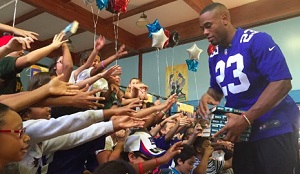 RJF works with the most at-need school in the area of the NFL team. They use different variables to determine this, such as literacy needs, poverty rates, homelessness and free and reduced lunch. They then work with school administration to develop a Reading Challenge at the target school. RJF tailors the programs to the individual schools. "Different schools use different reading comprehension measurements," says Christina Hovestadt, RJF's Executive Director. "We really just try to work with the school to see where their need is and then go from there. We tailor this program to meet the benchmarks and the goals that teachers have for their students because I believe that the teachers know their students better than anyone."
As a former intensive reading teacher for 11th and 12th grade students, Hovestadt knows that teachers have enough on their plates already. Instead of putting the onus on the teachers to run the program, RJF identifies a site coordinator who serves as a liaison between the school and the foundation. Typically, these coordinators are the media specialist or the librarian. Hovestadt will train that media specialist and provide them with all the materials that they will need. The teachers are then responsible for getting the kids excited and tracking how many books they read. The site coordinator then comes by every Friday and collects that information so that the kids can be entered into the drawing.
Since 2014, RJF has been in 45 different schools and over 300,000 books have been read by the students participating in the Reading Challenge. Rashad Jennings has personally been in 30 schools and collected over 2,500 cleats a year to sign and to give back to the kids in this program. While Rashad may be popular in the cities he is directly connected to, RJF realized that students in other NFL cities may not be as motivated by memorabilia signed by Jennings, and that other players around the league in those cities would have more influence. In January, they opened up the Reading Challenge to new players and so far, 11 have come on board. By the start of the 2017 NFL season, they hope to have an ambassador in all 32 NFL cities.
"Our heart is really to give back to the youth, but also, it is to give other players in the league an opportunity to use their platform for good and to give back to their communities in their NFL cities and in their hometowns," says Hovestadt. ""So we brand programs in their names. As a foundation, we run their programs while they are perfecting their craft on the field. Then the player commits to going back to those schools to celebrate The Reading Challenge that the students have completed."
Rashad has never considered his focus to be self-serving. As an NFL player, he knows that you are automatically going to be considered a role model whether you like it or not. For him, he wants to use his platform and his name to bring communities together, to make impact, and to bring leaders together. "If I am only remembered as Rashad Jennings the running back," he says, "then I am a failure in my book." Through the Foundation, Jennings is working to create a legacy of the difference made in the lives of the students that they reach and the people that are given the opportunity to make that change.
---
Christina Hovestadt is the Executive Director of the Rashad Jennings Foundation, a 501(c)3 nonprofit led by NFL running back and Season 24 Dancing With The Stars Mirror Ball Champ, Rashad Jennings. As a former high school intensive reading teacher, Hovestadt considers it her life's purpose to pour into youth. She currently coaches USA Volleyball and for Under Armour's Volleyball Factory.
Sandy Cyr is the Managing Editor of the Philanthropy Journal, and a lifelong New York Giants fan.