By Charlena Wynn
Natural and human-made disasters are a phenomenon that connects people all across the globe. From hurricanes and tornadoes to oil spills and war zones, we have witnessed or been in direct contact with a traumatic event that may have left us feeling hopeless, lost, and afraid. When it comes to disaster relief and aid, those who risk their lives to assist victims of natural and human-made disasters play an important role in helping those who need safety and hope.
For Islamic Relief USA, their faith drives their mission and inspires them to take on challenges that others might decline. Five values support their efforts to end poverty and help all people: transparency, social justice, excellence, compassion, and sincerity. Islamic Relief, comprised of seven offices throughout the United States, works to end poverty across the country and the world by welcoming and encouraging diversity within their team that reflects the people they serve. Many nonprofits rely on partnerships within the community and other organizations, but diverse staffing and global outreach can be highly impactful at home and abroad.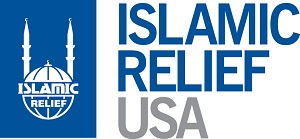 Diversity in an Ever-Changing Sector
As the social sector grows and changes, diversity at the administrative and advisory board level is critical to strategic planning. Women, people of color, and those of various faiths often have experiences that can be helpful in providing compassion in life threatening situations. CEO Anwar Khan states that because of Islamic Relief's name, his team has been able to go into conflict zones such as Somalia, Darfur, and Syria and offer aid to refugees who may share similar religious beliefs. While the Qu'ran sets the foundation for carrying out Islamic Relief's mission, the nonprofit takes pride in helping everyone regardless of their gender, faith or non-faith, and race.
During Islamic Relief's water relief effort in Flint, Michigan, Khan made sure that African American team members took the lead on the project as Flint is overwhelmingly African American. While he recognizes that there is not one African American experience, Khan encourages his team to be respectful and culturally sensitive to the people they help.
While Islamic Relief USA's mission area may be disaster relief, the nonprofit works to reduce poverty, as poverty can be a contributing factor to a community's success after a life-changing event. They have developed programming in Washington, D.C. with local organizations for an after-school feeding program, in the Bay Area with a prison re-entry program that empowers former prisoners through environmental work, and on Native American reservations through food assistance and aid. In addition, they work to empower women and reduce domestic violence by providing marital counseling to couples, as financial abuse can contribute to a woman's inability to leave an abusive spouse.
The Cycle of Love and Respect: A Model for Success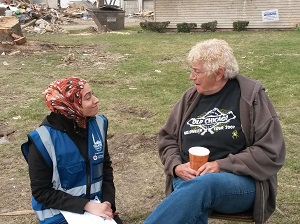 Educating one's team on the demographics of an area and the history of inequity can be helpful for nonprofits to have successful outcomes. For Khan, it's important to celebrate diversity and create a space for underrepresented groups to lead, something he has learned by participating in and attending conferences on global women's rights issues and engaging with the communities in Flint, Katrina, and Dallas to better understand their struggles. Islamic Relief USA has found that when those they serve can see people like themselves in positions of leadership, they can recognize that the nonprofit is working with the community in respectful ways. Through this, communities are more open to the knowledge that a nonprofit has to offer.
"It's important that I support all people. It's a cycle of love", Khan says. Islamic Relief USA aims to reframe not only people's perceptions of Islam but also the social sector by working to ensure representation and compassion are at the root of their mission and work. Khan's team comes from all walks of life – Christian, Muslim, Jewish, Buddhist, Black, White, Arab, women, men, and so forth, which has enabled them to build global partnerships and connect with communities across the nation that may have felt unheard. And due to their compassion, solidarity and reciprocity with communities has been a driving force in educating Khan's team and providing direct aid in times of crisis. Khan says to not be afraid to go into unpopular places and create opportunities that speak to the values of your organization, all of which create the space for openness, sincerity, and diversity.
Natural and human-made disasters can be traumatic and leave long lasting effects on communities. Islamic Relief's values and team incorporates diversity to ensure culturally sensitive and educated responses. Nonprofits who value difference in their staff, board, and volunteers have the ability to connect and make smart decisions which can leave a lasting impression on those they serve.
---
Islamic Relief USA is a community of humanitarians–staff, volunteers, affiliates, supporters, partners, donors–working to provide relief and development in a dignified manner regardless of gender, race, or religion, and works to empower individuals in their communities and give them a voice in the world.
Charlena Wynn is currently pursuing her Master's of Arts in Liberal Studies at NC State University with a concentration in examining the construction of Blackness in contemporary United States museums.