By Krystin Gollihue
When the face of the average person changes, so too must our memorialization practices. That's what the Funeral Service Foundation has learned in over 70 years of service, that in order to honor a life well lived, funeral service professionals must reflect who it is they serve.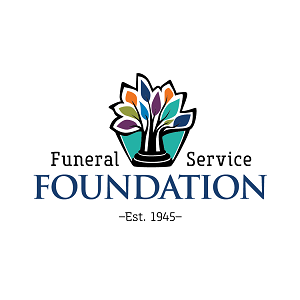 In 1945, the Funeral Service Foundation was established to provide continuing education to funeral service professionals so that they could more easily and effectively serve families experiencing the death of a loved one. Three generations of funeral service directors later in 1997, the not-for-profit organization became the charitable arm of the National Funeral Directors Association (NFDA), which is world's leading and largest funeral service association, serving more than 20,000 individual members who represent nearly 11,000 funeral homes in the United States and 49 countries around the world.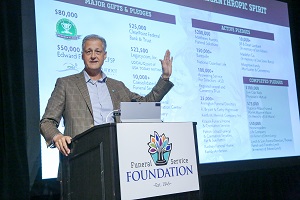 The Funeral Service Foundation carries out its mission to support funeral service in building meaningful relationships with the families and communities it serves through its two main giving pillars: to fund opportunities and initiatives that have measurable impact on the funeral service field, and to fund education opportunities for funeral service professionals. With an endowment between $7 and $10 million, and support from gifts made at every level from across the funeral service profession, the Foundation is able to dedicate nearly a half million dollars each year to funding and supporting their cornerstone education initiatives and other grantmaking opportunities. Through the Foundation 45 Awards – homage to the year they were founded, 1945 – the Foundation is on track to award more than $200,000 in academic and professional development scholarships and opportunities in 2019, including 18 scholarships for students pursuing an education in mortuary science.
Kelly Manion, Director of Communication at the Funeral Service Foundation, says that the organization believes memorialization is important because, "It's a way for folks to honor a life well lived, to acknowledge that death has occurred, and to set those families and loved ones on their path towards healing." Funeral service professionals are an important part of this process, experts in the ritual of bringing communities together in times of loss. "Funeral directors and other funeral service professionals are there to help families begin the process of grief," Manion says, "They're there to give loved ones permission to act on feelings, search for meaning, and find support."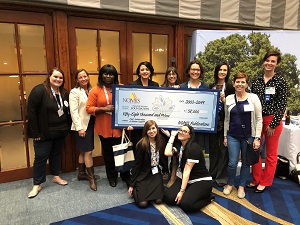 What makes the Funeral Service Foundation unique among professional organizations, however, is the way they have responded to generational changes. When they first began as a charitable foundation, funeral service professionals were often the children of funeral directors, who themselves had been expected to carry on the family business. More and more, Manion says, the Funeral Service Foundation is seeing nontraditional paths to the profession, with new demographics being drawn to the profession because it speaks to them, and not simply because it's passed down in the family. "We're at a place in society where the traditional funeral isn't what we think it is anymore," Manion notes. While society has shifted away from memorialization as a cultural practice, part of that is because our rituals are in the process of being updated, and new faces in the field are driving that. Firms are now being run by those starting a second or third career, millennials, and women. Funeral service looks different: people want to memorialize a life well-lived in different ways as a result.
Manion says that the Funeral Service Foundation is helping to support the changing landscape of memorialization through its funding programs. By providing annual scholarships to NFDA's International Convention & Expo, Professional Women's Conference and "Meet the Mentors" retreat, and offering career development awards for specific skills, the Foundation is able to respond to the unique and changing needs of both traditional and new kinds of funeral service professionals.
Despite this, the profession is a traditional one, steeped in the common belief that funeral service professionals are called upon to help families memorialize loved ones in real and meaningful ways. "There's such a deep respect within this profession," Manion says, "So while we might have that first generation young person coming in, they are excited to learn from many of the older generation about their history and motivations. Those deep, fundamental pieces of the profession carry on through every generation."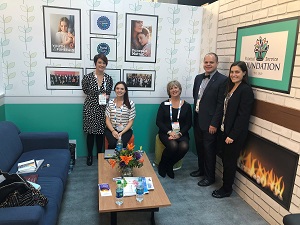 In addition to these scholarship and education opportunities, the Funeral Service Foundation has served as a funder for other mission-aligned organizations, like the Alliance of Hope, which helps survivors of suicide loss through online networks so that they can safely work through their grief with others. They are currently working in partnership with chapters of the National Pediatric Palliative Care Coalition to build resources for funeral service professionals that address the needs specific to families grieving the death of a child. In 2018, the Foundation launched their Youth & Funerals initiative, which equips funeral service professionals with the tools and language to help families understand the important role funerals and memorialization play in the lives of youth. Developing out of a partnership with the Boys & Girls' Club's Be There campaign, this final initiative has expanded to reach 15 countries and 47 states; it has become a tool for both professionals who serve grieving families and the communities that are experiencing loss. These partnerships represent the Foundation's commitment to serving professionals across the end-of-life continuum, and to find a seat at the table wherever conversations about memorialization and funerals might fit in.
The funeral service profession has its roots in tradition and the memorialization practices that have stuck around for centuries, but funeral service is inherently about relationships, about building relationships. As our society moves away from the process of memorialization, those relationships change, and are all the more important to understand and support. The Funeral Service Foundation has recognized that in order for funeral service professionals to continue serving families and loved ones experiencing loss, they must both support the core of their tradition and provide avenues for new ways of carrying out funeral service. Whether it is supporting nontraditional paths to the profession, new identities, or different experiences of grief, honoring a life well-lived is about recognizing the changing relationships that go into making that life in the first place.
---
Kelly Manion has spent nearly 20 years immersed in mission-driven work. She has served organizations in the arts and higher education communities, and for the last six years has served the funeral service profession through her role as the Director of Communication for the Funeral Service Foundation. In her work, Kelly carries out the Foundation's vision of an improved end-of-life experience for families and their loved ones by promoting the value of funerals and memorialization to organizations across the end-of-life continuum, and helping funeral professionals build meaningful relationships within their communities. Kelly was instrumental in creating resources for the Foundation's highly regarded Youth & Funerals initiative. Launched in 2018, hundreds of firms and organizations across the country and around the globe use the resources to help families and communities understand the important role funerals and memorialization play in the lives of grieving youth.
Krystin Gollihue received her PhD from the Communication, Rhetoric & Digital Media program at NC State University.