By Cara Lewis
Six years after the mass shooting at the Sandy Hook Elementary School in 2012, Americans have continued to experience the heartache caused by gun violence. But one mom's outrage organized moms around the country to fight for public safety measures that respect the Second Amendment and protect people from gun violence. That demand has grown into a public outcry for changes to gun policies. As a result, more moms than ever are involved in changing public discussions on gun violence. They are participating in policy debates, advocating for gun-sense candidates, and even running for public office.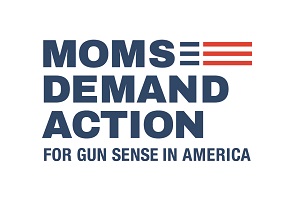 "Our volunteers are becoming the lawmakers and leaders who will help keep American families safe from gun violence," says Jessica Hulick, leader of the North Carolina chapter of Moms Demand Action for Gun Sense in America. Moms Demand Action (MOMS) removes barriers that may prevent people from getting involved in advocacy work by providing a variety of opportunities to match volunteers' interests, skills, and capacity.
"When Sandy Hook happened, I was breastfeeding my 9-month old daughter," says Hulick, "and I was absolutely devastated. A line from a news report still haunts me: We are burying twenty children today who still have their baby teeth."
Hulick joined the North Carolina chapter of MOMS in 2015. Throughout her adult life, she volunteered for causes she cared about, notably LGBTQ rights, gender equality, racism, poverty, and mental health, but Hulick had never considered gun violence as an issue you could work on. Hulick recalled a shooting that occurred at her high school and she once knew a neighbor that was murdered. But the Sandy Hook shooting, and the outcries for gun violence prevention policies that followed, completely changed her perspective.
"I saw a disturbing connection between gun violence and the causes I deeply care about," explains Hulick, "Two-thirds of gun deaths are suicide. More than 52 women per month are killed with guns by their intimate partners, and black men are 13 times more likely to be killed by gun violence."
"It took me awhile to figure out what I could do," says Hulick, "but I paid attention to what was happening around me and I saw a lot of moms speaking up and asking a lot of questions about gun laws and gun safety."
Halfway across the country in Indiana, another mother named Shannon Watts was also devastated by the shooting that left 20 children and six educators dead. Watts woke up the next day in a state of rage. She looked online for a women-led coalition, such as Mothers Against Drunk Driving, except for gun safety. She couldn't find anything. So, Watts started a Facebook page.
Within days, Watts was talking to women all over the country and started asking their help in starting state chapters and local groups while she tried to wrap her brain around gun policy. In less than a month, MOMS was a full-fledge nonprofit working with the White House.
Back in North Carolina, one of Jessica Hulick's friends invited her to a meeting in Durham, one of the first MOMS groups in the country. Hulick was glad she went, but still wasn't sure how she could help. She had new baby, a toddler, and like most moms, she was extremely short on sleep and time.
"Before children, I could make a phone call whenever I wanted," says Hulick. "Now, once I start talking on the phone, one of my children has a desperate need for a peanut butter sandwich. I honestly didn't know how I would get involved."
Hulick later helped her local MOMS group organize a Gun Violence Awareness Day in Durham. More than 150 people showed up in orange, including mothers and fathers with children. Seeing firsthand how an organization started by a mother was both welcoming to people with children but also creating spaces for people to participate in public life with their children made a direct impact on Hulick.
"That was it," says Hulick. "I was in."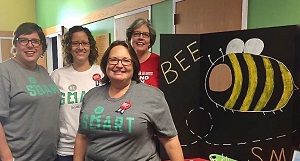 As leader of the North Carolina chapter of MOMS, Hulick now travels throughout the state to help members understand the many ways they can get involved: Members can make calls, sign postcards and draft letters, participate in webinars, attend meetings, meet with legislators, or simply show up at an event holding signs of support. Members can also promote BeSMARTforKids, a program created to reduce suicides and unintentional shootings. Trained BeSMART presenters teach people in their communities how to safely secure guns in homes, how to model responsible behavior, and how to ask about unsecured guns in other homes.
"Today, we have 22 MOMS groups across the state of North Carolina, some of which are in rural areas and military towns, where many residents have owned guns for generations," says Hulick. "We have members from both political parties and quite a few are veterans. We also have students."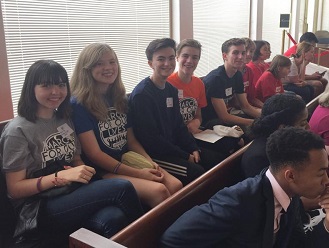 Students Demand Action for Gun Sense in America, a national initiative created by and for teens and young adults to fight gun violence, is growing in North Carolina. Hulick is currently working with the chapter of Students Demand Action (SDA) at the University of North Carolina at Chapel Hill to host a summit on March 24th. High school and college students are invited to attend workshops on organizing and advocating for gun violence prevention.
"Students from Marjory Stoneman Douglas will be at this summit," says Hulick, "along with North Carolina elected officials and students on the SDA National Advisory Board."
For more than six years, MOMS volunteers and gun violence survivors, which include thousands of men and people who are not parents, have been publicly pushing lawmakers to enact common-sense gun laws. Members show up in the offices of lawmakers, at town hall meetings, in marches, and in parades. They are also showing up on election ballots.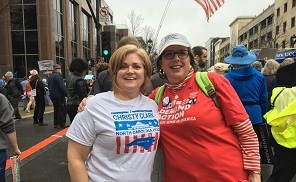 In the 2018 North Carolina mid-term elections, Natasha Marcus won her race for NC Senate District 41 as did Christy Clark for NC House District 98. Marcus and Clark were active volunteers with the NC chapter of MOMS.
"Our volunteers are becoming the lawmakers and leaders who will help keep American families safe," says Hulick, "and I couldn't be prouder. I know they are both determined to build a culture of gun violence prevention in North Carolina."
Hulick believes that winning candidates like Natasha Marcus and Christy Clark are proof that gun safety is a winning issue at the ballot box. Both women were endorsed by the Everytown for Gun Safety Action Fund and received the Moms Demand Action Gun Sense Candidate distinction. Everytown was founded in 2014, combining Mayors Against Illegal Guns and Moms Demand Action for Gun Sense in America to make the largest gun violence prevention organization in the country.
The Gun Sense Candidate distinction was created in February 2018 to highlight candidates that pledged to vote on the side of gun safety. Similarly, the Everytown for Gun Safety Fund was created prior to the midterm elections. Of the 196 candidates endorsed by the Everytown fund in the 2018 mid-term election, 150 of those candidates won their races.
"American voters not only turned out for the mid-term election," says Hulick, "they supported candidates who promised to make gun safety a priority.
With gun safety and reducing ending gun violence in mind, Hulick and members of the NC Chapter of Moms Demand Action will be meeting with state legislators on April 10th at the North Carolina General Assembly for the organization's annual Advocacy Day.
---
Jessica Hulick is the North Carolina Chapter Leader for Moms Demand Action. Hulick is also the Executive Director of Social Justice Storytime. The organization aims to promote inclusivity by creating a nurturing space for children and families to learn and discuss contemporary issues through children's literature. Hulick has master's degree in Applied Sociology and recently completed a certificate in nonprofit management from Duke University.
Cara Lewis is Assistant Editor at The Philanthropy Journal at NC State's Institute for Nonprofits. Cara's professional experience includes working for Social Venture Partners International and most recently as a curriculum developer with NC State's 4-H Youth Development and Family & Consumer Sciences.
Moms Demand Action for Gun Sense in America is a grassroots movement of Americans fighting for public safety measures that can protect people from gun violence. Moms Demand Action is part of Everytown for Gun Safety, the largest gun violence prevention organization in the country with more than 5 million supporters and more than 350,000 donors. Follow us on Facebook (https://www.facebook.com/MomsDemandActionNC/) or on Twitter at @Moms Demand.