By Krystin Gollihue
A startup model relies on a few things: a strong support system, a great idea for prototyping, and the ability to be responsive to a target market. While not typically seen as "startups," nonprofits are usually described in the same ways: responsive to their service recipients, services that meet a need, and strong partnerships.
Sloane Davidson, Founder & CEO of Hello Neighbor, believes that the success of her organization has been in their ability to grow from scratch, much like a startup. "A lot of nonprofits are big ships," says Davidson. "Like the Titanic, they're strong but hard to move. There's benefits – legacy donors, corporate partners, overhead is never a worry – but we at Hello Neighbor have succeeded by listening to our audiences and having them participate in how we grow. We come from a place of abundance rather than scarcity. It opens us up, allows us to be responsive."

Founded in 2017 in Pittsburgh, Hello Neighbor uses a cohort model for build ing mentorship communities that support recently resettled refugees and their families. Pittsburgh mentors are matched with refugee families and attend community events intent on building a deliberate pop-up community. These events involve potlucks, education, training, outings to local Pittsburgh sites, and more in order to acclimate refugee families to a neighborhood support system within the states. By tracking the number and kinds of interactions that mentors have with families, Hello Neighbor is able to understand how much opportunity refugee families need in order to feel apart of their new communities. Mentorship communities help develop lifelong relationships and support systems between Pittsburgh residents and their new neighbors.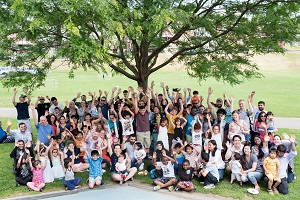 What is unique about this cohort model is that it is building an entirely new community support system, from the ground up. Refugees may have up to six months of government assistance after entering the country, but once that six months is up, there is little infrastructure to support them. While Hello Neighbor could see this from a scarcity perspective, Davidson says that it gives them an opportunity to be incredibly open and responsive. "We still have that obligation to respond. But we can also address problems quickly, we can provide opportunity as refugee families need them."
What is also unique about Hello Neighbor is that programming often revolves around children. One hundred percent of refugee families they provide services to have children under 18. When children are the focal point of much of the community events, they become an excellent connective tissue for mentor communities. Davidson says, ""Kids don't see the things we see. Kids up until the age of about 12 will just take up a conversation and engage people. They're a great equalizer to go back and start from scratch, to think about people and what they need."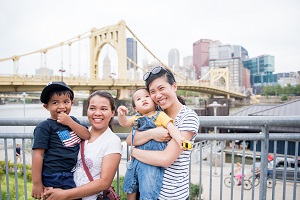 Finally, Hello Neighbor's support system doesn't just address the daily needs of refugees. They also focus efforts on advocacy education for mentors. Mentors learn about the differences between avenues for arriving in the states, why a family might be immigrating from versus fleeing their country, and more. The ways that families are encouraged to blend together allows for mentors and their families to experience, learn, and advocate on behalf of another. Davidson believes that the impact of this kind of advocacy education is in two things: first, mentors are given the chance to learn about a family and to know them as equals, and second, that mentors can speak to refugee experiences and be prepared to have those conversations with others. Whereas most people don't know how complex refugee issues are, mentors are given the tools to be able to dive into nuance with others. "Knowledge is power," Davidson notes, "but it's also powerful to know people and have personal stories to tell about them."
The effects of Hello Neighbor's mentorship community has been more than simple education, helping refugees drive to the grocery store, or providing potlucks for families in the summer. Davidson notes how people of different backgrounds have blended together, but that refugee families have had the opportunity to share American culture with their own families. One Butanese woman was able to bring her friends to downtown Pittsburgh to visit monuments and to see the Andy Warhol Museum. Some of the group had never been to a museum before, let alone learned about sites that were important to their new city of Pittsburgh. Hello Neighbor made her feel comfortable enough that she could have this day totally separate from the services they provided. Davidson tells of another family whose young son had spent a year at school never speaking to any of his classmates because they were different. After a summer of Hello Neighbor events, he had the confidence to reach out to his classmates and invite them to lunch. The effects of Hello Neighbor's "pop-up community" work in multiple directions, creating a unique and responsive support system that benefits refugees and mentors.
Grown from scratch – by being deliberate and responsive to their communities, Hello Neighbor is able to provide something brand new, something adaptive, and something that reflects back the people that it serves.
---
Sloane Davidson is a nonprofit leader and social entrepreneur with 15 years of experience in fundraising, digital marketing and community activism. She is the Founder and CEO of Hello Neighbor, a new organization supporting refugees and immigrants. Previously, Sloane was the Founder of Farsight Media, a strategic communications and marketing consultancy. From 2005-2012 she wrote one of the leading cause-based blogs, The Causemopolitan. In 2011 she published The Giving Manifesto and in 2013 she launched Dinner Mode, an app and national movement focused on the intersection of food, technology and mindfulness. She is currently on the Board of Resolve Network, an NGO that focuses on jobs for women in post-conflict countries and the Women's Philanthropy Institute at the Lilly Family School of Philanthropy at Indiana University. Previous involvement includes a 2009 Kiva Fellowship in the Philippines and strategic communications and impact-assessment work for NGOs and nonprofits in countries including the Democratic Republic of the Congo, Ghana, Guatemala, and Haiti. Sloane has created nationally recognized fundraising campaigns, the most well known being "Cause It's My Birthday," a nationwide malaria prevention campaign and Gulf Coast Benefit, to support Gulf Coast communities after the BP oil spill. Sloane has been invited to attend the World Economic Forum and Clinton Global Initiative for her work supporting Haiti recovery after the earthquake. She has been named a "Top Woman to Follow" on Twitter by Forbes and a Global Influencer by Dell. She is the 2009 recipient of the Pigman Prize at Shady Side Academy, her high school alma mater, for excellence in citizenship and leadership.
Krystin Gollihue is a PhD Candidate in the Communication, Rhetoric & Digital Media program at NC State University