By Sandy Cyr
In mental health, and medicine in general, dissemination of good information is an ongoing challenge. Technology gives us vehicles to easily share information, but the problem lies in making sure that people are receiving valid information. This is an important concern, especially in the health care space. So how do you get good information out to people?
The Anxiety and Depression Association of America (ADAA) works to educate medical professionals and the public about metal health issues. ADAA is celebrating 40 years of service this year. In the past four decades since ADAA began, the mental health space has changed dramatically. New knowledge, new understanding, and new treatments have helped pave the way towards providing better care for those with mental illness. ADAA supports the work in the mental health space by providing a platform for researchers, clinicians, and the public to share their work and their experiences to better serve this community.

In their earliest years, ADAA was an organization that was focused on getting information to people who were suffering about advances in treatment for anxiety that didn't involve medications or negative side effects. The focus at that time was on the patient as well as the professional clinicians. As the organization evolved, it shifted its focus more towards the professional side of the organization. Over the past 10 or so years, however, ADAA has seen a huge growth in the traffic on their public-facing webpages as people turn to the internet for education on mental health. Today, the organization is focused on educating professionals in the various treatments that work and getting them further information on complex cases, as well as providing information to the public and making sure that they have correct information from which to make their decisions about the best ways to engage in treatment.
Educating professionals and the public about treatments for mental illnesses is the primary work of ADAA. On the professional side, they support different disciplines. As part of their professional membership, they cover all the bases when it comes to professionals in mental health, whether it is research or practice: scientific researchers, clinical researchers, clinicians, professors and more. ADAA provides programming, research awards, career development, and mentorship opportunities to engage and support professionals throughout their careers. A professional education committee is constantly reviewing the offerings ADAA has over the course of a year and ensuring that they are balanced in terms of illnesses addressed and information covered. "We're constantly giving people updates, for example, on the latest ketamine treatments for depression, or TMS for OCD," says Dr. Beth Salcedo, Board President of ADAA. That is something that benefits both the professional facing side and the public facing side.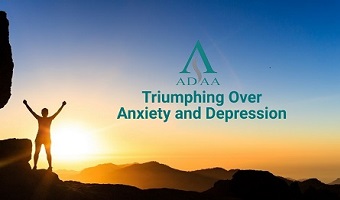 "We have realized in the last few years that the public-facing part of our organization is a very important part of how we get done what we get done," according to Dr. Salcedo. "It is much more important now than it was 20 years ago. I think that has everything to do with the internet and social media." With a large social media presence, they make an effort to share as much good information as they can. Personal stories play a large role in this work as well. People who want to share their personal story of triumph over anxiety or depression often reach out to the organization. Sharing those personal stories are always big hits with their social community. ADAA is also part of an organization called HealthUnlocked, a social network for health. They participate in support groups for anxiety disorders and mood disorders, in order to create a forum where people can get additional information and support.
Continuing to keep new information coming out all the time is really important for the general public and for the people who are suffering. The more they hear successes or availability of newer treatments, the more people get reached and the less people are suffering. Adds Dr. Salcedo, "We're really about educating the public, but also about getting the word out to people who are uninformed about mental health in general and what depression looks like and what bipolar disorder looks like, and what it means for people – the importance of treatment and the importance of early treatment."
This effort to engage communities has helped in building people's awareness, as well as help fight the stigma that surrounds mental illness. "We think it is fantastic that the stigma is finally starting to change. This has been a huge problem that we have been fighting as a discipline for a long, long time, and we are now seeing mainstream celebrities are coming out with their own personal struggles, many, many television shows are bringing up the idea of an anxiety disorder or depression. We feel like that it just can't be overstated how important it is that people hear about these things. I think people acted like mental illness is a weakness and have dismissed it as not a real medical problem, but we lose more people to suicide than a lot of illnesses combined. So for us, getting rid of the stigma and people's awareness is really everything."
The exchange of information and sharing stories has played a significant role in the understanding and awareness of mental illnesses. When it comes to patient care, more is always better. One can't have too much information. The more people who are involved in this work, the greater the shared understanding becomes. ADAA supports the education of mental health communities, and provides a platform to people to share their work, research, and experience. They know, getting the right information out there is the very best thing you can do.
---
Dr. Salcedo is a psychiatrist with expertise in diagnostic assessment and psychopharmacologic management of anxiety and mood disorders in adults. She has been the medical director of The Ross Center since 2002, and has been with the center since 1997. She has been named in Washingtonian magazine's "Top Doctors" in 2010 and 2012. Dr. Salcedo has been an active member of the organization since 2004 and is currently ADAA Board President.