By Haily Jones
"When someone is unemployed or dealing with medical matters they can't focus on solving those problems if they are dedicating all of their time and energy to figuring out where to sleep that night." Homelessness is an issue that many are faced with, unfortunately. With help from the community, people experiencing homelessness can be given the opportunity to get back on their feet again. Sometimes, we all could use a little support to get where we need to be.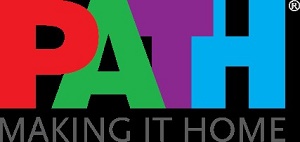 People Assisting The Homeless (PATH) is an organization working to end homelessness for individuals, families, and communities throughout Southern California. The mission of the agency is to develop systemic approaches to combat poverty and homelessness and to enhance economic security and well-being. "It is our core belief that no person should live on the streets and that everyone deserves a support system, whether that be a family, friend or an organization," said Tessa Storms. "PATH fills in where the system has failed by providing housing and giving a sense of dignity and humanity back to these individuals of need. We work to make those who were previously invisible, visible."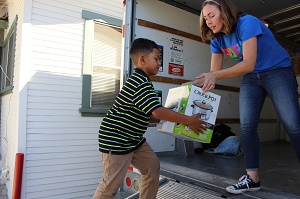 PATH began in 1983 when Claire and Reverend Charles Orr wrote a letter to the community, calling for action to address the homelessness crisis occurring near their own homes. The first community meeting was held on December 8th, 1983 and thus PATH was created. In 1984, PATH's first program, Day Center on Overland Avenue, was established in Culver City. Since then, PATH has continued to grow and serve people experiencing homelessness, and has become the largest provider of rapid re-housing services in the state of California.
On any given night over 113,000 people experience homelessness across California. More than 23,000 are families. PATH is working to solve this crisis. PATH works to end homelessness and build communities by focusing on 3 objectives: Supportive Services, Housing and Community Engagement. With these objectives, PATH meets people where they are, builds affordable homes, promotes education, advocacy, and so much more to help people experiencing homelessness find a place where they belong. Storms remarked, "Each person we help has a unique situation, but they all have one thing in common: They need homes. Every person deserves a home, a safe place. Homelessness is a traumatic event and by providing housing PATH can calm those nerves."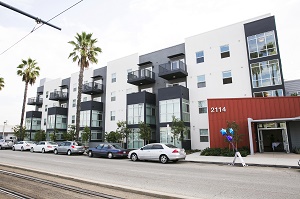 PATH has helped over 7,500 people in the last 5 years move off the streets and into permanent homes – people like Larry and Jacky in Los Angeles. Larry and Jacky experienced homelessness for nine months after they were a given one-day notice eviction and lost all their possessions as they were forced to leave their apartment. As the couple lived on the streets, Jacky's health issues increased. Luckily, they were connected with PATH Ventures through Veterans Affairs, where they were accepted into the PATH Ventures' permanent supportive housing community and finally found a place to call home. In their home, they love spending time together cooking, reading, and having guests over. Both Larry and Jacky have been able to improve their health now that they have a stable home.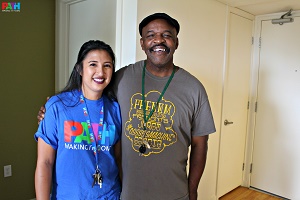 The group started out distributing food and clothing to people living on the streets. Now, over thirty years later, it has over 20 locations throughout California. PATH believes that high-quality supportive services are critical to ensuring that the people served not only move into permanent homes, but stay in permanent homes long-term. PATH's objective services result in various programs like: Interim Housing, the PATH Mall, Family Programs, Recuperative Care, and many more. With their integrated and client centered service approach, PATH does everything possible to cater to every individual's housing need, and puts them in a program that is best suited to them. Until everyone has a home, there will always be a place for PATH. This organization has plans to continue to adapt to new approaches to deal with homelessness, and will continue to grow to meet the needs of California and reach the internal goal of helping 10,000 people across California Make It Home by 2020.
There is something to be said about community support, and meeting people where they are. Intimidation or fear must be overcome to make change for good. PATH is doing just this by helping those who experience homelessness. This organization does strategic outreach to support the homeless community and serve them by giving them the primary need of a home. PATH is helping people get back on their feet again and giving them a sense of belonging, and they will stop at nothing to do so. Not only is having a community important, but making others feel involved within the community is essential for making others feel like they belong. Everyone deserves belonging, and everyone deserves a place to call home. "PATH believes no man, woman, or child should have to sleep on the streets. Until everyone has a home, there will always be a place for PATH."
---
Haily Jones is an undergraduate student in the English Education Department at N.C. State University.