Listen from Soundcloud at the bottom of the page
Season 3, Episode 3
The Relationship:
Adam Falk is the President of the Alfred P. Sloan Foundation, a philanthropic institution that funds research and education in science, technology, engineering, mathematics, and economics. Before his tenure at the Sloan Foundation, Adam served as the President of Williams College from 2010-2017.
Adam Weinberg is the Alice Pratt Brown Director of the Whitney Museum of American Art in New York City, which focuses on 20th and 21st century American art. He became the Alice Pratt Brown Director in 2003, before which he was the director of the Addison Gallery of American Art at Phillips Academy, Andover.
In 2018, the Sloan Foundation awarded a $100,000 grant to the Whitney for an exhibition called Programmed: Rules, Codes, and Choreographies in Art, 1965-2018. The exhibition ran from September 2018 to April 2019 and showcased the connections between works of art based on instructions, sets of rules, and codes through pieces from over 50 years of conceptual, video, and computational art.
The Conversation:
It is not every day that a science foundation teams up with an art museum, except that is exactly what happened last year. The two Adams talk about this unique project focusing on the intersection of art and science and the importance of presenting science and technology not just as something to learn but something to experience and something that is a human activity. There can often be a distance between the general public and their ideas about science and who does science. Adam Falk talks about how important it is to challenge these notions and ideas of who scientists and technologists are if we're going to be an inclusive society. Projects like Programmed help close that distance and make science more accessible while also making visible the art in science.
Part of creating this experimental and experiential project is about building trust. Todays art, technology, and business models are often about breaking things down, each new form replacing another. This can lead to a kind of anxiety that nothing lasts forever and we shouldn't trust anything, but we cannot build anything without going back to trust. That trust between groups is crucial because things aren't built by individuals.
Modern technology can be particularly good at creating skepticism, especially in an age of deep fakes. It brings up the question of what can we believe in? And what is authentic? What counts as an authentic experience? Projects like the one put on by the Whitney help bring the public into the fold to find a balance between the trust and the understanding that that very trust is often contingent and available for rejection.
Adam Weinberg brings up the anxiety of knowing that everything in our lives may be provisional and contingent. In response, Adam Falk offers up the analogy of scientists not as people with the authority of having answer, but as a group of people that focuses on the questions and engaging in this fundamentally human and collective activity. In a time when people may be wary, skeptical, and distrusting, it is important to engage with the community and create spaces of collective experience and shared reality to create communities of trust.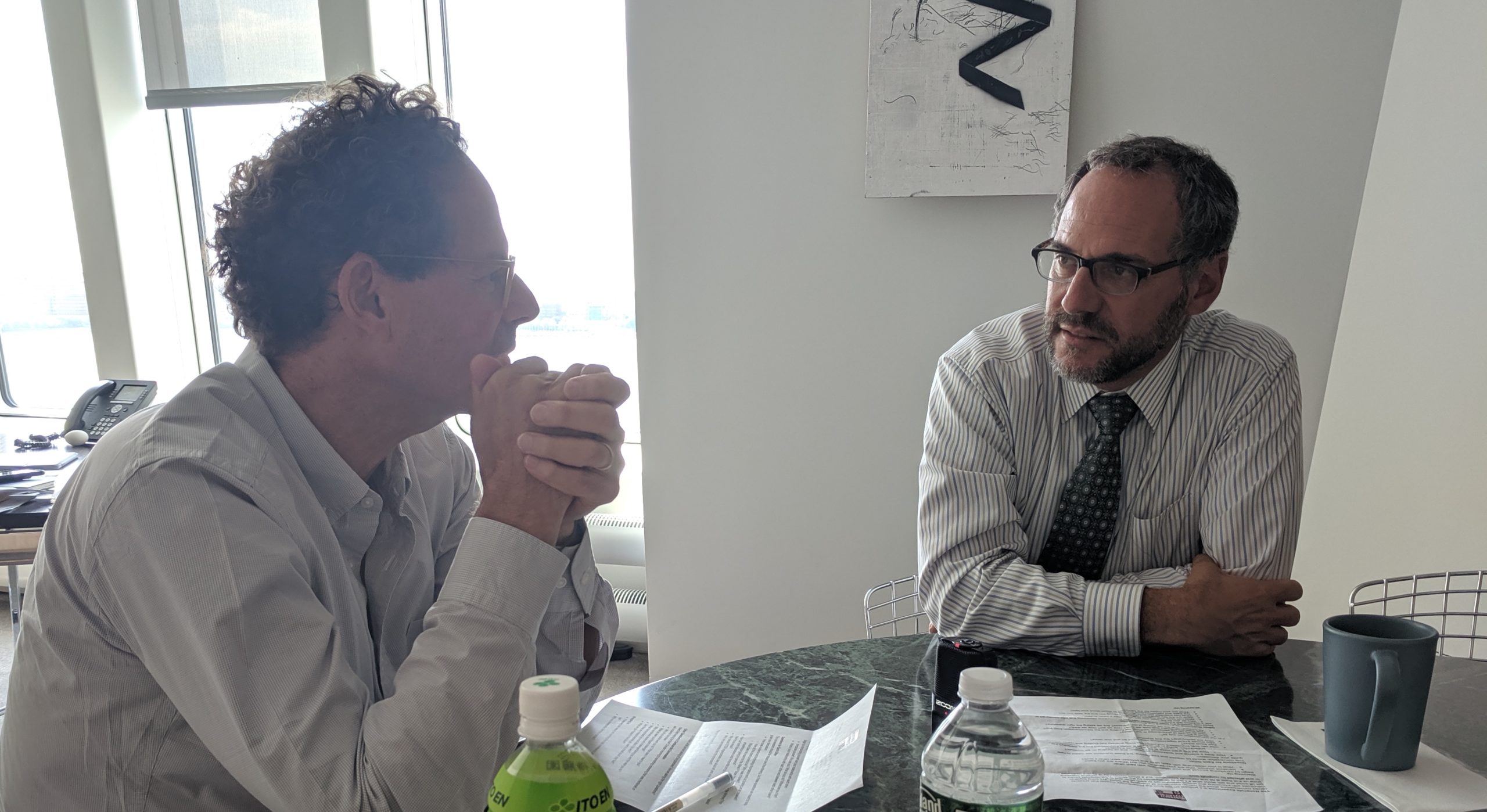 ---
Topic Timestamps
"The experience of art that is also the experience of science and mathematics"
00:00 – Sandy introduces Adam Falk, president of the Sloan Foundation, and Adam Weinberg, director of the Whitney Museum.

01:08 – The two Adams talk about the grant that the Sloan Foundation awarded the Whitney Museum for an exhibition at the Whitney called Programmed: Rules, Codes, and Choreographies in Art, 1965-2018, which was an out-of-the-ordinary grant for the Sloan Foundation.
4:50 – Rather than focusing on explaining science and technology to people, this show was a much more experimental and experiential project.
5:40 – "People should understand science and technology as being part of their full lived experience … it's a human activity and it touches every part of human activity. It's done by people like ourselves." –Adam Falk talks about the importance of funding projects that challenge people's ideas of who scientists and technologists are, such as movies like Hidden Figures. This goal of broadening our sense of who does science is integral to a main question we must ask ourselves: h

ow are we going to be inclusive as a society?

7:09 – Today, there can be an effect of splitting the world into two sides: the users of technology and the creators. But there are many more sides to be engaged. These kinds of projects help bridge the gap and make both the science more accessible and the art involved in that science more visible.
8:40 Every aspect of our lives depends on technology yet we are increasingly facing a culture of people who don't trust science and technology. Projects like Programmed bridge that distance to

science and technology with art.

9:54 – Fundamental distrust of authority. In some ways, people are drawn to the arts because it is often seen as a tool for questioning authority. There is a frustration and feeling that the machine is broken and people are drawn to museums where meaning and social issue are being contested, which is a very different forum for the museum than it was 20 years ago.
"Trust that we're all trying to do the same thing"
11:26 – Young people, wanting to enact change and address important issues, look to institutions to make immediate change and are often frustrated with the process of slow change. Part of that has to do with trust. Different constituents within an institutions struggle to have a trust in each other's role and thus struggled to act collectively to make changes within the institution.

13:14 – Contemporary art, technology, and models of business may contribute to this breakdown in trust. Each new form replaces another and, ultimately, everything is replaceable and superseded. This leads to another kind of distrust: the idea that we shouldn't trust anything, that nothing is forever, and if we make it, we can break it. And we should break it if it's broken,
15:00 – But you can't build anything or create anything without going back to trust. Things are not built by individuals.

In a modern society where the mantra is move fast and break things, long-lasting institutions don't have that option.

16:13 – It is hard for our institutions to convince our publics of our relevance when our instinct is to move more slowly.
"What can we hold onto that we believe?" "What is authentic experience?"
17:16 – One of the effects of these technologies is to undermine our trust in things we see and experience so we don't know where we stand. Exacerbated by deep fakes. Radical transparency–what is that transparency to?

18:10 – What is an authentic experience?

What is more authentic: watching giant projected clouds or looking at a real river? Is something technologically created less authentic than something that is natural?

19:19 – That gets at both the nature of wonder and the nature of distrust: w

e feel ungrounded in reality right now.

19:55 – How do you find the balance? We need to know that we can trust, even if that trust is on a contingent or preliminary basis. That preliminary trust is part of both the scientific and artistic process.

20:57 – We want the public to know that what it is that scientists are really doing, what is it to grapple with the world? "We're refining the way we do science as much as we are refining the science itself"
"Scientists are more like rabbis than priests"
22:07 – "If a scientist can produce absolute answers, then they have the status of a priest. You can say that scientists are more like rabbis than priests, that is, they're asking questions." It's not about having authority, but about engaging in a human and collective activity.

23:09 – Today's technology can atomize us as individuals, but we build a collective experience and a co-constructed shared reality. Coming together through projects like museum exhibitions helps facilitate that shared experience of addressing questions together.

24:09 – If science and art are always about asking the next question, then trust doesn't come from facts: it needs to come from somewhere else, like a sense of community. People feel insecure and arts and science have to offer community to give our society the trust we need to move our culture forward.
Wrap Up
26:05 – The Adams wrap up

26:36 – Outro: support a local poet, foster a kitten, and follow us on Twitter (@phijo)
Featured artwork from Programmed: Rules, Codes, and Choreographies in Art, 1965-2018:
Josef Albers (1888-1976), White Line Square VI, 1966, from the portfolio White Line Squares (Series I). Lithographs: sheet, 20 11/16 x 20 11/16 in. (52.5 x 52.5 cm); image, 15 11/16 x 15 11/16 in. (39.9 x 39.9 cm). Whitney Museum of American Art, New York; gift of the artist 67.14.6. © 2018 The Josef and Anni Albers Foundation/Artists Rights Society (ARS), New York
Nam June Paik (1932-2006), Fin de Siecle II, 1989. Video installation, 201 television sets with four laserdiscs, 168 x 480 x 60 in. (426.7 x 1219.2 x 152.4 cm). Whitney Museum of American Art, New York; gift of Laila and Thurston Twigg-Smith 93.139. © Nam June Paik Estate
---
Ways to listen to The Nonprofit Experience:
Like what you hear? Leave us a review on Apple Podcasts! It makes a big difference.