By Haily Jones
With the way society puts so much pressure on children today, it is nice to be able to give kids an opportunity to just be kids. But what about children with serious illnesses or disabilities? Some may find it incredibly challenging to give kids with serious illness the opportunity to enjoy their childhood and experience incredible things that they never thought possible. Victory Junction does just that. By providing life-changing camping experiences that are exciting, fun, empowering, and are no cost to them or their families, children with disease, illness, or disability find that they can just be kids through Victory Junction's programs.
Adam Petty got the opportunity to visit a SeriousFun camp called Camp Boggy Creek in 1999. SeriousFun camps provide children living with serious illnesses with a spectacular camp experience and high-quality medical care, in a safe and supportive environment. After his visit to Camp Boggy Creek, Adam knew his calling was to bring a similar camp to the hills of North Carolina where he grew up. Adam Petty was a fourth generation race car driver, whose passion for racing was only matched by his compassion for others, especially children. Unfortunately, Petty lost his life when he was nineteen in a racing accident at New Hampshire Motor Speedway. Upon his death, the Petty Family, along with their friends and the NASCAR community, came together to build Adam's dream of opening a camp for kids battling disease or disability in his hometown. After Richard and Lynda Petty donated land, the Petty family began a capital campaign in 2002 and received donations from corporations, individuals, and foundations to fund what would become Victory Junction in 2004.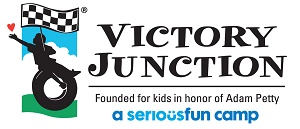 As a proud member of the SeriousFun Children's Network, Victory Junction provides medically-safe camp experiences at the 84-acre camp located in Randleman, NC. The camp provides unique opportunities through week-long sessions in the summer and family weekends in the spring and fall. During the summer, Victory Junction offers disease-specific sessions with up to 128 children per session; and, during the fall and spring, family weekends are offered for up to 32 families per weekend. Once children have come to Victory Junction, there are no limitations for what they can do. Campers have the opportunity to do activities like zip lining, archery, bowling, fishing, horseback riding, and so much more. The children Victory Junction serves conquer these activities and walk away with confidence unlike anything they've ever known.
Victory Junction aims to provide children with the best care possible so that experiences are not only fun, but safe for the kids and worry-free for their parents. Victory Junction's core values rely on safety, high standards, empowerment, respect and teamwork. The organization is committed to excellence, transparency, leadership, diversity, equity, and inclusion. The dedicated medical team, care coordination team, program team, and nutrition team work 24/7 to make sure that every camper's complete needs are met while he or she is at camp. Recent studies have shown the benefits of camp have a positive life-changing impact on the children served. The Victory Junction experience fosters independence, inspires confidence, creates friendships, and builds self-esteem for the kids who attend camp.
Because of Victory Junction's dedication to serve and empower children, despite their disability or illness, positive responses and self image are curated in the minds of the campers. In the first two weeks alone of the 2018 summer camping season, children have given such positive remarks to the Victory Junction team, like fifteen-year-old Erica who said, "At school I'm different and struggle but here at camp, I can do everything." It is the positive feedback from campers that reassures Victory Junction that they are doing the greatest work they possibly could, by empowering the kids that they serve to just be themselves.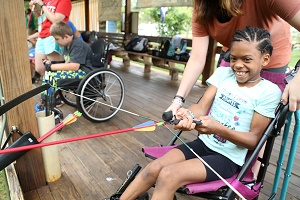 The challenge of providing kids with the opportunity to feel empowered may seem difficult, especially if a child has an illness or disability, but the result of these efforts is worth it. The leaders of Victory Junction know this to be true, as they support campers year-round to reach their full potential. Victory Junction hosts fundraising events to continue to serve as a free resource to campers and their families. Through the generosity of others, Victory Junction serves as the camp that Adam Petty dreamed of creating. It is a place where boundaries and limitations are broken, and kids can enjoy just being themselves.
Victory Junction continues to create and build in order to give kids this unique camping experience. In partnership with Smithfields Foods, Victory Junction has announced the opening of a new indoor archery center. This will better serve campers who are unable to bear the North Carolina heat for long periods of time, by giving them a temperature controlled space where they can shoot archery at all times. Victory Junction considers even the most basic needs of children, to ensure that they feel safe and cared for while having the time of their lives.
The need for kids to enjoy just being a kid is important. Victory Junction meets campers' most basic needs to empower them to achieve what they thought was impossible. Kids with serious medical conditions don't have the same opportunities to play, socialize with others and, in many cases, aren't allowed to just be a kid. Victory Junction provides a medically safe place for kids with illnesses to be a kid and to connect with other children who are dealing with similar medical issues. Kids who thought they were all alone now have friends who understand what it is like to have a medical condition. Victory Junction knows there is great power in the building of community especially among children.
---
Haily Jones is an undergraduate student in the English Education Department at N.C. State University.
Chad Coltrane is the Chief Executive Officer and President of Victory Junction, a year round camp serving children with serious medical conditions based in Randleman, NC. Chad has worked with various nonprofits for 25 years. Most recently, Chad spent 18 years as the CEO of The Ability Experience, a national nonprofit in Charlotte, NC serving people with disabilities.