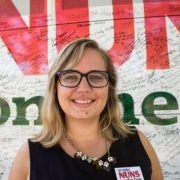 Special to the Philanthropy Journal
By Ashley Wilson
The phrase "radical feminists" might not come straight to mind when thinking of Catholic Sisters, but Sister Simone Campbell and the members of NETWORK Lobby for Catholic Social Justice have learned to embrace it, as they have embraced all who share their vision. Founded by Catholic Sisters in 1971 in the spirit of Vatican II, NETWORK educates, organizes, and lobbies for social and economic transformation in Washington, D.C. By aligning their advocacy with values that extend beyond their founding Sisters, Network Lobby brings anyone who is invested in justice into the spirit of their work.

"The NETWORK community is driven by Catholic Social Justice, but we are open to all who share our passion," says NETWORK Executive Director, Sister Simone Campbell, SSS. "The late Senator Ted Kennedy and his colleagues used to refer to NETWORK as 'the Nuns lobby,' but we've grown and evolved from a network of Catholic Sisters, working with people at the economic margins and calling their elected officials in their free time, to an expansive community of activists from all faith backgrounds," Sr. Simone continued.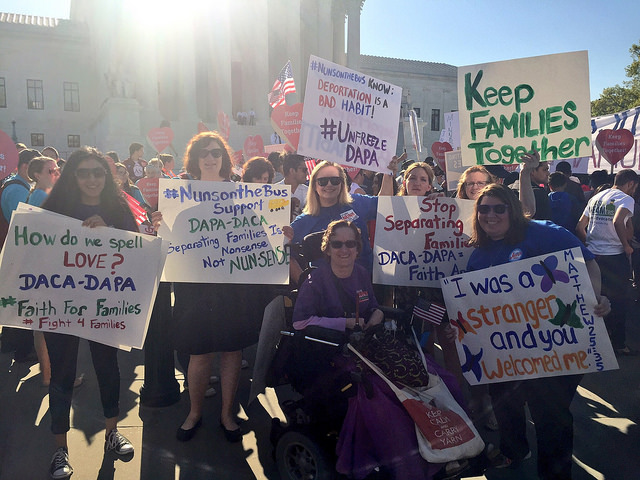 As NETWORK has grown, the community has had conversations about how to hold on to the inspiration of Catholic Sisters, while no longer being made up of a majority of women religious. The solution: Sister-Spirit. "We've begun to use 'Sister-Spirit' to describe the sense of community present when people, not all bound by the same faith, come together to touch the pain of the world and then do something about it in a caring, humble way," explains Sister Simone. NETWORK's principles for Catholic Social Justice include ideas like "Embrace our right and responsibility to participate with others in our shared public life," and are concepts that are widely accepted regardless of religious identity or background. This Sister-Spirit identity and shared understanding of principles is a unifying force in pursuit of the common good.
NETWORK is a non-partisan organization committed to ending poverty, fixing the broken immigration system, expanding access to healthcare, and promoting equal voting rights. This "Mend the Gaps" agenda is inspired by Gospel justice and designed to reduce the income and wealth gaps as well as mend the gaps in access – to democracy, healthcare, citizenship, and housing – that are exacerbated by economic inequality. NETWORK and its activists work across the aisle to shape legislation and share stories of families and individuals across the country who are affected by these gaps.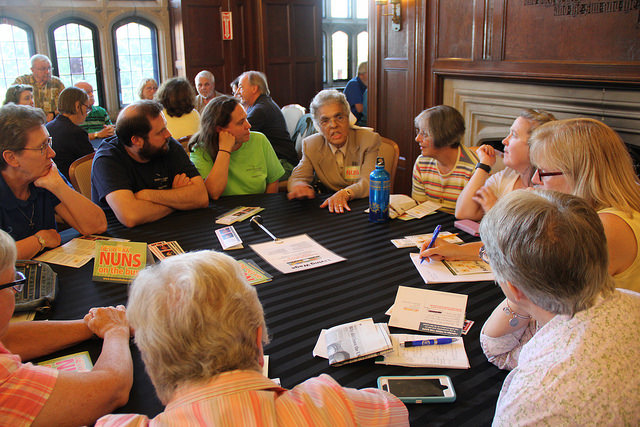 This perspective is unique in Washington. While almost 91% of Congress is made up of legislators who identify as Christian, partisan lines make legislating for the common good difficult. When facing challenges, activists turn to Pope Francis's belief that "realities are greater than ideas," and lived experience should be weighed more heavily than complex theories. Activists connect online as part of NETWORK's e-roots community and in person, at speaking engagements, rallies, or as members of an Advocates Team. The work together in community to educate themselves, grapple with complex realities, and share their stories with elected officials.
Growth of NETWORK with the Rise of Nuns on the Bus

One of the campaigns NETWORK is best known for is "Nuns on the Bus," which started in 2012 in response to two events. First, the Vatican said that Catholic Sisters, because of organizations like NETWORK, spent too much time focusing on poverty and were promoting ideas consistent with "radical feminist themes." Second, Congressman Paul Ryan, then leader of the House Budget Committee, declared that his budget proposal was based on his understanding of Catholic Social Teaching, despite the fact that it would slash funding for safety-net programs that keep people out of poverty. NETWORK needed to respond, and so they decided to go on the road.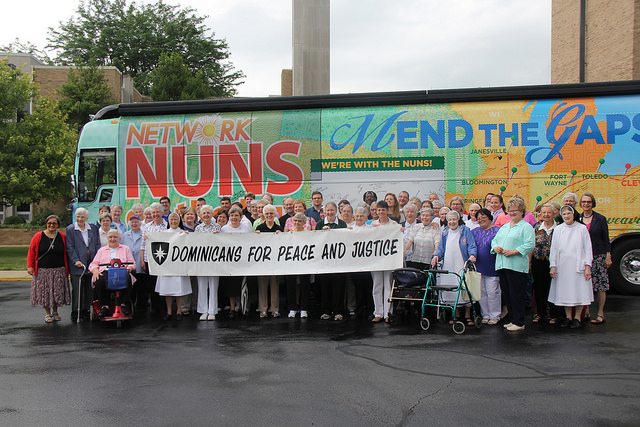 The first trip took a bus full of Catholic Sisters to nine states to meet with a variety of communities to talk about poverty and lift up the importance of public-private partnerships between non-profit charity organizations and the federal government. Each day, the Sisters and staff on the bus began with prayer and drove from city to city for public events—sometimes as many as 4 or 5 events a day. The model proved to be successful, exciting, and compelling, and that first bus trip paved the way for four more trips (on immigration, voting, Pope Francis's visit to the U.S., and mending the gaps).
In the five years since launching Nuns on the Bus, NETWORK has brought nearly one hundred Catholic Sisters on the road to meet with communities, hear their stories, and relay these messages to elected officials. A combination of rallies, site visits, meetings with legislators, and press conferences fill the days, and often in the evenings the Sisters hold a local town hall or caucus. These events create an opportunity for the Sisters to share the stories they hear on the road, but also to listen to creative solutions to issues that affect many communities, like transportation or housing. Nuns on the Bus has become a listening tour of sorts, informing NETWORK's advocacy in Washington, D.C., nourishing the NETWORK community, and ultimately educating elected officials.
NETWORK has grown from its roots and has aligned its advocacy with values that are common to all. The Nuns on the Bus program is representative of this Sister-Spirit and of how NETWORK carries out its mission. "The magic of Nuns on the Bus is that it brings people who may not know each other together for a common purpose," Sister Simone says. "Sister-Spirit radiates while on the road and throughout NETWORK's daily work, and invites all members of the NETWORK community to embrace one of Pope Francis's core teachings: the importance of encounter."
---
Ashley Wilson is NETWORK's Communications Coordinator. She has traveled with the Nuns on the Bus on four of their five annual trips.