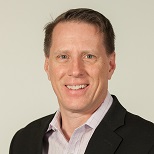 Special to the Philanthropy Journal
By Jeff Patrick
The professional fundraiser's practical guide to the next generation of direct response giving
Nonprofit fundraisers are continuing to encounter a shift in consumer engagement combined with increased complexity of giving programs, resulting in significant challenges in growing revenue. Three trends in particular are driving nonprofits to evolve direct marketing fundraising programs:
A decline in direct mail performance
The U.S. consumer flight to digital
The diversification of fundraising portfolios.
Nonprofits are responding by placing the donor at the center of fundraising programs, crafting a great donor experience, and ensuring they focus seamlessly across the organization on the most valuable donors.
STATE OF THE FUNDRAISING INDUSTRY

Today, the majority of fundraising happens via direct mail, but mail is increasingly less efficient with the latest research indicating that consumers are reading less direct mail, responding to less mail, and as a result, nonprofits are mailing less1. Direct mail is still important, but it cannot deliver on direct marketing needs on its own.
At the same time, US consumer online media consumption has grown considerably; it has surpassed offline media consumption, and mobile media use is rising rapidly2. The nonprofit fundraising target demographic has clearly signaled they prefer to engage online, if not exclusively, then combined with offline channels.
Third, in a Merkle survey of Philanthropy 100 organizations in September 2015, the average number of direct-marketing-driven fundraising programs is 9.1. Nonprofits are fielding a growing number of giving options to donors, and this portfolio expansion adds significant complexity making it harder to present a coherent, personalized marketing experience to donors.
The solution to these three trends is donor centricity. This means putting the donor at the center of the fundraising programs, combining online and offline channels, and integrating across programs to craft a connected, personalized donor experience that is aligned with the donor's mindset, affinity, and needs at each step of their lifecycle.
HOW TO CRAFT A DONOR-CENTRIC FUNDRAISING PROGRAM
At the core of a donor-centric program are the following:
Donor Segmentation and Strategy: Do you have a fully functional enterprise segmentation definition – one driven by motivational segments, targetable in online and offline channels, and including donor lifetime value (LTV), channel preferences, and motivations/reasons for giving? Are the enterprise segments shared across the fundraising organization?
Experience Delivery: Are you building donor journeys? Do they assemble the right media mix that also targets and personalizes the journey for each segment?
These enablers support the core program:
Data and Data Infrastructure: Do you have a 360-degree view of your donors? Does it integrate online and offline donor records, transactions, promotion history, and fundraising costs?
Organization: Do your fundraising departments share a unifying structure, donor vision, and common fundraising goals that allow them to collaborate productively across an integrated, cross-departmental program?
Financial Strategy: Are you able to measure and attribute the value of donations to the individual marketing touchpoints across the multi-channel promotion? Are you using that attribution for bottoms-up campaign planning and top-down budget planning and optimization?
DEFINING THE DONOR AND THE DONOR EXPERIENCE
The core program elements start with defining the donor:
Neuroanalytics-Driven Market Research:
This Merkle proprietary approach delivers a real understanding of the donor audiences based on the donor's motivations and reasons for giving, using both qualitative and quantitative research.
Then, we proceed with development of the audience segments:
Personas and Segmentation: Using the market research results, we develop donor segments (see figure 1) based on commonalities in decision-making about giving. We then project the segments into the nonprofit prospect and donor base.Figure 1: Personas and Segmentation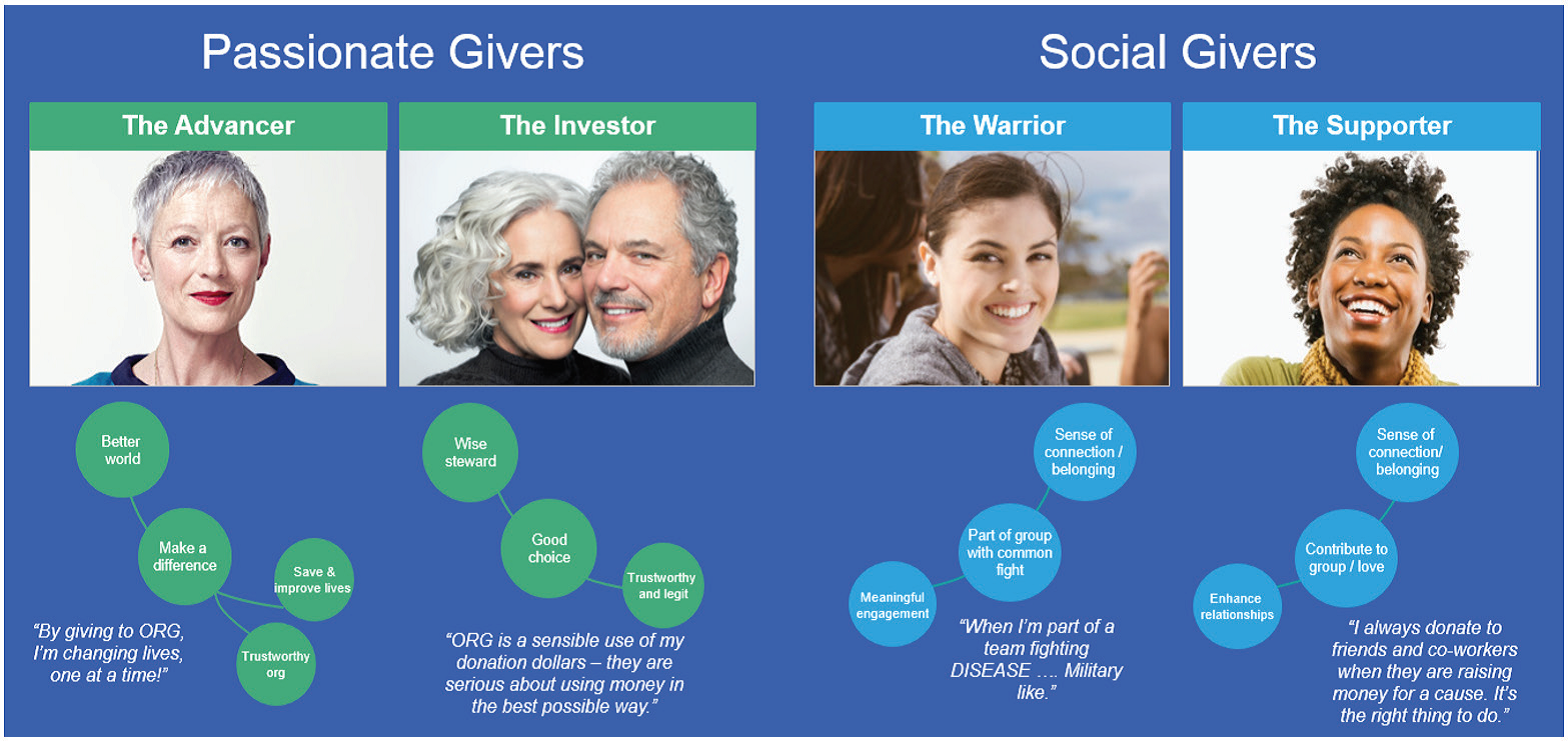 Using the donor segments, we define the core marketing program definition:
Donor Experience and Journey Mapping: For each segment across the stages of the donor lifecycle, we define the donor needs, the value proposition (case for giving), and the content, creative, message, and offer. Lastly, we define the multi-channel media mix and plan that best personalizes the journey for the segment and their specific persona definition.The donor-centric approach improves on the status quo by segmenting, targeting, personalizing, and generally creating a more relevant experience for the donor. The experience mapping process (see figure 2) is a cross-stage, cross-channel, cross-program methodology.

Figure 2: Experience Map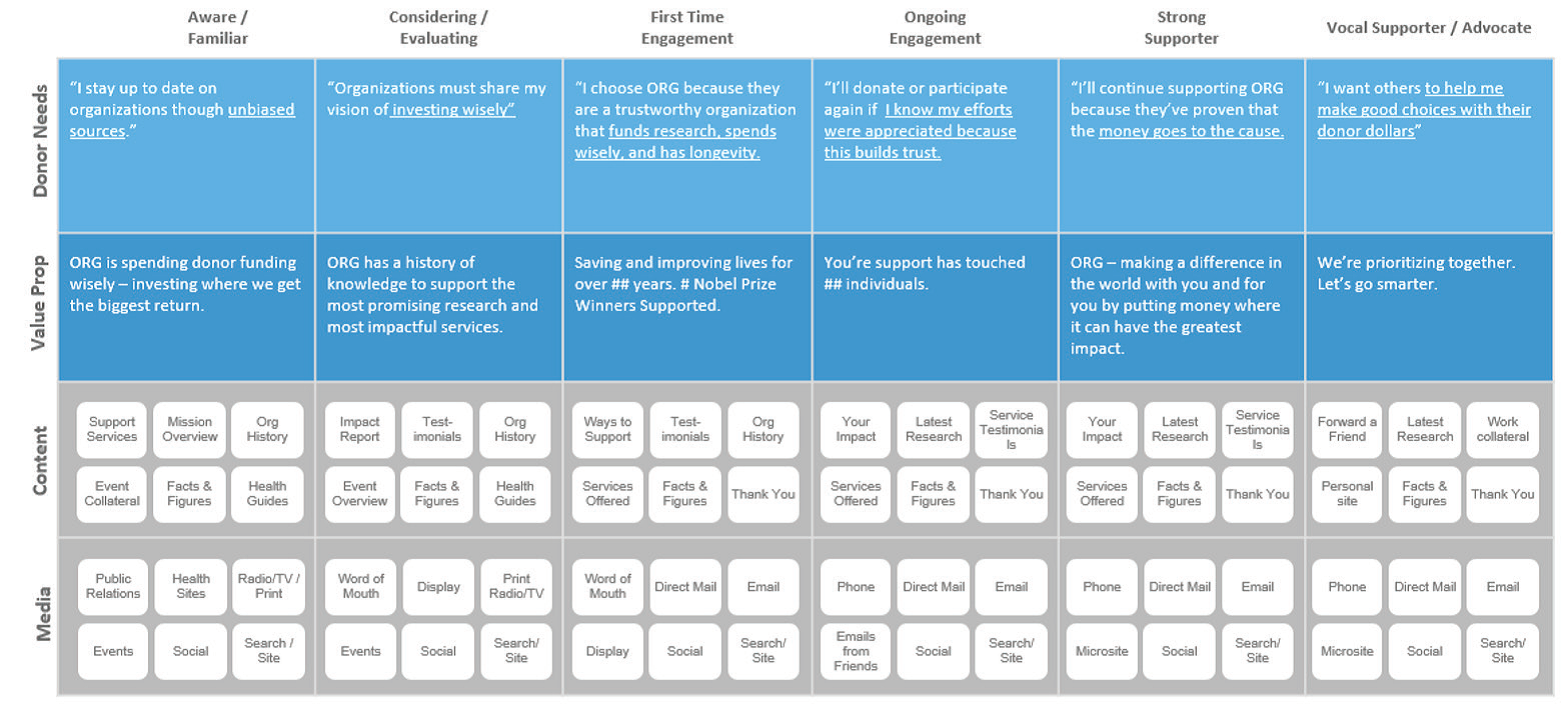 Finally, we put the program in market:
Activation: With the segments and plan established, we pilot in-market using the personalized journeys to present a dynamic, personalized experience for each donor. Structured testing guides program optimization.Figure 3: Personalized Journeys

Case Study
At the National Multiple Sclerosis Society (MS), a health charity, we crafted and tested donor-centric fundraising across the MS Walk and mission-focused giving. By integrating across departments and programs to create a better constituent experience, we increased the value of the event audience, especially coveted team captains. The new, integrated approach demonstrated a 50% increase in revenue from team captains, 32% increase in team captain registrations, and 37% increase in combined overall revenue to the organization.
---
1 2013, DMA Statistical Fact Book, Nonprofit Mail Treatment, Mail Reaction by Industry, and Nonprofit Mail Volume.
2 January 2015, eMarketer, Daily Time Spent with Media Among US Consumers, 2010-2014
---
Jeff Patrick is the Chief Strategy Officer and Vice President of Merkle's nonprofit practice. Merkle is a technology-enabled, data-driven performance marketing agency.