Special to the Philanthropy Journal
By Blake Hallanan, Communications and Development Coordinator
Being Prepared for Disasters
The saying "earthquakes don't kill people, buildings do," is as true today as when it was coined decades ago. That point was brought home to Dr. Brian Tucker, a MacArthur Fellow and founder of GeoHazards International (GHI), in December 1988 when a magnitude 6.8 earthquake devastated Armenia. More than 25,000 people perished. Ten months later, a magnitude 6.9 earthquake ruptured south of San Francisco, shaking about as many people as the Armenian quake had. The death toll was just 63. "I was shocked by that," said Tucker, who at the time ran the geological hazards program for California. "It confirmed my gut feeling, my intuition that there was a tremendous disparity in the lethality of similar earthquakes in high income and low income countries." In 1990, Tucker took a leave of absence to obtain a master's degree in public policy at Harvard University. He returned to California, quit his job at the California Geological Survey and founded the nonprofit.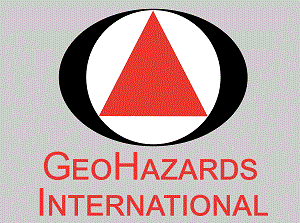 GHI has worked with local governments and leaders in communities around the globe to evaluate risk and develop self-sustaining ways to keep people safe. Much of its work has targeted schools and hospitals at the heart of these communities. Project locations range widely from urban to rural, mountainous to coastal, and in places as far flung as Nepal, Bhutan, India, Indonesia, Peru, Ecuador and Haiti.
Though it's impossible to predict exactly when or where big earthquakes will happen, one thing is for sure: The consequences of substandard building and a lack of earthquake preparedness are devastating. Rapid migration from poor rural areas to cities worldwide has meant that buildings in many cities have sprung up quickly to accommodate an influx of people. "GHI's whole DNA is preparedness, and to act before a disaster," Tucker says. "So we try to find out where a disaster is going to happen and where people aren't doing enough and try to help them do it."
Lessons in Building Resilience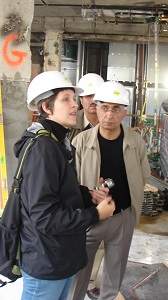 GHI has worked for some time to improve safety in northern India, Nepal and Bhutan, where the Himalayas are being pushed upwards at the rate of about one centimeter a year. The Kathmandu valley region of Nepal experiences a magnitude 8 earthquake approximately every century, the latest being the 7.8 earthquake one year ago that killed more than 8,000 people. While thousands of structures were destroyed, the hundreds of school buildings that had been retrofitted to be earthquake-resistant withstood the shaking, thanks in part to work initiated by GHI and the National Society for Earthquake Technology, a local non-profit GHI helped to set up. "Our goal was not just to build stronger schools but to create the demand for earthquake-resistant construction, and to train local masons who would fulfill that demand in the nearby villages and beyond," says Tucker.
Another ongoing project is in the coastal Indonesian city of Padang, on the west coast of Sumatra. Padang faces a high tsunami threat. GHI's plan is to help people quickly escape upward, which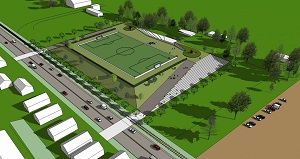 offers a better chance of surviving than to head inland. The solution is to create spots of high ground where none currently exists. Although the region has been shaken many times, including the 2004 Indian Ocean earthquake and tsunami that killed 230,000 people, stress has built up in a part of the offshore fault that threatens Padang. When that fault breaks, a resulting tsunami could scour a swath where more than a million people live. GHI created the concept and a design for a Tsunami Evacuation Park, a raised earthen structure that serves as a neighborhood park every day and also provides refuge for up to 20,000 people in a disaster. Several such structures are envisioned for Padang. The beauty is that residents – including children, women and the elderly – can walk there quickly and easily for either use.
For 25 years, GHI has been working with community leaders to teach people how to prepare for, how to react and, when possible, how to reduce the devastation of earthquakes, tsunamis, and landslides. They train engineers, builders, and masons, educate people on how to safeguard their families and neighborhoods, and bring safety to at-risk people before natural disasters strike. Their focus, impact, and success has been to emphasize preparedness, mitigation, and safe building in order to manage risk in communities most affected by disaster.
---
Brian Tucker is the Founder and President of GeoHazards International (GHI). Prior to his work with GHI, he was Acting State Geologist, Principal State Geologist, and Supervising Geologist of the California Geological Survey (1982-1991). He serves on the Board of Directors of the Seismological Society of America and is a Fellow of the California Academy of Sciences. In 2001 he was awarded the Gorakha Dakshin Bahu Award for service to the people of Nepal by the King of Nepal. He was named a MacArthur Fellow by the John D. and Catherine T. MacArthur Foundation in 2002. He received the George E. Brown, Jr. Award, from the U.S. Civilian Research and Development Foundation for International Science and Technology Cooperation, in 2007.