By Matthew Harvey
Community Development Corporations (CDCs) are somewhat ubiquitous nonprofits. In 2006, The Democracy Collaborative's Community-Wealth.org project estimated that the number of CDCs within the United States was in the neighborhood of 4600. To be sure, most of these CDCs do good work, yet few are as successful as the Jacobs Center. Setting aside my less-than-knee-slapping pun, the point is that it is worthwhile to examine the Jacobs Center closely for it can be and already is a template for nonprofit success.

"Our story began in 1995 with the Jacobs family's philanthropic commitment to generate a high-energy "town center" founded on a core belief in the power of residents' shared vision, innovation, investment and ownership," says Bennett Peji, Jacobs Center's Vice President for Impact and Partnerships. In the beginning, the Jacobs Center focused exclusively on revitalizing the Diamond neighborhoods of San Diego. Today, the influence of the Jacobs Center is both national and international. "Over the past two decades, the Jacobs Center, as a new model of equity-driven revitalization, has captured the attention of planning and design professionals, investors, government agencies, and students throughout the world." In short, the Jacobs Center is the philanthropic equivalent of a YouTube video gone viral.
The primary reason for the Jacobs Center's remarkable ascension stems from its comprehensive approach, which comprises three areas of focus: Physical Redevelopment, Education to Careers and Local Economy. Significant investments are made to improve the physical assets of the local area, to the extent that it stands as "a rising and connected place for future investment." Pathways to education and local employment are created for the residents of the community. Networks are established to attract early-stage entrepreneurs to the area and to support local businesses. The interdependence of these three focus areas are like a three-legged stool – each depends on the integrity of the other two. Little benefit comes from establishing an education to career pipeline, if adequate local businesses don't exist to provide those jobs. Early-stage entrepreneurs will only be attracted to an area if the physical assets exist for future employees. It is impossible to encourage investment in physical resources without also having a plan to make those investments sustainable through a vibrant local economy.
Effective communication is another key to success. The Jacobs Center actively engages neighborhood residents through focused communication, encouraging them to lead the revitalization of their communities. The Jacobs Center keeps a pulse on these efforts via their Community Blog, which is one of its most efficacious mediums. It also leverages many of the other forms that are typical of our digital age – social media platforms, the Center's eNewsletter, website, emails, print-outs and advertisements both hard-copy and digital.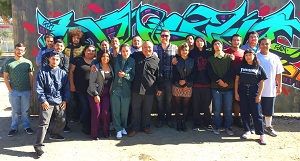 While the breadth of the Jacobs Center's strategy is fundamental to its success, as reflected by its three areas of focus, so too is the depth of its efforts within each area. Nowhere is this more evident than in its new, groundbreaking initiative called CONNECT ALL @ the Jacobs Center (CAJC). CAJC recognizes the critical role that small businesses play in the economic vitality of San Diego and of all free-market economies. It also recognizes that entrepreneurs need guidance and support in order to succeed on an urban stage. Set to begin in early 2019 and financed by a Community Development Block Grant through the U.S. Department of Housing and Urban Development, "CAJC is the region's first diversity-focused accelerator program that will provide startups the support they need to scale; resources such as mentoring, free co-working space, and access to capital." The accelerator program is manifest in a resource center that aids entrepreneurs by delivering the resources they need to expand their ideas.
Peji is confident that CAJC will pay large dividends in the long term, building high-growth job opportunities in low-to-moderate income communities, like the Diamond neighborhoods. "By nurturing San Diego entrepreneurs and companies, we are investing in ourselves. CONNECT ALL @ Jacobs Center provides a vehicle for entrepreneurs and companies to build their business here in San Diego and benefit our community and economy in the process."
The Jacobs Center takes a holistic approach to its work, upheld by seven principles: enhancing community identity, supporting transit-oriented development, improving health and wellness, providing educational and employment opportunities, creating public gathering spaces, promoting green and sustainable development, and improving public infrastructure.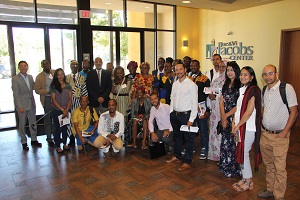 Promoting diversity and inclusion in the neighborhood and the workplace, values that San Diego and the larger state of California take seriously, is of central importance to the Jacobs Center. "A 2018 McKinsey study titled "Delivering through Diversity" reinforces the link between diversity and company financial performance. McKinsey first studied the link between a diverse workforce and positive financial performance for companies in 2015, with their study "Why Diversity Matters," Peji explains. Authored by Vivian Hunt, the concept of diversity was revisited earlier this year. Peji argues, "By establishing a diverse culture early in a company's inception, it fosters a corporate culture that is open and inclusive, as well as innovative."
By revitalizing struggling neighborhoods through its comprehensive, multifaceted approach, the Jacobs Center can burnish these neighborhoods' rough edges until they economically, culturally and socially shine like the diamonds they are meant to be.
Bennett Peji is the Vice President for Impact, Partnerships, Marketing, and External Affairs at the Jacobs Center. He has been featured on TEDx Talks and owns his own studio, Bennett Peji Designs. Peji is the recipient of the Arts, Business and Culture Award from the San Diego Regional Chamber of Commerce, the Outstanding Professional of the Year Award from the Filipino-American Chamber of Commerce, and the Asian Heritage Award for Cultural Preservation. .
Matthew Harvey is currently the Assistant Editor of the Philanthropy Journal, joining their dedicated staff this past October. He is a 2017 graduate of Davidson College, and a budding philanthropist.