By Krystin Gollihue
"All disasters are local," says Joe Hillis, operations director at the Information Technology Disaster Resource Center (ITDRC). When a disaster happens, a community can fall apart. We only need to point to large storms like Hurricane Katrina to see the devastation that disaster can cause, and people who live in small, localized areas are often the first to get hit but the last to receive aid. A disaster can affect the basic necessities of living, from gas lines to roads to food sources, but what we don't often think about is how it affects communication systems and technology.
The Information Technology Disaster Resource Center was officially founded in 2008, and was built on the principles established for the National Emergency Tech Corps (NETGuard), a post-9/11 response to help restore infrastructure after disaster. The vision was for a "National Guard-style cadre of credentialed tech volunteers" across the country, each with their own local groups. The original model, however, did not take into consideration the fact that if volunteers were local, they would be affected by the disaster as well. There needed to be something at a national level so that those unaffected by the disaster could be "deployed" to help the community.

Distributed Partnerships for Wide-Reaching Impact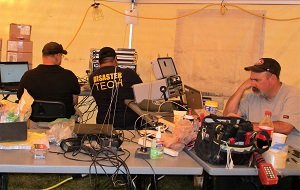 ITDRC, a FEMA TechCorps Partner, thus provides tech resources by deploying teams of emergency and tech volunteers to disaster-stricken areas to help set up communication and technology infrastructure. Volunteers have a wide variety of experience in technology systems and disaster relief and many work or have worked in the private tech sector. Requests for services come from any disaster organization or group who may have their ear to the ground during a tragedy, and often these informants are nonprofits or state emergency management teams that ITDRC has worked with in the past.
These technical resources can be anything from setting up Wi-Fi to charging stations – intentionally general in definition so that whatever a community needs, ITDRC and their partners can make it available. Hillis notes that some of these partners who are large corporations want to deploy their own resources or are not interested in being publicized. One of the major goals of ITDRC is to give "autonomy to providers and carriers and to help them with their own sense of corporate responsibility." By respecting these corporations and their particular needs, ITDRC continues these partnerships throughout each deployment.
ITDRC recognizes the fact that for many disaster recovery efforts, there are "constraints to delivering resources. FEMA can't just send people in. The affected city has to make a request that can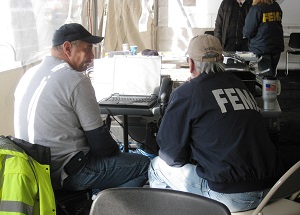 sometimes take months." But the professionals at ITDRC can deploy volunteers and resources and have them on the ground within 24 hours setting up infrastructure and getting people the communication systems they need. Many small towns are often waiting for help much longer than more populous cities, but ITDRC can relieve some of the pressure on public utilities services who are setting up hospitals and police stations in larger areas. Hillis says that "We're able to set temporary solutions in place until the public utilities are restored," thereby relieving both the community and municipal organizations.
Connection as a Necessity
While a person's smart phone may not seem the most important thing to consider during a disaster, it can be a lifeline. We need to be able to let our loved ones know that we're safe, but we also need to have something to help distract us from the restoration process, something that makes us feel a little bit more human. Hillis describes one project in which ITDRC provided connectivity and Wi-Fi to around 2000 firefighters in Washington state as they were fighting wildfires day in and day out. These men and women were sleeping in tents and fighting fires for 12 hours each day. For them to be able to sit down at the end of the night and video chat with their children was immeasurable. The fire chief reported that because of the needs ITDRC was able to address, the unit had little to no conflict; they could think about something other than the disaster that was raging around them.
In addition, many of these infrastructure systems are actually necessary for other basic needs to be accessible. According to Hillis, "No community has this big infrastructure sitting around waiting to be utilized during a disaster. We want people to think of the technology that's needed to manage the recovery process." As interconnected as we are in today's society, we need to have an understanding of "disaster technology" because it's a necessary part of the disaster relief cycle.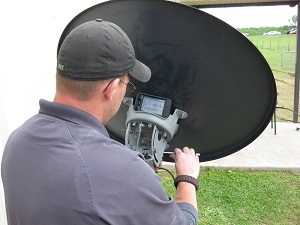 This interconnectedness is what fuels ITDRC as a nonprofit organization, as well. They rely on their massive network of professionals willing to coordinate a "spontaneous volunteer response," but Hillis also acknowledges the struggles: "There will be doors that go unopened or are slammed in your face, but you have to persist, especially when it comes to finding the people and organizations that can help you be successful." He notes that at ITDRC, there isn't always an active event, and in these down times that don't come with a lot of visibility, you have to go knock on doors and build that network further, "to build up for the big one, whenever that happens." You have to ask yourself, "How do I get these things done in advance? Whenever there is a disaster, that's when the phone will ring, but how do I manage recovery so that when something happens, there are resources and processes ready to go?"
The answer is often to create the relationships with people up front, and to ask that communities served "capture and document the help they've received." Hillis notes that building these connections, documenting these successes, and being able to distribute your network so that someone is always able to help creates a system that addresses individual needs in a quick and efficient manner. All disasters are local, but when you work throughout an interconnected network of professionals and partners, those affected can find relief.
---
Joe Hillis is a Systems Engineer and Technology Consultant to small and medium enterprises. He is also the co-founder and Operations Director for the Information Technology Disaster Resource Center, an all-volunteer non-profit that helps communities with technology continuity and recovery from disaster. Joe has over 20 years of experience in both Public Safety and Information Technology, and has served as an advisor to FEMA on various initiatives. He holds a number of industry credentials, which combined with years of disaster response gives him what he calls "a 360 degree view of Disaster Technology."
Krystin Gollihue is a current doctoral student in the Communication, Rhetoric, & Digital Media program at NC State University. Her research focuses on digitally-born composing practices and American Indian digital rhetoric.