By Sandy Cyr
In South Central Pennsylvania, almost every person is one step removed from a backyard garden. The area is known for its Pennsylvania Dutch culture and strong agrarian roots. Most people can get to someone in their family tree who raised food for profit within two generations. One nonprofit is leveraging this strong connection to the food system to create the next generation of leaders.
Based on urban models, the Leadership, Education and Farming (LEAF) Project is now in its sixth season of providing opportunities for youth to have meaningful summer engagement. LEAF's founding staff worked in collaboration with sustainable agriculture leaders and chefs in their region to take the urban model, dissect it into the parts they thought were the most powerful and then built them back into a model that could be translated into the local food system. Through their programs, high school students develop a connectedness to not only the local food system, but a deeper connection to each other, to their families, and to themselves.

Heidi Witmer, Executive Director of the LEAF Project, grew up in South Central Pennsylvania in a largely agricultural family that would cooperatively swap and trade resources with their extended families in order to feed one another. This sense of place and this personal history is core to what LEAF does. What has been an important anchor for Witmer throughout her life has become an opportunity to provide a sense of purpose and capacity within the students who engage in LEAF's programs.
The foundational first step in LEAF's program is the summer youth internship where 14 to 18 year olds work Monday through Thursday in a seven week paid internship. About half of their time is spent working in a hands-on food system from seed to plate. The youth engage in farm work, produce management, taking orders and delivering them to LEAF partner organizations, such as restaurants and soup kitchens. The other half of their time is spent developing their own self-awareness, competencies and leadership skills. According to Heidi, "we have done a great job with a young person if they emerge from the internship being able to articulate, 'my unique talent is…', 'what really excites me is [this]', and, 'I did relevant, meaningful work this summer.'"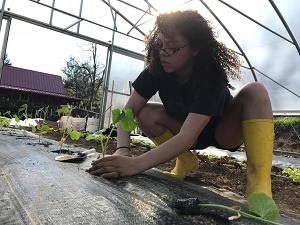 At the end of the summer internship, youth can apply for two levels of the program that run throughout the school year – the internship level and the ventures level. The internship has a social entrepreneurship/social enterprise focus for the fall where youth evaluate the enterprises LEAF currently runs and make recommendations, as well as look at challenges and problems in the local food systems and generate solutions. In the winter, the focus is on a youth conference and in the spring they focus on leadership development, where students are getting ready to occupy leadership roles. The ventures level is hourly, paid positions throughout the week during the school year. Students can work three shifts throughout the week where they are running the farm, the farm's commercial kitchen and the business ventures that LEAF runs out of those spaces. LEAF works to get their produce and prepared foods out to all different parts of their community. With a kitchen onsite, they are able to take the produce they grow through preservation and prepared food processes. They sell and donate produce grown on the farm, as well as the preserved and prepared foods.
"Our model is very much one based on the promise and potential and the talent that currently exists in people that don't need to be fixed or changed – they are us, just younger," says Witmer. "I think there is this powerful connection between the age we are working with and the need to be of service, to have meaning in this community." Through the LEAF programs, youth get the sense that they are needed, that their point of view is going to be listened to, and that they see people who are just a year or two ahead of them in this process being the primary educators, running the ventures, and teaching them the skills that they are developing.
"The sense of rigor and excellence in what we are doing is a pretty rare experience for teenagers right now," Witmer adds. "We're seeing profound growth in workforce readiness, in accurate self-assessments, in timeline task, the ability to work across difference. In all these trackable, data-verifiable ways, we're seeing amazing changes."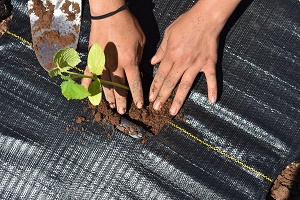 The LEAF Project is also seeing changes in the way that the students relate to their families. Interns receive fresh produce each week as part of the program and are encouraged to cook for their families once a week. LEAF is seeing families really shift how they eat together as a family. They are increasing the number of homemade meals that are eaten together; they are choosing local foods, feeling connected and a sense of place in this region; as well as developing knowledge about how their local food system works. Through the internship, youth are developing a different connection to their own families as they transition from being a viewed as a child to moving into an adult in their family. They become a provider through both bringing home a paycheck and through the youth share produce they use to prepare meals for their family.
The essence of meaningful work is that you are needed. When asked at the end of the first week of the summer internship what the highlight of their week was, one student replied, 'I don't think I have ever mattered more anywhere that I have ever been.' Youth gain a stronger understanding of themselves, the food system and their roles within it. That sense of belonging that youth feel within in the food system has a profound ripple effect as it circles out to their families, through their friends, and into their communities. Heidi Witmer anticipates that very few of their students will go on to pursue a career in agriculture, but every single person impacted by their programs will think about food differently forever after their time with LEAF.
---
Heidi Witmer is the founder and Executive Director of the LEAF Project Inc, a youth employment organization that cultivates youth leaders from diverse backgrounds through meaningful work in the food system. Heidi brings a strong background in both sustainable agriculture, youth development, and community development work.
Sandy Cyr is the Managing Editor for the Philanthropy Journal, and a fan of all things related to the nonprofit sector.