Special to the Philanthropy Journal
By Kristen Maurer
Nothing worthwhile comes without hard work and sacrifice, at least that's how we see it in our day to day operations at Mission K9 Rescue. Taking a retrospective look as we near six years of service to Working Dogs worldwide, we find that hard work, an incredible Social Media presence, great press coverage, partnerships with other organizations and foundations, complete transparency, coupled with an amazing team that comes together for the love of these working dog heroes are just a few of the reasons why we continue to grow and thrive.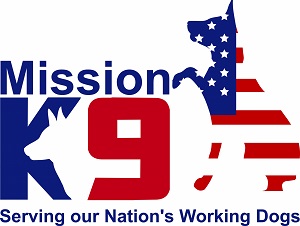 Mission K9 Rescue is an organization based out of Houston, Texas. We Rescue, Reunite, Re-home, Rehabilitate and Repair any retired working dog who has served mankind in some capacity. Since 2014, Mission K9 Rescue has brought over 300 canines home from remote areas of the globe and reunited over 275 military working dogs with the handlers with whom they deployed. In addition, we have paid for veterinary care for over a thousand retired working dogs spending up to a quarter of a million dollars annually in order to make sure the dogs have the medical care they deserve. Furthermore, we operate a facility where the dogs in our care are housed and enriched while they wait for their forever homes.
The first year of operation, we ran with a team of three, two with full-time jobs and were extremely busy, but did what they could to help the organization and a third that was fortunate to be able to dedicate her full-time attention to the work. "Fortunate" is a double-edged sword as that meant the executive director was pounding out 90 hour weeks, often driving more than 400 miles per day transporting retired military and contract working dogs. She spent sleepless nights arranging international transports home for large groups of dogs. Once the others were able to become full time, all three worked long hours and incredibly hard in order to take this small organization to the next level. These retired working dogs needed us, and it made all of the hard work worth it. However, it took money to have the ability to fill these needs that these dogs required, and in the beginning, we were lacking in that area.
Mission K9 started with nothing monetarily. We had no grants, no benefactors or no sustaining donors. Because of the wise moves of one of our founding members, who is skilled in web, advertising and social media, that grew our presence quickly without cost, gaining close to 30,000 very engaged fans. It was through donations from these fans that we were able to help reunite 30 dogs with handlers and bring back 20 dogs from Afghanistan and Kuwait our first year. Since that first year, our social media presence has grown close to 100,000 people that love these dogs and what the organization has accomplished. Due to this ever-growing social media presence, this engaged base of people continues to drive sustainable donations to the point that we were able to acquire additional staff and our ranch facility while still maintaining a 90% spend to mission as well as gained our popularity with the public.
Post timing and content has much to do with the success. We have a defined process involved in the selection of what we post and the language used in the post. The image is the most critical part as it must convey the need in order to motivate potential donors to give. We use very little text in our images and seek to convey a positive message along with an urgent need.
The language of the post, or as many call "the ask" is crafted in such a way that the reader is motivated to take action or engage with comment to further drive reach. It is no longer adequate to "like" a post. Likes are a vanity metric and no indication of true performance.
When people engage, post reach can increase tremendously and if spend is involved it can dramatically drive down the cost per click. We regularly see costs as little as two cents per engagement for our promoted posts enabling us to return as much as 22-1 with our ad spend.
We've also learned that right rail posts on Facebook produce little or nothing in the way of return and have a much higher cost per engagement. Even newsfeed ads do not perform as well as a boosted page post. The same targeting is available and you have the engagement factor of your fans present to help drive the post further and interact with new fans asking questions.
The News Media is another big driver for our growth. This exposure we've received from our televised reunions with former military handlers and their dogs has given us national recognition and many recognize our logo/brand on sight. Our first year, we had media coverage on every reunion. As the love and admiration of the dogs and handlers became more popular, our media coverage caught the eye of larger networks such as World News Tonight and Fox FS1. National exposure through news video is priceless.
Another avenue that has proven extremely beneficial to our rising success is the partnership of other organizations such as The United States War Dogs Association and The Petco Foundation as well as companies that have done wonderful fundraisers on our behalf. These extremely generous grants and gifts have been critical to Mission K9 Rescue's survival during the difficult times when other sources of funding was lower than usual.
In addition, Mission K9 Rescue has won numerous awards along the way; most notably from the Petco Foundation and the ASPCA. We've been humbled that others have chosen to honor our work and service, and we feel that these accolades are in part due to our transparency both financially and at our facility in Houston. We invite people to scrutinize us, and to visit our facility to see how well these dogs are living during their transition into civilian life. Our facility is exceptionally clean, and the dogs enjoy the comforts of air-conditioned kennels in the summer and heated in the winter. During the day, the dogs get to enjoy being outside, and each dog has a 30×30 yard in which to run and play. Everything that we do is for the dogs, and we feel that when people visit our facility it shows.
Since our inception, we have grown to a team of 15 people, who each bring special skills to the organization and have a love for these amazing hero dogs, and it is their skills and that love that makes Mission K9 Rescue and our facility a success. None of this would be possible without the hard and unpaid work put in at first, however, that hard work still continues even with paid team members, yet we are extremely focused and each of our team members is tuned in on their particular niche in the organization, whether it's ranch operations, kennel cleaning, enrichment for the dogs, transportation, management, finance, or social outreach. Everyone has a job to do, and they are all equally important to the growth and success of Mission K9 Rescue.
Fundraising is tough to this day. That is a unique skill any organization must master to stay alive and continue to grow. It is a struggle, especially to obtain grants, as we spend so much of our time doing the actual work of the organization. Still, our supporters want us to do more, so we have made great strides in explaining our mission so that others are motivated to give.
Hard work brought us to the table and has kept us there. Our plates are always full and there are always new needs that must be met daily. There are always dogs that need to come home. There are always veterinary bills to be paid. There are always dogs that need to be transported to adopters. The work is constant and we enjoy every minute as it is our passion and focus.
Overall, it is the love of these great dogs that prick people's hearts from so many places that motivates them to give and support our continued growth. That love, coupled with our social media presence, our transparency and our team's combined efforts, keeps Mission K9 Rescue at the pinnacle of our ability to professionally run and manage our organization.
Looking ahead to the next 6 years, we'll see that razor focus continue to pay off in the form of efficient and frugal spending, easier transports, streamlined care and development of our ranch expansion. Our team will have grown through the placement of other skilled individuals equipped to serve in unique ways to benefit these dogs who serve.
---
Kristen Maurer is the president of Mission K9 Rescue, an animal welfare group dedicated solely to rescuing, reuniting, rehoming, repairing, and rehabilitating American working dogs. Learn more at www.MissionK9Rescue.org.